Virginia's De'Andre Hunter, Michigan State's Cassius Winston, and Auburn's guards Bryce Brown and Jared Harper are four must-watch players in the 2019 Final Four.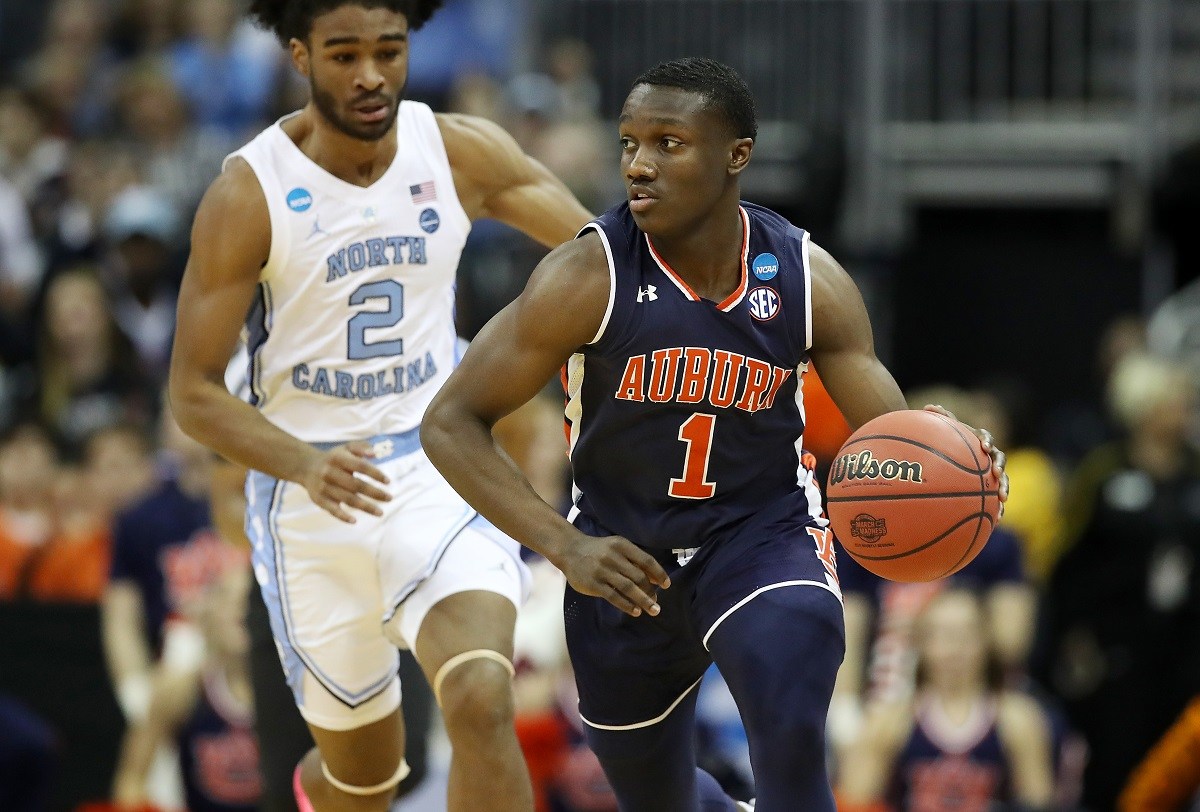 Jarrett Culver from Texas Tech is a potential lottery pick. He has been on everyone's radar all season. Culver helped lead the Raiders to the school's first-ever Final Four berth. He's definitely the best player in the Final Four, but there are several other noteworthy players you should keep an eye on.
De'Andre Hunter had a quiet Sweet 16 and Elite 8, which might have made NBA scouts a little leery. However, he has an opportunity to make his own draft stock rise by leading Virginia to a national championship.
Bruce Pearl relied on his backcourt tandem of Bryce Brown and Jared Harper to help make up for the absence of Chuma Okeke. Okeke went down with a torn ACL in the closing minutes of the Tigers' upset over North Carolina in the Sweet 16. Brown and Harper responded with 50 combined points against PJ Washington and Kentucky in the Elite 8.
Cassius Winston was named a first-team All American this year. That's quite an honor for the junior point guard from Detroit, Michigan. The best point guard in America now has a chance to win Michigan State's third national championship and it's first since 2000.
De'Andre Hunter (Virginia)
De'Andre Hunter, 6-foot-6 junior guard, is one of the few players mentioned in the same breath as other lottery picks Zion Williamson and Ja Morant. Hunter leads the Cavs in scoring with 14.9 points per game.
Hunter also plays excellent on both end of the court. His defensive intensity is one of the big reasons why Virginia boasts the best-defense in the country.
After dropping 23 points in the Round of 64 against Gardner -Webb, Hunter's scoring has been off the last three games in March Madness. He scored only 10 points against Purdue, yet somehow Virginia advanced to the Final Four without a monster game from Hunter. He struggled from beyond the arc with a 22.7 percent clip over his last five games.
Despite his shooting woes, Hunter is due for a big game against Auburn.
Bryce Brown and Jared Harper (Auburn)
Auburn's starting backcourt combines for 31 points per game. Bryce Brown is the team's leading scorer with almost 16 points per game, while Harper averages 15 points.
During the Elite 8 upset over Kentucky, the dynamic duo scored 50 points together and swiped six steals.
Harper, who is a dead ringer for the actor who plays Marlo from "The Wire" led Auburn to an emotional overtime victory. He dropped 26 points on UK including a perfect 11-for-11 from the free throw line. Harper was as cool as ice at the charity stripe, while he also dished out 5 assists. Brown knocked down 4 three-pointers and scored 24 points in the win.
Cassius Winston (Michigan State)
The six-foot point guard is easy to pick out in a sea of giants. Cassius Winston is always wearing a headband. He wears a white one when Michigan State wears their home-uniforms. He opts for green when the Spartans are the away team.
Winston led the Spartans in scoring this year with 18.9 points per game. He also dished out 7.6 assists and still hauled down 3 rebounds per game, despite being the shortest guy on the court.
Winston scored 20 against Duke in their one-point victory over the Blue Devils in the Elite 8. He scored 17 in against LSU in the Sweet 16 blowout. He also dropped 26 in the Round of 64 against Bradley.
It will be up to Winston to help break Texas Tech's trapping defense. Tech utterly destroy Michigan in the Sweet 16 en route to another blowout-victory.
According to the South Point Casino and Sports Book in Las Vegas, Virginia is a +140 money line favorite to win the national championship. Meanwhile, Tom Izzo's Michigan State squad is 2/1 odds to win 2019 March Madness.