The 2019 Final Four concludes on Saturday evening at the US Bank Stadium in Minneapolis, Minnesota with #3 Texas Tech Raiders (30-6) battling #2 Michigan State Spartans (32-6) for the final spot in the championship game.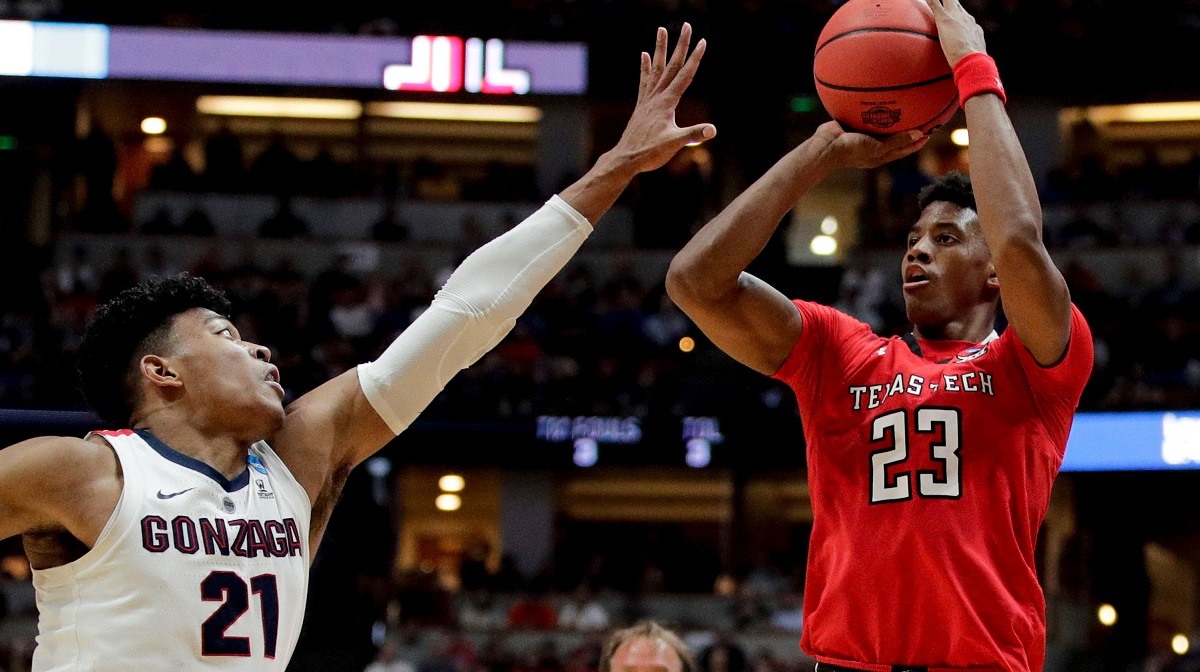 The top team from the Big 12 will take on the best team from the Big Ten. Texas Tech already dismantled #2 Michigan in the Sweet 16. At the time, the game was billed as a fierce battle between the two of the top defensive teams in the country, but Tech came out ahead during a blowout victory.
Now, one of the top defensive squads in the nation will try to hold off Tom Izzo and Michigan State. Texas Tech is most known as a football school and the alma mater of quarterback Patrick Mahomes. Tech has never been to a Final Four before, let alone competed for a national championship.
The Spartans are seeking their school's third national championship. Izzo won his only title in 2000, Meanwhile, Magic Johnson took Michigan State all the way during a historic Final Four against Larry Bird in 1979.
#3 Texas Tech Raiders (30-6) vs. #2 Michigan State Spartans (32-6)
Tip-off: 5:49pm PT, Saturday April 6, 2019
Location: Minneapolis, MN
Point Spread: MSU -2.5
Over/Under: 132.5
Texas Tech's closest game in March Madness occurred in the Elite 8 against #1 Gonzaga. Tech held the best offense in the country to only 69 points and won by six points. In their first three March Madness contests, Texas Tech won by a margin of 18 points. Their opponents were unable to overcome their smothering defense.
Michigan State beat a red-hot #3 LSU team in the Sweet 16 and then edged out Zion Williamson and #1 Duke in the Elite 8. Michigan State won a squeaker 68-67 thanks to the best point guard in the country, Cassius Winston.
Kill Drills and the Lubbock Local
Texas Tech is known for their third-ranked defense that allows only 59 points per game. Coach Chris Beard and his assistant coach Mark Adams installed a defensive scheme that plays to Texas Tech's strengths. Tech is super quick and relentless defenders. They take away the middle of the court and force opponents to drive the ball baseline. Of course, it's a trap because Tech can quickly smother the dribbler. And if they try to pass out of it, they are quick to shutting down any perimeter counterattacks. It looks easy to beat after watching video, but in real life, it's impossible for players to overcome Tech's quickness.
Tech also created something called a Kill Drill, which is a defensive drill where defenders must get three consecutive stops inside of a 90 second frame. They keep going until they get those three key stops. That painful drill is one of the reasons why they are the toughest defensive unit in the country.
Meanwhile, Jarrett Culver, who grew up in Lubbock, Texas, is a key player on both sides of the court. At 6-foot-6, Culver is often matched up as a swingman in the three-guard offense. He guards taller players, but he's able to handle them with ease due to his wingspan and quickness.
On the offensive side, Culver leads the team in all the major categories. He leads Tech with 18.9 points, 6.4 rebounds, and 3.8 assists per game. Culver has become a legitimate lottery pick in the upcoming 2019 NBA Draft. He's mentioned in the same breath as Ja Morant and Zion Williamson. Scouts love him because he loves playing defense. His only weakness is his perimeter shooting. Culver is streaky, but if he gets on a roll, it's going to spell doom for Michigan State.
The Green Machine
Michigan State will have no shortage of famous alumni at the game. Magic Johnson has been in attendance during the Spartans run this year. Michigan State is one of the most historic basketball programs in the nation. They send plenty of players to the NBA, but they have not won a title since 2000. Despite being a powerhouse with a deep tradition for winning, it's been almost two decades since a title.
Tom Izzo is hoping to end his drought. Many pundits think he beat the beast team in the country with a win over #1 Duke in the Elite 8. But, Michigan State still has two games to play to actually win the championship. If anyone can figure out how to crack Texas Tech's defense, it's Izzo and his not-so secret weapon: Cassius Winston.
Winston won the Big Ten Player of the Year, which is quite the honor. He was also named first-team All-American and recognized as the nation's top point guard. Winston overpowered Duke's super-frosh to lead Michigan State to a Final Four berth. Now it's up to him to pick apart Texas Tech's stifling defense. He averages almost 8 assists per game. In the rare chance he can find an open man, the rest of MSU must execute those scoring opportunities because Tech does not give the opposition any free looks.
According to the South Point Casino and Sports Book in Las Vegas, Michigan State is 2/1 odds to win 2019 March Madness. Texas Tech is 7/2 odds to win the championship.