The NFL's regular season is wrapping up. Playoff teams are preparing for the postseason while players and coaches with the remaining 20 squads get ready for winter vacation. Before any of that happens, here's a look at 10 of the best (in no particular order) individual performances and most memorable plays of the 2018 NFL season.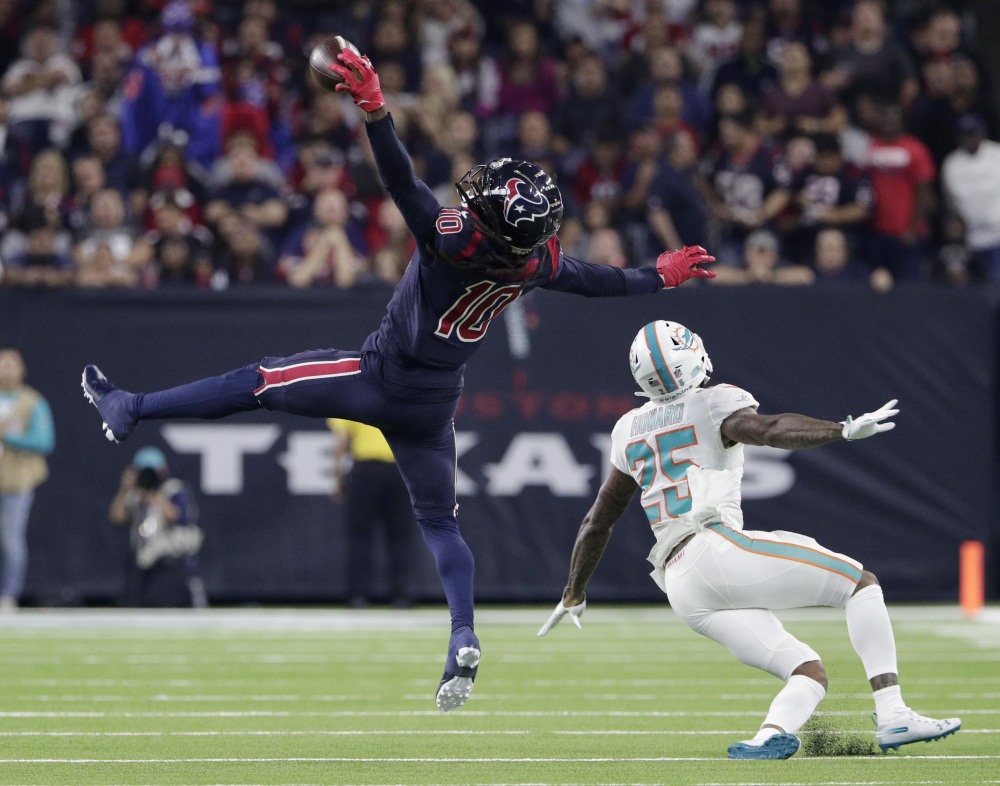 1. Aaron Rodgers TD pass of the year in Week 1
Green Bay Packers quarterback Aaron Rodgers orchestrated an improbable Week 1 comeback against division rival Chicago Bears that started with this play. Trailing 20-3 in the 4th quarter, Rodgers flicked his wrist in vintage Rodgers-fashion, sending the football traveling over 50 yards in the air before landing perfectly into the arms of Geronimo Allison.
2. Keelan Cole's one-handed catch against New England in Week 2
Jacksonville Jaguars receiver Keelan Cole made an outstanding one-handed catch, reaching back to haul in a Blake Bortles pass, and finishing with a somersault to pick up the first down against the Patriots.
3. Patrick Mahomes scrambles, unleashes missile for Week 3 touchdown pass
Kansas City Chiefs quarterback Patrick Mahomes quickly established himself as the front-runner for the NFL's Most Valuable Player in the 2018 season. Mahomes has captivated the league and positioned the Chiefs for a first-round playoff bye by routinely making these types of plays all season long. This Week 3 touchdown pass shows his athleticism and unparalleled arm strength.
4. Vance McDonald steals Chris Conte's soul with vicious stiff arm in Week 3
Pittsburgh Steelers tight end Vance McDonald was getting into the end zone at all costs on this 75-yard pitch-and-catch. It cost Buccaneers safety Chris Conte a significant chunk of his pride to learn that lesson. Both Conte and McDonald were trending on Twitter after this diabolical stiff-arm … but for very different reasons.
5. Tyrell Williams scales three defenders for this Week 6 touchdown
The Cleveland Browns devoted over 25 percent of their defense to stopping Los Angeles Chargers wide receiver Tyrell Williams on this play. It still didn't work. Williams battled three Browns defenders and wrestled this Phillip Rivers bomb away for a 45-yard touchdown catch.
6. DeAndre Hopkins makes impossible one-handed grab in Week 8
A penalty negated this play, so it didn't show up as a reception on the stat sheet, but this catch from Houston Texans wide receiver DeAndre Hopkins immediately found a spot on the receiver's impressive career highlight reel. Hopkins is known for having some of the best hands in the NFL and making acrobatic catches look routine. But this catch — reaching back with one hand and bringing the ball between his legs before securing it — is jaw-dropping even by his standards.
7. Ricocheted pass finds DeVante Parker in Week 8
From the same game that gave us Hopkins' unbelievable one-handed catch, we also have one of the most improbably completions of the entire NFL season. At first, the Miami Dolphins appeared to have a big gain on a Jakeen Grant reception. But the ball was knocked out of his clutch, bounced off a Texans defender, and was redirected an additional 14-yard downfield into the waiting arms of teammate DeVante Parker for a Dolphins' first down.
8. Mo Alie-Cox one-handed touchdown catch in Week 8
Week 8 was a good one for one-handed catches. In addition to DeAndre Hopkins' catch against the Dolphins, NFL fans were also treated to this one from Colts tight end Mo Alie-Cox, who stabs this Andrew Luck pass out of mid-air with one hand for a Colts touchdown.
9. Jalen Ramsey intercepts Ben Roethlisberger in the endzone during Week 11
Nobody in the NFL talks a bigger game than Jaguars cornerback Jalen Ramsey and plays like this — where he undercuts a Ben Roethlisberger pass in the endzone to make a juggling interception in coverage against Antonio Brown, one of the best receivers in football — are the reason he's totally permitted to do so.
10. Adrian Peterson breaks the longest run of his career at age 33 in Week 13
Washington Redskins running back Adrian Peterson continues to amaze, even in the later stages of his career. When most running backs would have retired three or four years ago, Peterson is still raising the bar for himself at 33 years old: this 90-yard touchdown sprint against the Eagles in Week 13 was the longest run of the future Hall of Famer's career.