If you are a fantasy football noob seeking tips, or just a casual fan who got roped into joining your cousin's fantasy  pool, then whatever you do, do not be the first team to draft a kicker even though it's enticing to pick Justin Tucker early.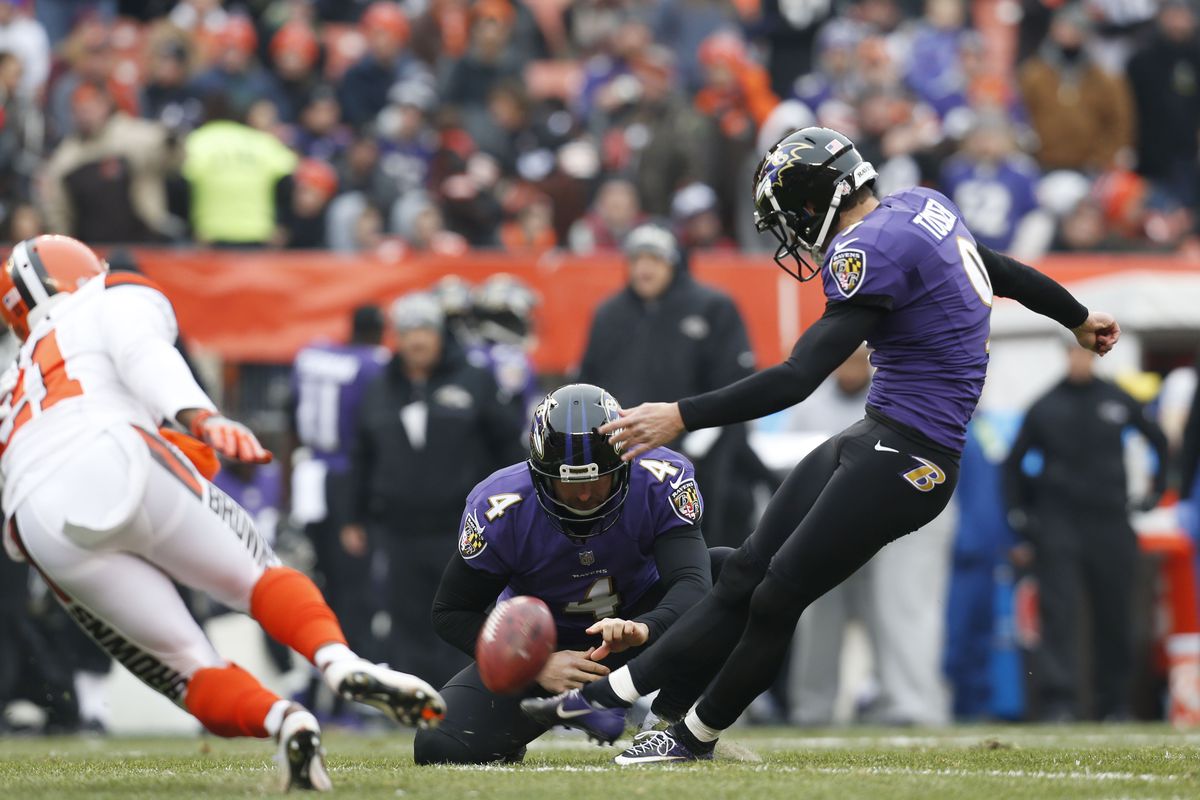 I know what you're thinking, "Justin Tucker is money, bruh!"
Yes, Justin Tucker from the Baltimore Ravens is one of the best kickers of all time with a 90.1 percent FG success rate. Tucker is automatic with extra points (241 for 242) and he can nail 50-plus yarders with consistency. However, even the best of the best if not worth the risk when you should be utilizing those valuable picks on filling out your bench, or finding a backup quarterback.
5 QUICK FANTASY FOOTBALL TIPS FOR NOOBS:
1. WRs are more valuable than RBs.
2. Rookies make the best sleepers.
3. Avoid the top RBs from last season.
4. Do NOT be the first one to draft a kicker.
5. Do NOT draft a Defense until the final round.
Even if you're an avid fantasy football player, it's difficult to avoid common mistakes during the heat of battle. Drafting your team can be one of the most stressful aspects of fantasy football noobs and veterans, so most of the time you're reacting to what everyone else is doing instead of sticking to your game plan.
Don't Be the First to Draft a Kicker
It goes without saying that the golden rule of fantasy football is to avoid being the first idiot to draft a kicker. Even if someone else picks Tucker first, do not jump on the bandwagon and start the avalanche of drafting kickers in the fifth round.
Most of the time, you end up cutting your fantasy football kicker anyway during their bye week and picking up the best available option off the waiver wire.
BONUS TIP: And for the love of all things pigskin, do not under any circumstances retain a kicker in your keeper league.
WRs > RBs
The entire NFL has become a pass-happy league. Gone are the days of the premier running back who eats up a ton of yardage.
Running backs have historically been the first causalities in the war of attrition. That's why many teams have opted for tandem backs or RB by committee to soften the blow.
Between injuries and rules favoring the passing game, wide receivers are more valuable over the long term. Of course, there are a few exceptions in PPR league with reception-heavy backs such as Saquon Barkley and Christian McCaffery. But once those guys are snatched up, you're better off focusing on shoring up your WR corps.
Avoid Last Year's Stud RB
A former college superstar once told me that a running back takes a pounding which is equivalent to someone in a car wreck. If a RB is fortunate enough to play all 16 games, that's 16 different car wrecks they experience with only a couple of days of recovering time.
It's no coincidence that the top RB from the previous year fails to secure consecutive rushing titles after the brutal pounding they took while racking up yards. This fantasy football tip for noobs does not bode well for Ezekiel Elliot fans.
Todd Gurley fizzled out late in last season and his overuse might have cost the LA Rams a Super Bowl title.
Rookies Make Great Sleepers
It's always a gamble to draft an untested rookie. Then again, you looked like a genius if you drafted Saquon Barkley last year.
This year, rookie RB Miles Sanders from the Philly Eagles was pegged as the "Next Saquon". Andy Reid took a liking to Chiefs rookie WR Mecole Hardman. Patrick Mahomes loves to fling the ball, so there will be no shortage of opportunities for the rookie even if he's the third or fourth WR option.
Last Round Defense
Defense is important to winning NFL games. Fantasy football? Not so much. A great defense can be a mirage in the fantasy realm, especially for fantasy football noobs. You're really better off picking a defense off the waiver wire and plugging in the best possible matchup with more than half the league to choose from.
Similar to kickers, you can get away with filling in your defense with your last round selection. Week to week on the waiver wire is the way to go rather than wasting a late round pick with a defense you'll probably drop during the bye week.
In addition to fantasy football tips for noobs, take a look at our other coverage…
OG 2019 Fantasy Football Coverage:
Top QBs
QB Sleepers
QB Busts
Top WRs
WR Sleepers
Top 10 RBs
RB Sleepers
TE Sleepers