Mickey Mantle, Honus Wagner, Babe Ruth, Shoeless Joe Jackson, and Pete Rose are among the top five most lucrative and expensive baseball cards of all-time according to auction figures.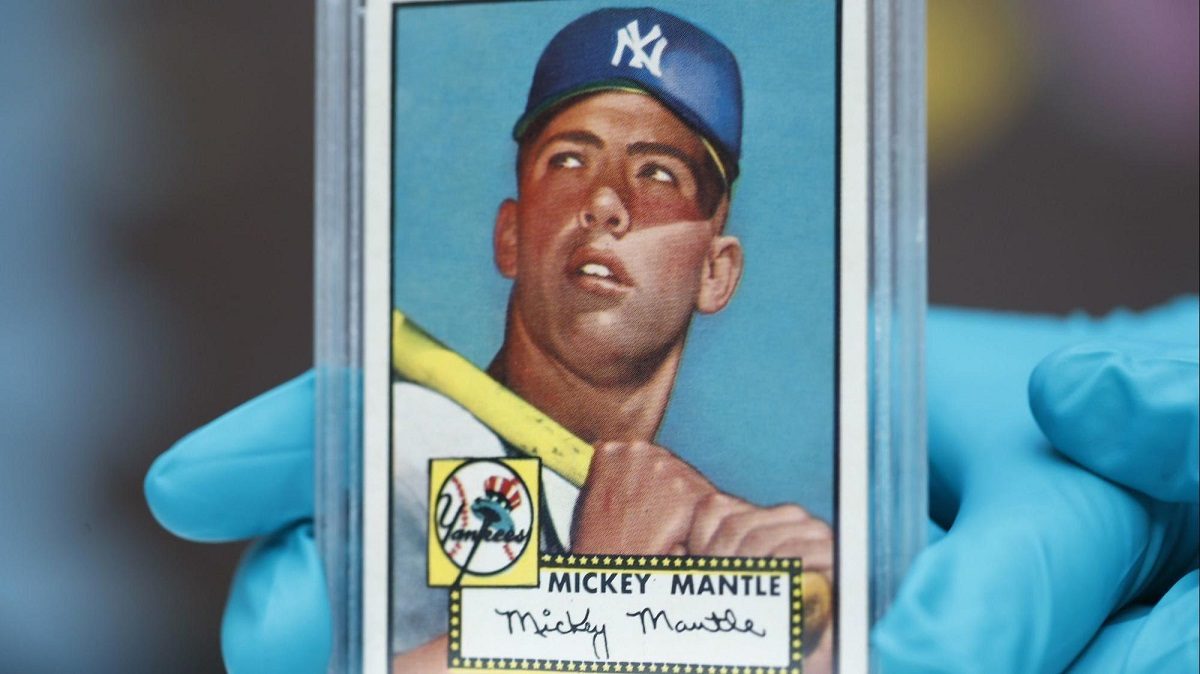 Last week, a 110-year old rare Honus Wagner baseball card (1909-1911 ATC T206) in Grade 2 condition sold at an auction in Southern California for $1.2 million.
Wagner cards from the 1909-11 era are extremely rare. Only 25 to 50 entered circulation by the American Tobacco Company before Wagner protested the use of his image and they halted production.
A Wagner in Grade 5 condition holds the all-time record with a sale of $3.2 million in 2016. A different "Jumbo" version of the card, previously owned by hockey great Wayne Gretzky, held the record of $2.8 million in 2007.
TOP 5 MOST EXPENSIVE BASEBALL CARDS
1. Honus Wagner (1909-1911 ATC) $3.2 million
2. Mickey Mantle (1952 Topps) $1.1 million
3. Babe Ruth (1916) $717,000
4. Pete Rose (1963 Topps) $717,000
5. Shoeless Joe Jackson (1909) $667,000
Wagner became one of the first big-time baseball stars at the turn of the 20th Century. Wagner played a Hall of Fame career with the Pittsburgh Pirates before his last season as a player/manager in 1917.
Mickey and Babe
Mickey Mantle and Babe Ruth are among the all-time greats to play for the New York Yankees. However, it's Ruth's time with the Boston Red Sox before he donned the pinstripes that makes collectors drool.
A 1916 card issued by Sporting News features Ruth before he became the "Whammer". Ruth spent several seasons raising hell in the the Red Sox locker room in Boston, where he became known for his left-handed pitching prowess. When the Sox traded Ruth to the NY Yankees, he had won 89 games with 105 complete games and 17 shutouts.
One hundred years after its issue, Ruth's 1916 card sold for $717,000 in 2016.
Mickey Mantle's rookie card is considered the Holy Grail to collectors. However, his second year card issued by Topps in 1952 fetched seven figures. In 2016, Mantle's Grade 8.5 version sold for $1.13 million.
Banned Brothers: Rose and Jackson
Pete Rose and Shoeless Joe Jackson are the best players not to garner induction into the Baseball Hall of Fame.
The Commissioner banned both men from baseball due to their involvement in betting. Rose bet on games, but allegedly never on his own games. Jackson got caught up in the 1919 Chicago Black Sox Scandal when the White Sox threw the World Series.
A baseball card, 1963 Rookie Stars issued by Topps, featuring Pete Rose with Pedro Gonzalez, Al Weis, and Ken McMullen. Rose became the all-time "Hit King" before he got banned. In 2016, the Rose card sold for $717,000.
A Joe Jackson card, one of 200 or so issued by American Caramel, sold for $667,189 in 2016.
Jackson became such a pivotal figure that Hollywood made two movies based on him. The ghost of Shoeless Joe Jackson is featured in "Field of Dreams" with Kevin Costner. "Eight Men Out" by John Sayles chronicles the Black Sox scandal.