Galatasaray wants Slavia Prague's creative midfielder Nicolae Stanciu to fuel their attacks next season. The 28-year old is one of the most prominent players on the Romanian national team and shone at Slavia during the last campaign.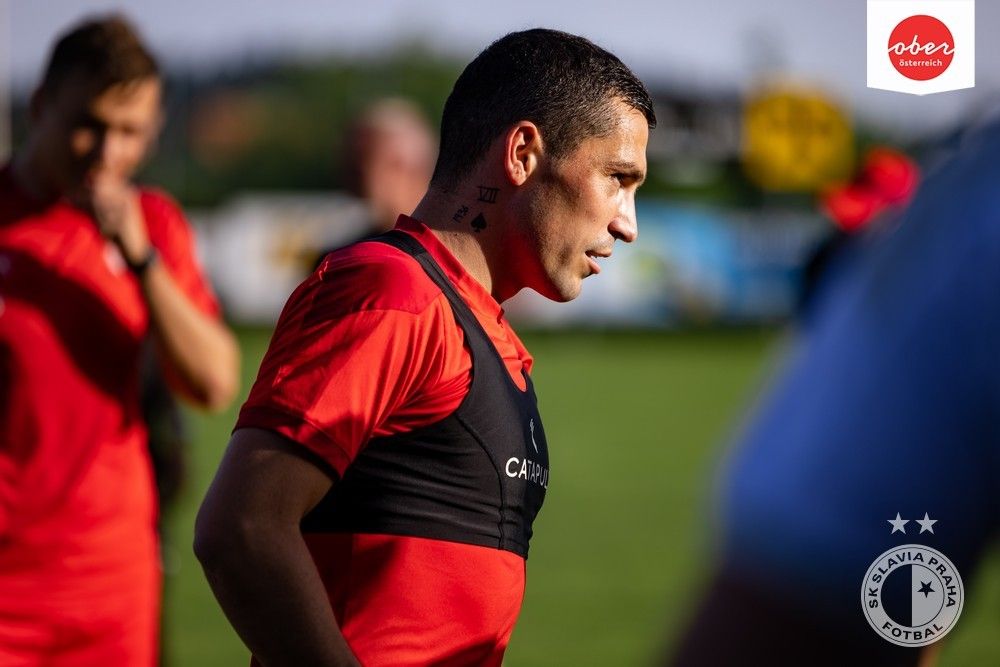 Stanciu led Slavia to its third consecutive title in the Czech Republic, netting 12 times in the league and also assisting six goals. In total, Stanciu scored 16 goals across all competitions in the previous campaign, also contributing with eight assists.
Eight of his goals came between Feb. 28 and March 21. Stanciu made himself visible on the scoresheet in six consecutive games.
OnlineGambling can reveal Galatasaray made a firm offer today in the region of $7.1 million for Stanciu. The player's wish is to continue his career in Turkey, where he's also offered a higher salary, but the final decision is now with Slavia. According to the latest info we obtained, the bid was turned down by Slavia, even though it met the Czech champions' last evaluation of the player.
Galatasaray'ın bugünkü çalışmasını kulüp tarihimizde özel yere sahip olan efsanelerimiz Gheorghe Hagi ve Gheorghe Popescu da ziyaret etti. Hagi ve Popescu, çift kale maçı teknik direktörümüz Fatih Terim ile beraber izledi. pic.twitter.com/yRJ0UmDj7H

— Galatasaray SK (@GalatasaraySK) July 4, 2021
Galatasaray and its excellent relationship with Romanian players
Galatasaray holds the record for the highest number of league titles in Turkey, having won the championship on 22 occasions. Fenerbahce comes second with 19, while Besiktas is currently at 16.
Galatasaray signed a host of Romanian stars through the years, including legendary Gheorghe Hagi (ex. Real Madrid and Barcelona) and Gheorghe Popescu (former Barcelona captain). Hagi and Popescu, the leaders of the Romanian national team in the 90s, won the UEFA Cup with Galatasaray in 2000. Hagi is still a cult figure for Galatasaray supporters. They remember him fondly for his fantastic dribbling skills and his spectacular goals.
"Stanciu would like to play for Galatasaray to continue Hagi's legacy there. That prospect motivates him more than anything," a source close to the player told OnlineGambling.
Stanciu joined Slavia for around $5 million in 2019 after six months in Saudi Arabia with Al Ahli Jeddah. Previously, Stanciu played for Slavia's arch-rival, Sparta Prague, for a year. For almost five years, Stanciu held the record for the highest fee ever paid for a player in the Romanian league, after his $11 million transfer from Steaua to Anderlecht in 2016.
Update on Stanciu to #Galatasaray: Galatasaray made another offer, the player wants to go, all depends on Slavia at the moment. pic.twitter.com/1rh5nMPRqN

— Emanuel Roşu (@Emishor) July 14, 2021
Slavia, the team that transformed Stanciu
Under coach Jindřich Trpišovský, Stanciu enjoyed his best seasons since he became a pro in 2009 at just 16-years-old. Slavia performed on home soil, winning three league titles in the past three seasons, and did well in Europe. Trpišovský got the best out of Stanciu, who helped Slavia reached the quarterfinals in the Europa League. They managed to hold Arsenal to a draw at the Emirates before being crushed at home 4-0 in the second leg.
Still, Slavia put out Leicester City and Glasgow Rangers in the knockout stages. Stanciu had influential outings in almost every game.
"Trpišovský got under his skin and so we could see the best version of Stanciu at Slavia. The player has a great relationship with the club and the manager, so that's why they are holding on to him so tight," a Slavia employee revealed.
On Tuesday, president Jaroslav Tvrdík turned down a $6.5 million offer from Galatasaray. It's now his decision on whether the player moves this summer or not. People at Slavia claim a deal is not off yet, despite Tvrdík putting the improved $7.1 million last-minute bid on hold.