Changes are apparently coming in the broadcast booth at Monday Night Football, where announcers Joe Tessitore and Booger McFarland are not expected to return. Though ESPN has not confirmed the report, several stories over the weekend had the duo being replaced.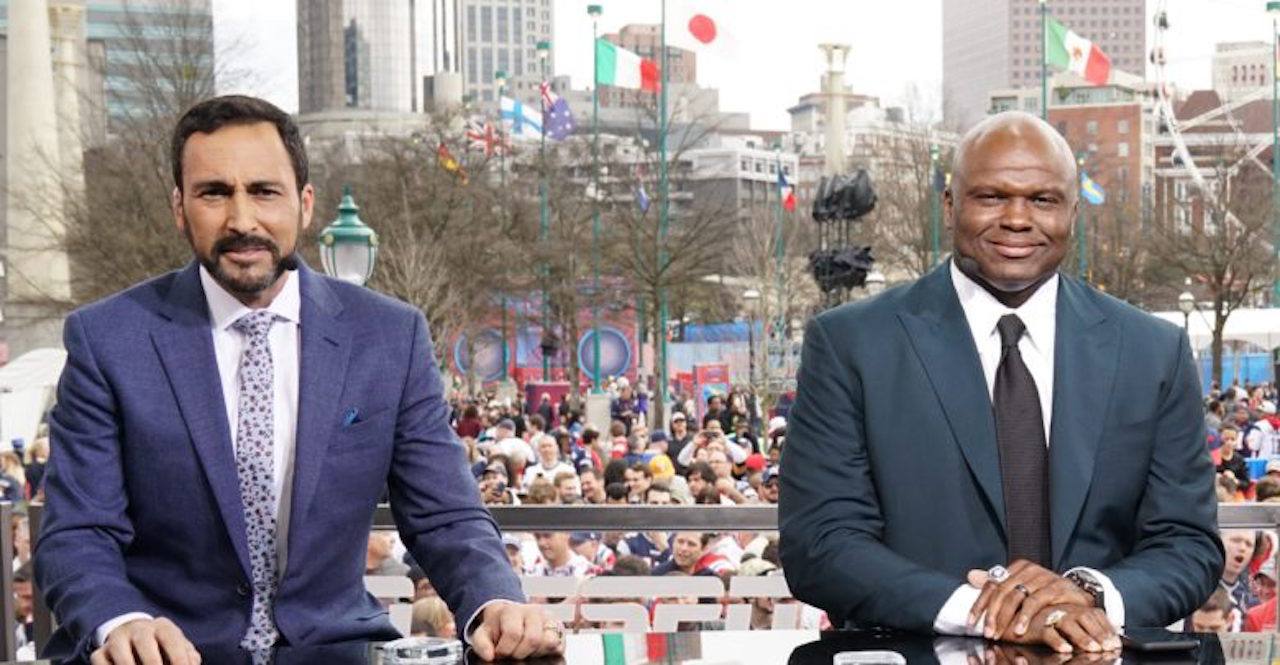 Rumors about the future of the Monday Night Football announcers have been circulating since January. That same month, Bovada put out odds on who will be in the broadcast booth at the start of the 2020 season.
Who Will Announce MNF in 2020?
| | |
| --- | --- |
| Tony Romo | +185 |
| Peyton Manning | +450 |
| Pat McAfee | +450 |
| Dan Orlovsky | +900 |
| Kurt Warner | +900 |
| Matt Hasselbeck | +950 |
| Greg Olsen | +1000 |
| Kevin Burkhardt | +1800 |
| Ian Eagle | +1800 |
| Steve Levy | +1800 |
| Drew Brees | +2500 |
| Philip Rivers | +2500 |
Source: Bovada
Tessitore and McFarland had been on Monday Night Football for the past two years, and their ratings have gone up each year. Last season, ESPN saw its most-viewed regular season since 2015, finishing the 17-game NFL schedule in 2019 with 12,569,000 viewers, up 8% from the previous year.
The Nov. 11, 2019 game featuring the Seattle Seahawks and San Francisco 49ers attracted 16,734,000 viewers, making it the most-watched MNF game since the Lions-Cowboys in 2016.
New Boss, New Monday Night Football Announcers
Still, executives are apparently not satisfied with the Monday Night football announcers, and reportedly want to make a change. They started at the top, promoting Phil Dean to become the show's producer. Dean has been with the network since 1992, and he most recently served as a college football producer.
ESPN executive Stephanie Druley told Sports Business Daily two weeks ago that they wanted to hire that position from within, and tabbed Dean.
"We were pretty set on staying internal," Druley said. "He's been one of our top producers for a long time. He loves football. He lives and breathes it."
Dean's hiring reportedly sealed the fate of Tessitore and McFarland and his first task is expected to be replacing the current broadcast team. That, however, will be done with in-house talent, according to The Athletic, which first broke the story about ESPN replacing the Monday Night Football announcers.
Several Swings and Misses
That philosophy is a 180-degree pivot from what ESPN was trying to do earlier in the year. Executives were swinging for the fences in regards to getting a high-profile name in the booth.
First, they went after CBS football analyst Tony Romo. The former Dallas Cowboys quarterback instead used the rumor to get a $17 million deal from CBS, making him the highest-paid analyst in football.
ESPN then went to Plan B, which is one they have tried before. Peyton Manning was extended a contract offer of between $18-20 million per year. Manning, however, turned them down for a second time. They also tried to get famed play-by-play man Al Michaels away from NBC, but failed there as well.
With those stinging defeats, and a recent pay cut for both talent and executives, it is now less likely the network will look to spend big money on putting a big name in the booth. With ESPN now expected to hire from within, former NFL QB and current FOX Sports football analyst Matt Leinart knows who he wants to see in the booth.
There is zero doubt who should be in the booth for Monday Night Football. It's my boy @danorlovsky7. He played the game at the highest level, he talks the game at the highest level and he's one of the best dudes I know! #nobrainer

— Matt Leinart (@MattLeinartQB) May 9, 2020
Orlovsky, who was an analyst on college football games last year is, with Steve Levy, is one of the names most commonly mentioned to take over Monday Night Football announcing duties when the 2020 season begins.