Two SEC teams will be battling for a spot in the Final Four with #5 Auburn taking on PJ Washington and #2 Kentucky in the Midwest Regional.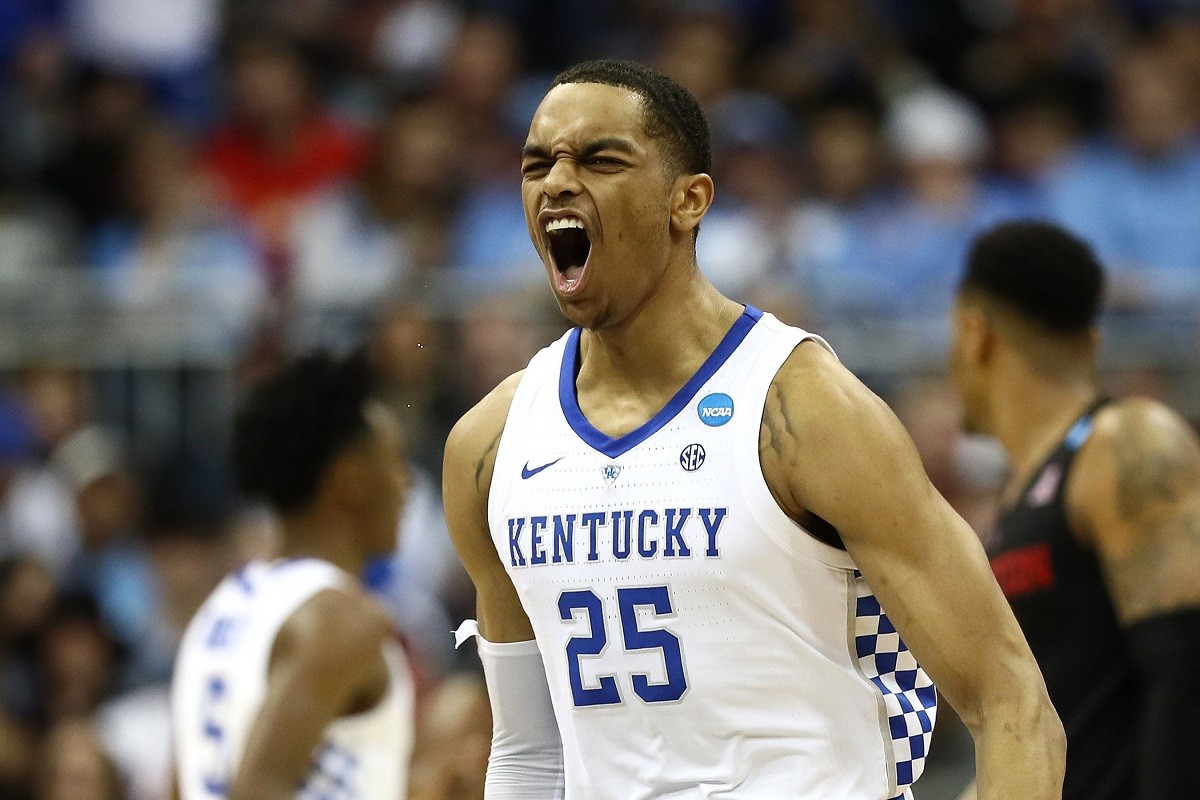 The Auburn Tigers drilled 17 three-pointers and stunned #1 North Carolina on Friday night to advance to their first Elite 8 in 35 years.
Meanwhile, Kentucky was happy that their star player, PJ Washington, returned to the lineup after missing the first two opening games of the tournament with a foot injury. Washington came off the bench to score 16 points for Kentucky in a huge win over #3 Houston in the Sweet 16. Kentucky advanced to the Elite 8 for the seventh time since 2010.
#5 Auburn (29-9) vs. #2 Kentucky (30-6)
Tip-Off: 11:20am PT
Location: Sprint Center, Kansas City, MO
Point Spread: UK -4
Over/Under: 142
At least one SEC is guaranteed a spot in the Final Four. Kentucky opened as a 4-point favorite, especially with Chuma Okeke out for Auburn. PJ Washington is expected to play again, which is good news for Big Blue Nation. Kentucky has not been back to the Final Four since 2015. They last won the title in 2012.
PJ Washington Pain Master
PJ Washington, 6-foot-8 sophomore forward, did not practice during the week because coach John Calipari was saving his best player for the Sweet 16. Washington leads Kentucky in scoring with 14.8 points and 7.4 rebounds per game, but he had not played since the SEC tournament semifinals.
"How we got through last weekend without him, I have no idea," said Kentucky head coach John Calipari. "If you take the best player off any team in the NCAA tournament, you're not going to be the same. We just happened to survive."
Despite the sprained foot, Washington looked good against Houston. He scored 16 points in 26 minutes, but he did not shoot any three-pointers.
"I took some pain pills before the game," said Washington. "Kind of started hurting in the second half, but I just suffered through it. Through the end of the game, it was trying to cramp up."
Tyler Herro, 6-foot-5 freshman guard, led the Wildcats in scoring in the Sweet 16 with 19 points. Herro drilled a clutch three-pointer with 25 seconds remaining to lead Kentucky to a victory over Houston 62-58.
Cats vs. Cats, Part 3
Both teams have cat mascots with the Auburn Tigers up against the Kentucky Wildcats. In Elite 8, Kentucky won another battle of cat mascots with a victory over the #3 Houston Cougars.
Auburn and Kentucky met twice this season. In the first game in Auburn back in January, Kentucky pulled off a two-point victory. In their second meeting in Lexington, Kentucky won a 27-point blowout 80-53. Reid Travis did not play, but UK didn't miss him. PJ Washington looked unstoppable shooting 9-for-13 from the field for a game-high 24 points. Tyler Herro added 17 points with three treys, while Ashton Hagans added 14 points on an efficient 6-for-8 shooting night.
In the blowout loss to UK, Chuma Okeke led the Auburn with a team-high 14 points. The rest of the team shot 6-for-22 from three-point range, while three starters combined for 5-for-24 overall from the field. After that ugly game, Auburn went on a heater to win 11-straight games including the SEC Conference tournament title.
Auburn will be playing in the Elite 8 without Chuma Okeke, who went down late in the North Carolina game with a knee injury. Bruce Pearl expects his squad to rally behind their fallen comrade.
Then again, the Tigers have been red-hot from three-point land. They connected on 17 treys against UNC and knocked down 13 against Kansas. The Tigers hit 30-for-67 over their last two games for a 44.8 percent clip. Auburn's backcourt, consisting of Bryce Brown and Jared Harper, combines for 31 points per game. Those sharpshooters are expected to pick up the scoring slack.
According to the South Point Casino and Sports Book in Las Vegas, Auburn is 8/1 odds to win 2019 March Madness. Meanwhile, Kentucky is also 8/1 odds to win the college basketball championship.