Fernando Tatis, Jr., nicknamed "El Nino", came into this Spring Training as one of the Top 5 prospects in baseball. Tatis made the opening day roster for the San Diego Padres and he's made a huge splash during his rookie season hitting .326 with 14 home runs.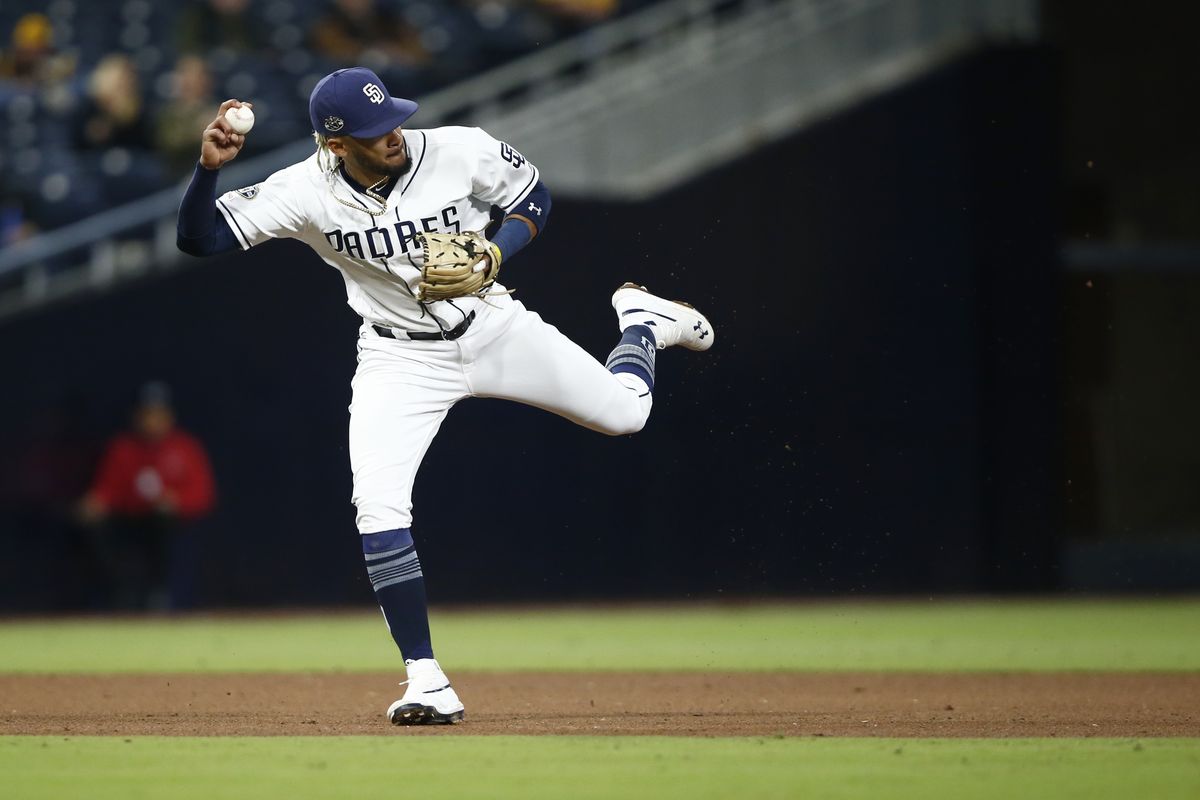 If it were not for the breakout season of the NY Mets first baseman Pete Alonso, we would be hyping up Tatis as the next rookie of the year candidate in the National League.
WHO IS FERNANDO TATIS, JR?
Hometown: San Pedro de Macoris, Dominican Republic
Age: 20
Position: SS
Bats/Throws: Right/Right
Team: San Diego Padres
Stats: .326 AVG, 14 HR, 33 RBI, 14 SB
While Vladimir Guerrero's son Vlad, Jr. is getting a lot of accolades in Toronto for his slugging ability, Tatis Jr. is another son of a big leaguer who has been making a name for himself.
The younger Tatis jacked 14 home runs in only 60 games of action as a leadoff man. He only needs 99 more to tie his father.
Chip Off the Old Fernando
Tatis, Jr. grew up in the Dominican Republic. He is the son of former journeyman third baseman Fernando Tatis, Sr. The elder Tatis retired in 2010 but he played 11 seasons with the Texas Rangers, St. Louis Cardinals, Montreal Expos, Baltimore Orioles, and New York Mets.
In 1999, Tatis, Sr. set an MLB record with 8 RBI in a single inning when he smashed two grand slams for the St. Louis Cardinals. Tatis, Sr. finished his career as a .265 hitter with only 113 home runs.
Tatis, Jr.'s grandfather also played ball and toiled for over a decade in the minor leagues between the late 1960s and early 1970s. Fernando Aaninio Tatis got as high as AAA Denver before he became a scout.
Tatis, Sr. later would coach in the Dominican baseball leagues for the San Pedro Estrellas. They were considered the Cubs of the DR because they had not won a title since the late 1960s. That all changed when El Nino. suited up for the squad and led the Estrellas to their first crown since 1968.
Tatis Sr. said his son had a love for the game that he demonstrated on and off the field.
"He played so much baseball and loved to be out at the field so long when he was in Little League that he let his grades slip," said Fernando Senior. "I told him he couldn't play baseball until he got his schoolwork in order. From that time until when he signed with the White Sox (at 16-years old) he had the best grades in all his classes, just to make sure he could play baseball all he wanted."
The Chicago White Sox signed Junior with an international contract at the age of 16. He was traded at the age of 17 but regarded so high before he even played a single game with the organization. The Padres hit the jackpot. They have a potential ace with Chris Paddack and have a blooming All-Star SS in the making.
Manny Say Promote Tatis
One of the caveats about Manny Machado coming to play in San Diego was that he wanted the organization to promote their top prospect. During his time with the Baltimore Orioles, Machado and Tatis' father were teammates. Machado wanted to become a mentor to the young shortstop.
"I want to play third base beside this kid," Machado told the Padres. "And be for him what JJ Hardy was for me when I first came up. He's unbelievable."
It's one thing to fast track a player out of nepotism, but in this case Tatis has proven he can handle playing in 'The Show' as a 20-year old.
For one thing, Tatis is fast and already racked up 14 stolen bases. He also has a cannon for an arm. But in the modern MLB, shortstops have to be excellent fielders and hit the snot out of the ball. Tatis smokes balls. According to ESPN, only 10 other hitters in the big league hit at a harder exit velocity at 115.9 mph.
Tatis made the roster for Opening Day and he did not disappoint anyone with two hits.
Although he missed all of May with an injury, Tatis would be in the top 5 in hitting in the NL with a .326 average if he had enough qualifying at bats. Tatis is slashing at .326/.391/.591… as a 20-year old.