We're flying below the usual Kentucky Derby prep radar, with a race not held on one of America's A-list tracks. Therefore, chances are you're not going to see a horse that will win all three Triple Crown races come out of Saturday's El Camino Real Derby at Golden Gate Fields outside Berkeley. But you will see at least one Triple Crown race contender.
That's because the 1 1/8-mile El Camino Real Derby is a Win & You're In ticket that sends the victor to the Preakness, the second leg of the Triple Crown. The winner will also ride away with the lion's share of 10-4-2-1 derby qualifying points.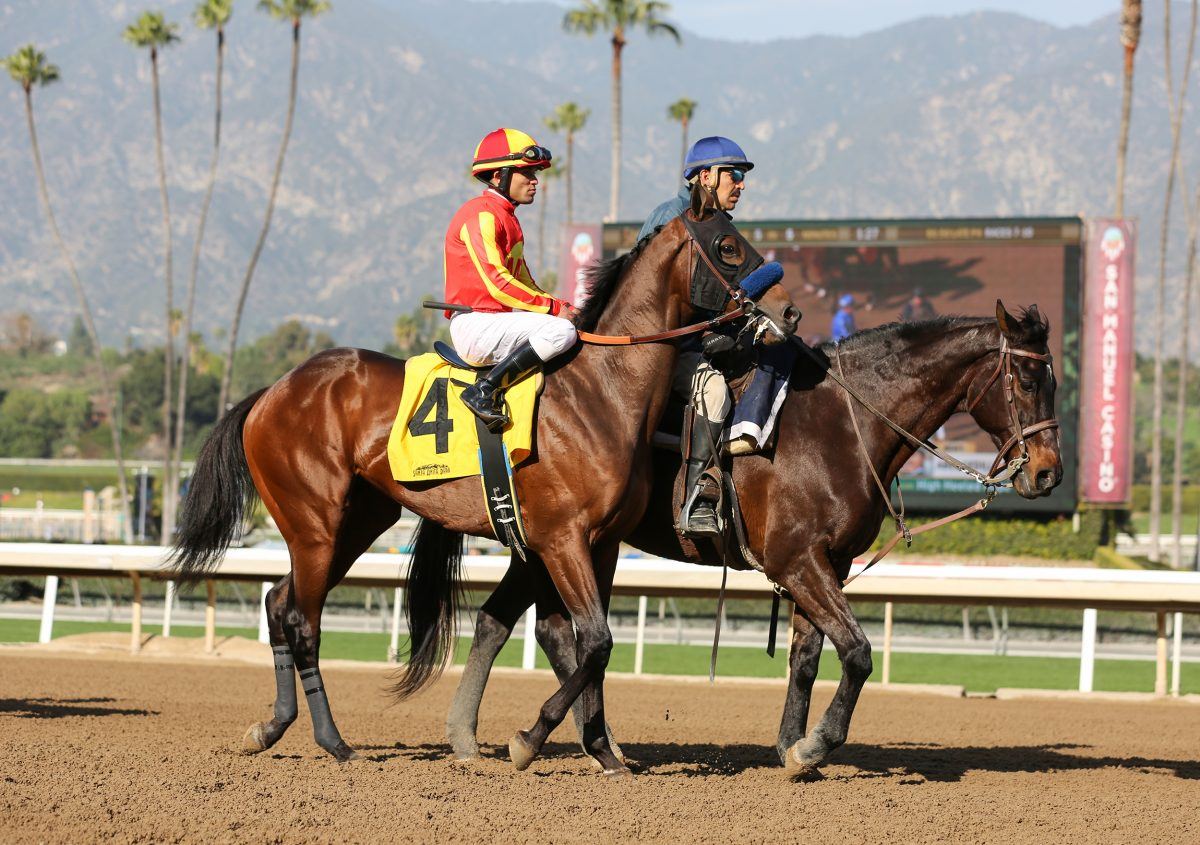 In the El Camino Real, you'll also see the 11-horse field run on a synthetic Tapeta surface, which adds another variable to what is a wide-open field. Add in the fact that five horses in the field ran against each other in a Jan. 19 allowance race at Golden Gate, and you should see some great on-track action.
Familiar Faces at El Camino Real
The winner of that allowance race, The Stiff, held off runner-up Wine and Whisky, while Mysterious Stones nipped even-money favorite Ajourneytofreedom in a photo for third. Final Final finished fifth. All five were separated by less than three lengths, which lends itself to intrigue for Saturday's race, especially since Ajourneytofreedom is the kid brother to last year's eight-length El Camino Real winner, Anothertwistoffate.
For the El Camino Real, The Stiff is probably the only win contender of that quintet, especially if Azul Coast and Indian Peak are at their peaks. The Bob Baffert-trainee, a 2/1 favorite here and the son of Super Saver, Azul Coast is coming off a runner-up performance in the Grade 3 Sham Stakes at Santa Anita last month, a performance less-impressive when you consider he was beaten by eight lengths by stablemate Authentic.
El Camino Real Opening Odds

Indian Peak – 8/1
Praise Loudly – 50/1
American Farmer – 20/1
Wine and Whisky – 10/1
Mysterious Stones – 12/1
Final Final – 15/1
Sacred Rider – 10/1
Ajourneytofreedom – 6/1
Azul Coast – 3/1
Czechmight – 5/1
The Stiff – 6/1
Follow the Jockeys
A Southern California invader like The Stiff, Azul Coast broke his maiden in impressive fashion, rallying for a four-length victory at Los Alamitos in December. It bears mentioning that the underrated Rafael Bejarano is forsaking his Santa Anita mounts to migrate north and pilot Azul Coast. It also bears mentioning that Azul Coast is a must-use in any exotic.
Indian Peak's jockey, Juan Hernandez, is doing the same with Ajourneytofreedom. Last year, Hernandez guided Anothertwistoffate to the El Camino Real winner's circle. He rode Ajourneytofreedom in that Jan. 19 allowance race, and the connections are the same.
Last time out, Indian Peak wasn't in top form, finishing a well-beaten seventh at the Cal Cup Derby at Santa Anita. That, however, was on dirt, and Indian Peak was plagued by a bad trip in traffic. The race before that, he beat two fellow El Camino Real Stakes competitors: Final Final and Sacred Rider by 2 ½ lengths in an allowance optional claimer. Currently at 7/2, he's worth a win bet at anything greater than 4/1 and should be used in all exotics.