Only a couple of weeks after Egan Bernal signed a five-year contract extension with Ineos Grenadiers, the 2019 Tour de France champion found himself involved in a serious training accident and crash when he slammed into the back of a bus in Colombia.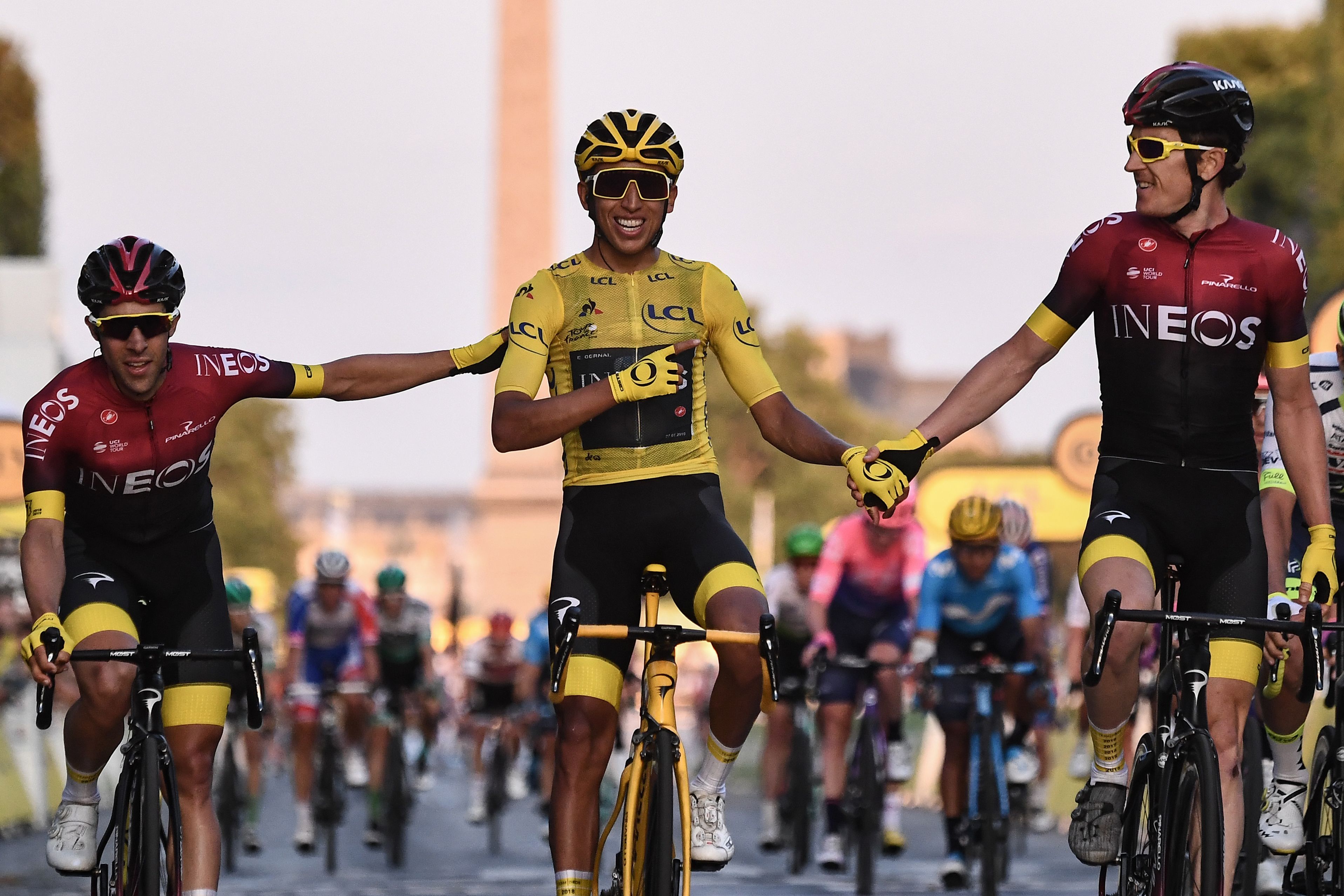 Bernal, 25, won the 2021 Giro d' Italia (Tour of Italy) and was just one major win away at the Vuelta d'Espana (Tour of Spain) from winning a triple crown in three Grand Tour races.
Bernal is in stable condition at the ICU after undergoing multiple surgeries to fuse his fractured vertebrae due to spinal trauma. He also suffered a damaged lung, multiple broken ribs, a broken patella, and a broken femur.
"The Team would like to thank the medical staff at Clinica Universidad de La Sabana and everyone who has sent messages in support of Egan," said Ineos. "All of our focus in is on ensuring that Egan gets the best possible care as he starts his road to recovery."
The incident occurred Monday when rumors surfaced that Bernal was involved in an accident. On Tuesday, Ineos Grenadiers confirmed the incident with an official statement about one of their top riders.
An update on Egan.

Thank you for every single message of support #FuerzaEgan pic.twitter.com/5kHNojl6li

— INEOS Grenadiers (@INEOSGrenadiers) January 25, 2022
Bad beat for Bernal
Heading into the new year, the cycling community wondered which Grand Tour race Bernal would focus on in 2022. He needed a win at the Vuelta to complete a triple crown and become the youngest rider in history to achieve the feat. But after this unfortunate and devastating crash, it could take a couple of years before Bernal returns to elite form once again.
Last summer, Ineos and Bernal set their sights on the Giro d'Italia (Tour of Italy) and didn't ride at the 2021 Tour of France. Although Ineos had a disappointing Le Tour in France, they reached the top spot of the podium in the Giro d'Italia when Bernal won the coveted pink jersey.
"I really want to go back to the Tour de France," said Bernal after he extended his contract with Ineos. "I skipped last year because of the Giro, but it feels like it's been a long time since I was at the Tour. So I am really excited about this year. I want to go back having prepared really well, taking a good team, and being there to really enjoy the race."
Bernal won the Tour de France at age 22 in 2019, becoming the youngest champion since World War II. He also made history as the first Colombian rider to win a yellow jersey.
Tour de France odds adjustment
Bernal had an awful time defending his crown in 2020. Even 2020's Le Tour was postponed until early September due to the pandemic, Bernal nursed a back injury. He clearly didn't look like himself in the saddle and fell behind the top leaders from the start of the race. He gutted out the grueling race before he cracked in Stage 15, finally dropping out in the Alps.
Tadej Pogacar won the 2020 Tour de France and set a new record as the youngest rider to snag the yellow jersey just one day shy of his 22nd birthday. Pogacar won again in 2021 and began the new year as the consensus favorite to win the 2022 Tour de France. Insiders believed Bernal had the best chance out of the other top riders to dethrone Pogacar and thwart a third-straight victory on Le Tour.
Prior to his crash, Bernal was the fourth favorite to win the 2022 Tour de France on the futures board at +900 odds. Oddsmakers tweaked the odds after the crash, and Bernal is currently +2000 odds. The 2022 Tour de France begins in Denmark in June, but even an elite athlete like Bernal can't return from a near-fatal injury in five months.
Pogacar hasn't seen any movement in his Tour de France futures, and he's still +110 odds to defend his title and win a third-straight yellow jersey.
Richard Carapaz, Bernal's teammate at Ineos Grenadiers, is +2800 odds to win the Tour de France this year. His odds didn't change after Bernal's crash, but he's most likely to become the primary candidate to become the alpha rider for Ineos at the 2022 Le Tour.