Edwin Jackson pitched for the Toronto Blue Jays this week, which marked his 14th team in the big leagues and set a new MLB record.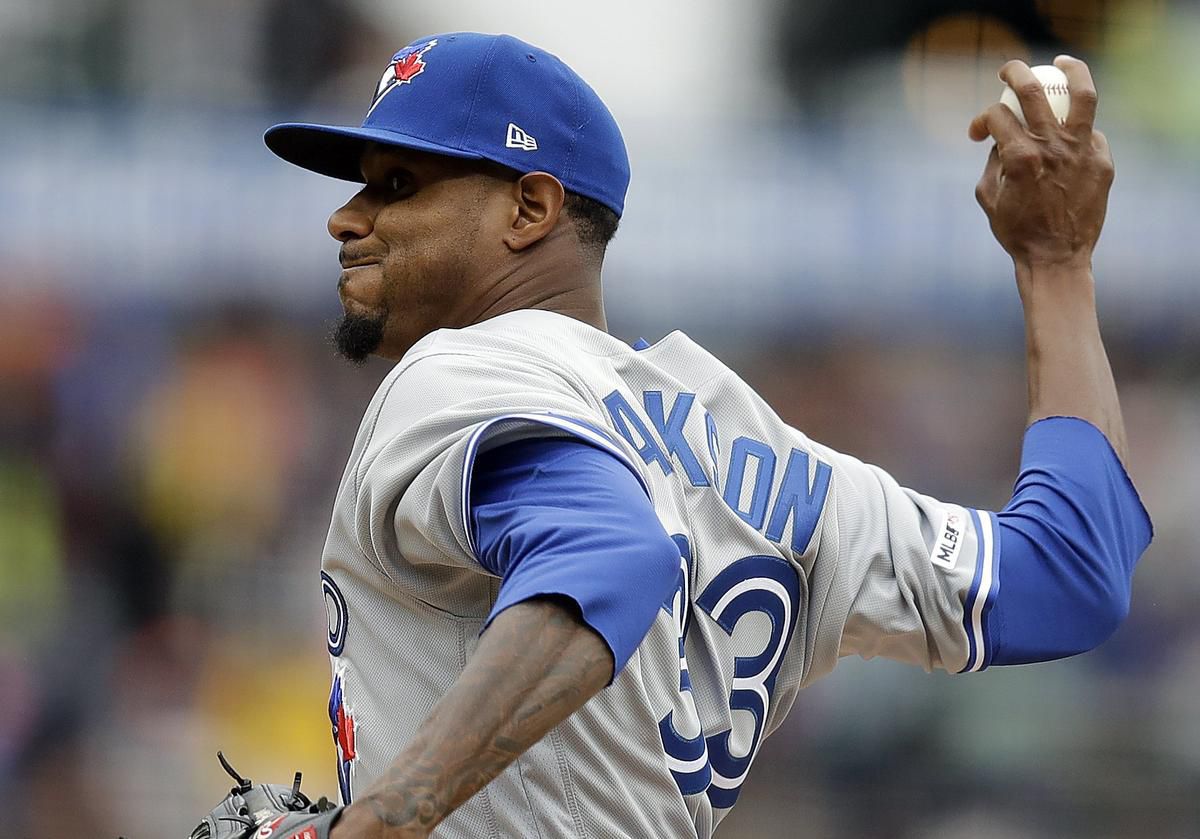 Jackson won 104 games and struck out 1,458 batters for 14 teams in 17 seasons as a pro. He's a one-time All-Star (back in 2009 with the Detroit Tigers), played in the World Series twice (Tampa Rays and St. Louis Cardinals), won a title with the Cardinals in 2011, and even threw a no-hitter back in 2010 with the Chicago White Sox.
Jackson turns 35 at the end of the season. As a 19-year old, Jackson made his major league debut with the LA Dodgers in 2003. He spent three seasons with the Dodgers before beginning his long, strange journey.
EDWIN JACKSON'S MLB TEAMS:
LA Dodgers
Tampa Bay Devil Rays
Detroit Tigers
Arizona Diamondbacks
Chicago White Sox
St. Louis Cardinals
Washington Nationals**
Chicago Cubs
Atlanta Braves
Miami Marlins
San Diego Padres
Baltimore Orioles
Oakland A's
Toronto Blue Jays
Jackson played in both leagues with 5 stints with 5 American League teams and 9 stints with 8 National League teams. He also had two stints with the Washington Nationals back in 2012 and again in 2017.
This week, Jackson joined the Toronto Blue Jays while on their West Coast road trip. Jackson made history against the San Francisco Giants when he officially pitched for his 14th ball club. He was previously tied for the record with Octavio Dotel and 13 teams. During the same road trip, young slugger Vladimir Guerrero, Jr. hit his first big-league home run.
Conversion Jackson
Jackson is one of the 20 or so players in MLB history to be born in Germany. His father, Edwin Jackson Sr., was stationed with the US Army in Germany at the time of his birth. He grew up on bases in Germany before his family returned to the US when he was a kid.
Jackson won a state title with his high school team in Columbus, Georgia. The Los Angeles Dodgers selected him out of the sixth round in the 2001 MLB Draft. At the time, Jackson played outfield. The scouts loved his arm and thought he would be the perfect candidate as a converted pitcher.
Jackson worked on his new position and became a highly-touted prospect. It took him a couple of seasons to finally make it to the show.
Jackson won his first-ever MLB start over Hall of Famer Randy Johnson.
All-Star and No-No
Jackson is a true journeyman. He's in his 17th season and played for 14 teams. He is 14-123 on his career with a 4.60 ERA and 1.44 WHIP. He spent the first three years of his pro career in Los Angeles and the next three in Tampa.
In 2008, Jackson posted his best season with 14-11 record and 4.42 ERA and 1.50 WHIP. The next season, he found himself with the Detroit Tigers. He went 13-9 with a 3.62 ERA and 1.26 WHIP. He had a great first half of the season and got named to the All-Star game.
Jackson started the next season with the Arizona Diamondbacks. They traded him mid-season to the Chicago White Sox. He threw a no-hitter for his new team on June 25, 2010.
In 2011, the St. Louis Cardinals added him to their roster. He helped them win a World Series and Jackson earned a ring.
Since then, he bounced around with eight different clubs including the Nationals twice. He spent three seasons with the Cubs between 2013-15, but never spent more than one season with the Braves, Marlins, Padres, Orioles, and A's.
"It says I have a lot of perseverance," Jackson said. "Some of those teams had situations which would make other people want to go home and quit and cry. But for me, it's like the tougher it gets, the harder I work."
"He's going to give you all he's got every time he takes the mound," said Toronto manager Charlie Montoyo.