Connor McDavid, captain of the Edmonton Oilers, picked up his 100th point of the season with two assists in a 6-3 loss against the New Jersey Devils.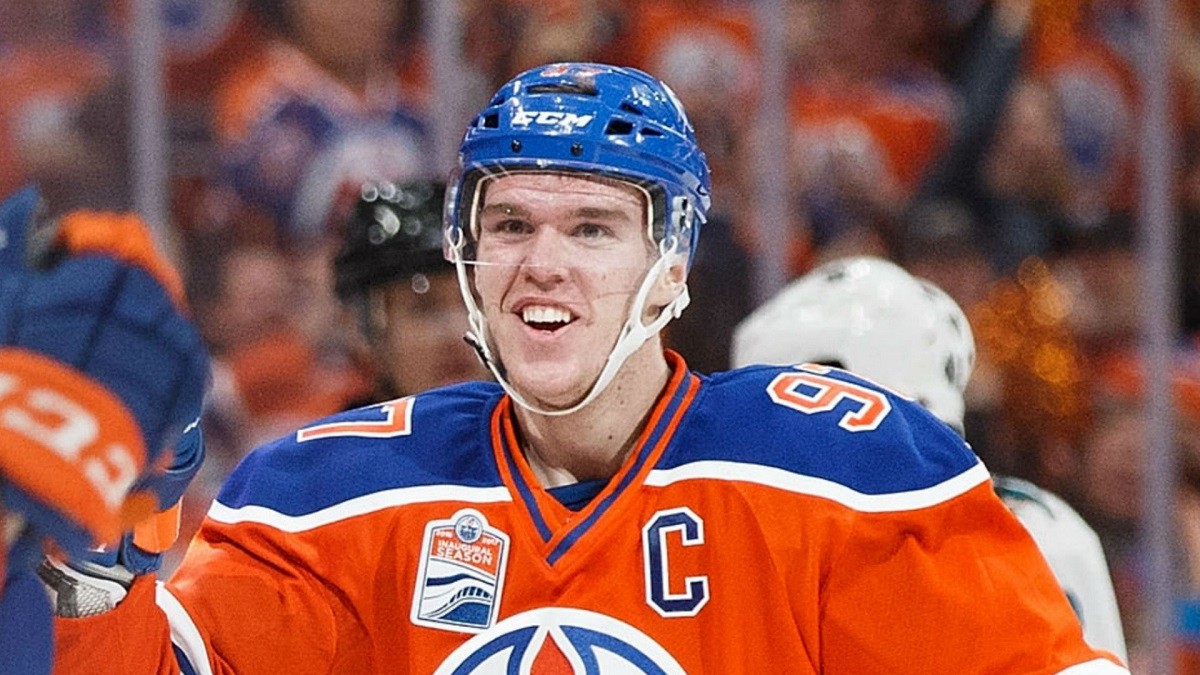 McDavid, who turned 22-years old in January, is playing in his fourth season with the Edmonton Oilers. The former number one draft pick scored 100-plus points in three consecutive seasons. He currently has 34 goals and 66 assists through 66 games.
McDavid joins a special club of players under the age of 23 who scored 100-plus points in three seasons. The group includes Wayne Gretzky, Mario Lemieux, Dale Hawerchuck, and Sidney Crosby. The Great One who scored 100-plus points in his first five seasons in the NHL starting in 1979, but he locked up four before he turned 23.
100 Points in 3 Seasons Before 23
Wayne Gretzky (1979-1983)*
Dale Hawerchuck (1981-1986)*
Mario Lemieux (1984-1988)*
Sidney Crosby (2005-2010)*
Connor McDavid (2016-2019)
* 4 consecutive-times
Sidney Crosby from the Pittsburgh Penguins is the last modern player to accomplish the rare feat, but he pulled it off four times.
100 for McDavid
The Oilers drafted Connor McDavid with the #1 overall pick in the 2015 NHL Draft. He's lived up to expectations with 356 points in 275 games. He also has 121 career goals.
McDavid only played 45 games in his rookie year because he missed nearly half of the season with a broken collar bone injury. He showed flashes of brilliance with 16 goals and 32 assists for 48 points. Despite only playing in 45 games, the NHL awarded McDavid with the Calder Memorial Trophy, which is their Rookie of the Year trophy.
At the start of his second season in 2016, the Oilers named McDavid the team's captain. Still only 19-years old at the time, McDavid became the youngest team captain in the storied history of the NHL.
In his next two full seasons, McDavid posted 100 points at the end of 2017 and 108 points at the end of 2018. He scored a career-high 41 goals last season.
It's been a rough year for the Oilers. They fired their coach Todd McLellan midseason and hired the legendary Ken Hitchcock to turn around the team's losing ways. McDavid has been a little bit of a goal-scoring funk as of late. Through mid-March, he has only one goal this month and five since the beginning of February. In December and January, McDavid scored 8 goals in each of those months.
McDavid did not score any goals against the Devils, but he racked up two assists. He locked up his 100th point of the year by assisting on a power play goal by Matt Benning.
Benning buries the PPG, McDavid hits 💯 points! #LetsGoOilers pic.twitter.com/GViAUDuYT9

— Edmonton Oilers (@EdmontonOilers) March 14, 2019