Blake Griffin has been a Detroit Piston for only three games, but the team suddenly has gone from stalled to firing on all cylinders. The former Clipper, who was traded to the struggling Eastern Conference squad Jan. 29, has pumped some much needed life into the organization.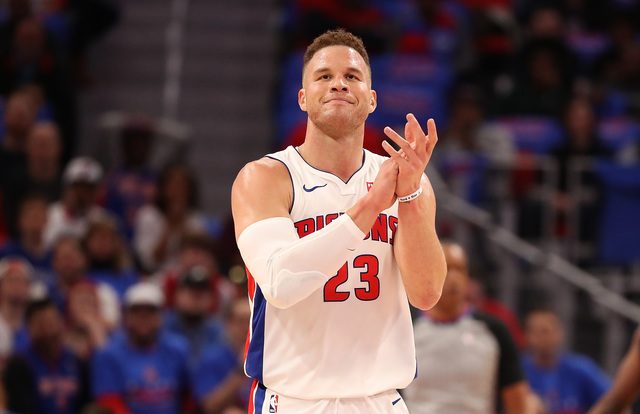 That was exactly how head coach Stan Van Gundy made the pitch to owner Tom Gores on trying to bring the 28-year-old superstar to Detroit. The power forward's name began circulating in trade talks after the first of the year, and Van Gundy told NBA.com it was a no brainer for them.
"Don't really want to get into internal discussions, but it didn't take much selling," he said. "Tom was all for it."
West Sends Griffin East
The architect of the deal was Jerry West. The Hall of Famer was brought in over the summer as a consultant. Even though Griffin signed a 5-year contract worth $173 million that made him the fifth-highest paid player in the game.
West wasn't convinced the return on investment was worth the often injured superstar. When Griffin got a knee injury in November the decision was apparently made to shop him around.
While Los Angeles fans were incensed he had been dealt when they thought he would be with the team his entire career, the 79-year old tried to convince Clipper Nation it was the right move. He was recently on the "Not Just Sports" podcast and said it was time to face reality with the team's chances of winning with Griffin.
"There was no guarantee, even with Blake here, that we were going to make the playoffs," he said. "But I think the one thing that I would say to you and to everyone is, would you rather this Clipper team, the way it was presently constructed, let's say play the Warriors (in the first round) and lose every game by 20, 25 points? That's what was going to be. I don't think anyone who's competitive, and cares about winning, wants that."
Pistons Thrilled with Acquisition
Even before Griffin suited up for the Pistons the team seemed to respond to the news of their new teammate. They played Cleveland a day after the announcement and won, 125-114. This was two days after they were defeated by the Cavaliers, 121-104 for their ninth consecutive loss.
Now they are on a four-game winning streak and Griffin is being credited as recharging a listless team. They host the Brooklyn Nets Wednesday night and are 9-point favorites. Andre Drummond told Mlive.com that his new teammate is providing a winning mentality.
"With his addition, it's just been a lot of fun," he said. "We didn't really understand what was going to happen when we first got him. We didn't know how long it was going to take for him to adjust, but him being the professional that he is, he adjusted very quickly. Three wins already are showing it."
The sports books are noticing as well. The Pistons weren't even expected to get into the playoffs this year and were a 300/1 long shot to win the NBA Championship. The odds have dropped to 100/1 and while they probably won't go deep into the postseason they are at .500 and one game out for the final playoff spot.