Carson Wentz, the quarterback for the Philadelphia Eagles, will be shut down for the rest of the season due to a fracture in his back.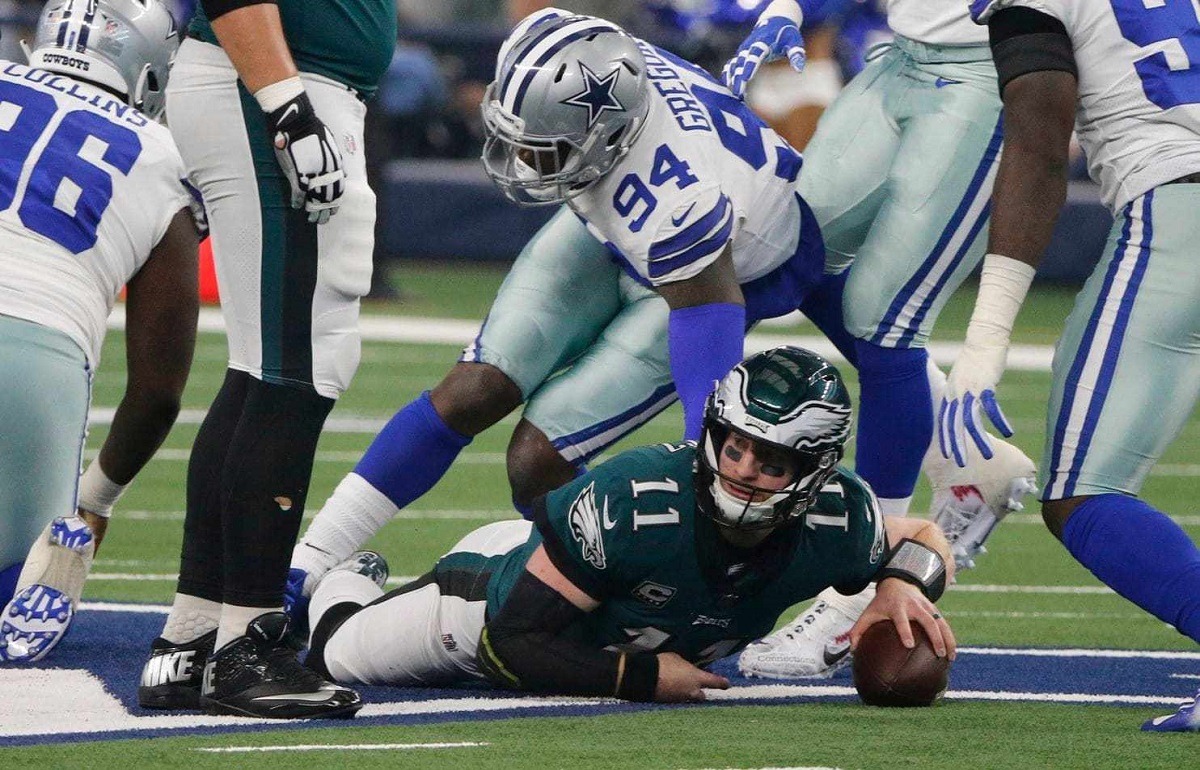 The vertebra injury does not require surgery, but Wentz requires a minimum of three months to heal. Backup QB Nick Foles will start this week for the Eagles (6-7), who face a tremendous uphill battle if they want to make the postseason to defend their Super Bowl title.
Downed Eagle
Carson Wentz indicated he had soreness and stiffness in his back after Sunday's overtime loss to the Dallas Cowboys. Medical staff discovered the fracture on Tuesday after tests and a CT scan.
"He has a stress injury," said head coach Doug Pederson. "This thing has evolved over time and it requires zero surgery to heal."
There is not an exact date when Wentz injured his back. However, according to NFL injury reports, Wentz was noted with back issues as far back as October.
"Carson, he's going to handle it like a champ," said teammate WR Jordan Matthews. "He's one of the best young quarterback in the league. He was even playing at a high level with what he was dealing with. And I don't know if you know, going through reads, it helps to have a healthy back."
Wentz missed the final three games last season when he blew out his knee with a torn LCL and ACL. Wentz did not play in the postseason including Super Bowl LII.
Last season before he went down, Wentz threw 33 touchdowns and 7 interceptions. In 11 games of action this season, Wentz threw 21 touchdowns and seven picks. Although his overall number of touchdowns was down, his completion percentage went up from 60.2 percent last season to 69.6 percent this season.
Backup Foles Back in Action
The reliable Foles finished out the final three games of last season and guided the Eagles to an undefeated record in the postseason en route to their win in Super Bowl LII.
Foles was named Super Bowl MVP for his clutch performance against the New England Patriots with three touchdowns and 373 passing yards. Foles also caught a touchdown during a trick play aptly named the Philly Special.
As reigning Super Bowl champions, the Eagles faced a much tougher schedule in 2018. They also had to begin the season without their star quarterback. Wentz missed the first two games while he recovered from knee surgery. Foles went 1-1 as a starter this season with only one touchdown and one interception.
With three games remaining, the Eagles face the LA Rams, Houston Texans, and Washington Redskins. Although they are technically still alive in the playoff hunt, they are facing a harsh reality with back-to-back games against the Rams and Texans.
The Eagles fly to Los Angeles to play the Rams on Sunday. The Rams (11-2) are coming off a loss to the Bears and fighting the New Orleans Saints for home field advantage in the NFC playoffs. Foles and the Eagles are +13 underdogs against the Rams.