The New York Giants might not have wanted quarterback Dwayne Haskins, but the Washington Redskins are thrilled he is on the team. The Ohio State signal caller, who was picked No.15 by Washington, has been impressing coaches at the team's rookie minicamp.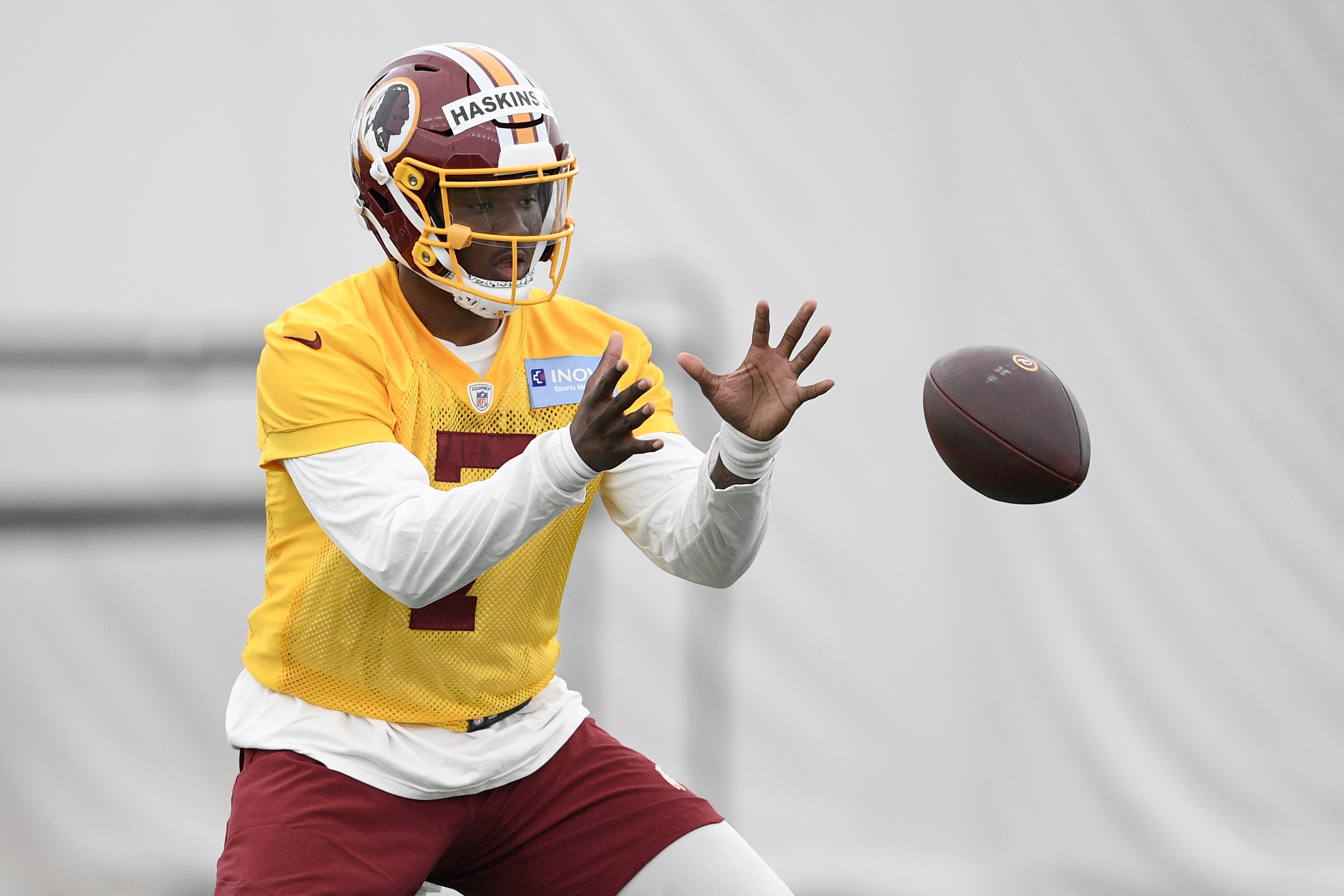 Head Coach Jay Gruden put Haskins through about 50 plays in the two-day camp, including 7-on-7 drills, and red zone scenarios. Gruden liked what he saw.
"Well, I just think it's kind of neat to have a quarterback here that you draft that high and you come in here and you give him set plays and go out there and work with him and watch him spin it," Gruden said. "It's been a treat. I think he's made some throws that turn your head without a doubt."
Starting Possibility, but No Guarantee
That doesn't mean Haskins has been handed the reins of the franchise. Gruden said the rookie still has a lot of work to do.
"There are some things we obviously need to clean up, and that's going to be the case every single day that he's here," Gruden said. "But without a doubt, I think to watch him throw the ball to the receivers that we have in here and he had a pretty good group of receivers as well."
Gruden did, however, say that there will be competition for the starting job between himself, Colt McCoy, and Case Keenum. McCoy replaced last year's starter Alex Smith, who suffered a horrific leg injury. Keenum was acquired from Denver as a veteran that could play if McCoy could not. Not it seems the two will be battling with Haskins for the position.
"Yeah, for sure. We have to have that. I mean Case [Keenum] coming off of the most experience is great, Colt [McCoy] has the most experience with this terminology in this system and Dwayne [Haskins] was the 15th  pick in the draft," Gruden said. "We'll see what happens."
Motivation, Dedication on Display
Haskins was projected as a possible top-5 pick in April's NFL Draft, and most experts thought he would be taken at No. 6 at the latest to be the successor to Giants' QB Eli Manning. But when New York took Duke's Daniel Jones, Haskins fell into the gleeful laps of the Redskins nine picks later.
It was something that irked Haskins being from New Jersey. He was a Giants fan as a kid, and being passed on by his hometown team did not sit well with him. He was seen smirking at the Draft when New York took Jones.
That seems like ancient history now. Haskins has embraced his new team and has been studying and working hard on the Redskins offense, according to Gruden. The 22-year-old said he will be happy for whatever role he is given.
"I'll be ready for whatever the coaches want for me, whether that's starting right away or next year or during the season," Haskins said. "I'm just going to prepare like I'm the starter, and that's with me in the weight room, me in the meeting rooms, me with the younger guys, me with the older guys. Every opportunity for me is an opportunity for me to showcase that I'm the guy."
Whoever starts at quarterback will have a tough task. The Redskins have not made the playoffs since 2015, and have not won a playoff game since 2005. The Westgate Las Vegas SuperBook has them at +500 to make the playoffs, and -700 not to. They are also a 100/1 pick to win the Super Bowl.