Vernon Carey led Duke in scoring as a freshman and now the 6-foot-10 center is officially a "one-and-done" player after declaring himself eligible for the 2020 NBA Draft.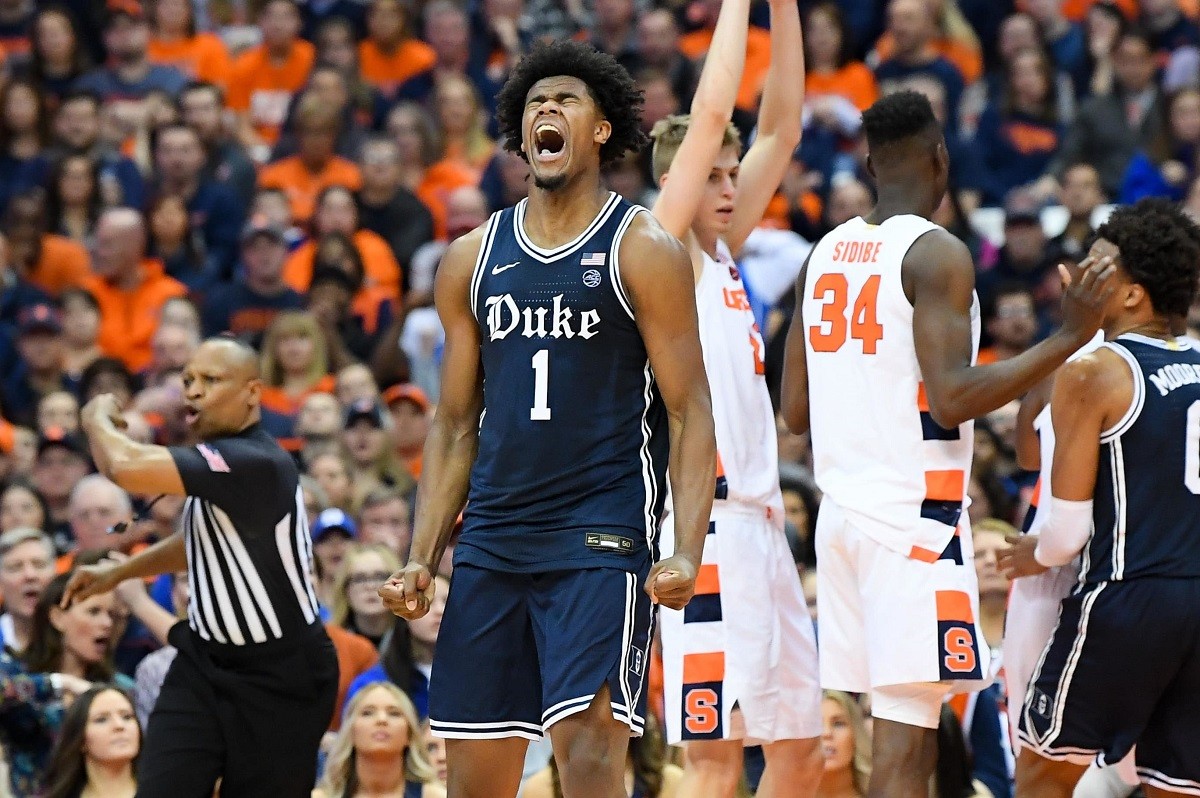 Carey averaged 17.8 points, 8.8 rebounds, and 1.6 blocks this season at Duke. He also shot 57.7% from the floor.
Carey earned the distinction of being the "Freshman of the Year," according to a voting panel of members at the Basketball Writers Association and the National Association of Basketball Coaches.
Carey, a top-5 center prospect, is projected to go somewhere in the middle of the first round.
"I grew as a player and person, and feel prepared to take that next step," Carey said via a statement. "After an incredible season, I am excited to enter the 2020 NBA Draft. I will always appreciate everyone at Duke who invested their time and energy to make me better: Coach K and our coaches, our entire support staff, our managers, the Cameron Crazies, and so many others across campus. Duke is a special place and you already know I will be back soon to catch a game and support my brothers."
During his freshman season at Duke, Carey earned second-team All-American honors.
SoFla > Durham > NBA
Vernon Carey, Jr. is the son of Vernon Carey, a former pro football player. The elder Carey played offensive lineman for the Miami Hurricanes and later became a first-round draft pick of the Miami Dolphins. Carey thought he might play pro football for a hot minute, but he kept growing taller and taller.
Carey played at the same high school (Fort Lauderdale, Florida's NSU University Prep School) for four seasons. He guided NSU to the Florida 5A state championship as a junior. Carey's NSU team lost in the finals of the National High School Championships. Future Duke and NBA star, RJ Barrett, and top-ranked Montverde Academy edged out Carey in the championship.
Heading into his senior season, Carey became a top-5 overall recruit. ESPN rated him #2 overall. In late December 2018, Carey announced on ESPN's Sportscenter his intention to attend Duke University.
Carey picked Duke because he liked the evolution of Coach K's offense into positionless basketball.
Coach K landed a blue-chipper and bona fide five-star recruit. He also found someone to fill in for Zion Williamson as soon as he bolted for the NBA after his freshman season.
Double-Double Machine
In his auspicious freshman season at Duke, Carey earned ACC Freshman of the Year honors, beating out North Carolina's Cole Anthony. Carey also earned a spot on the All ACC Team as a frosh.
Carey recorded 15 double-doubles this season. At the start of the season, he strung together seven consecutive double-doubles. Not too shabby for the guy who had to step up and fill Williamson's massive shoes when Zion departed Duke after his freshman season.
Late in the season, Carey posted back-to-back 26-point games. He scored 26 points and added 17 rebounds in a dominating performance over Syracuse. In his prior game, Carey hauled down 13 rebounds in addition to his game-high 26 points.
"I'm am so proud to have had the opportunity to coach such a tremendous young man," said Coach K. "He came every day looking to get better, and I know the best is yet to come for him."
Carey never got a chance to put his skills on display on the highest stage during March Madness. With the tournament suspended due to the coronavirus pandemic, he shifted his focus away from Duke and toward solo workouts to prep for the upcoming NBA Draft.