The Kentucky Wildcats want to rebound from a terrible 2020-21 season, not to mention a disappointing preseason exhibition campaign. They will immediately jump into the fire on Tuesday, starting the season against the Duke Blue Devils in the Champions Classic at Madison Square Garden.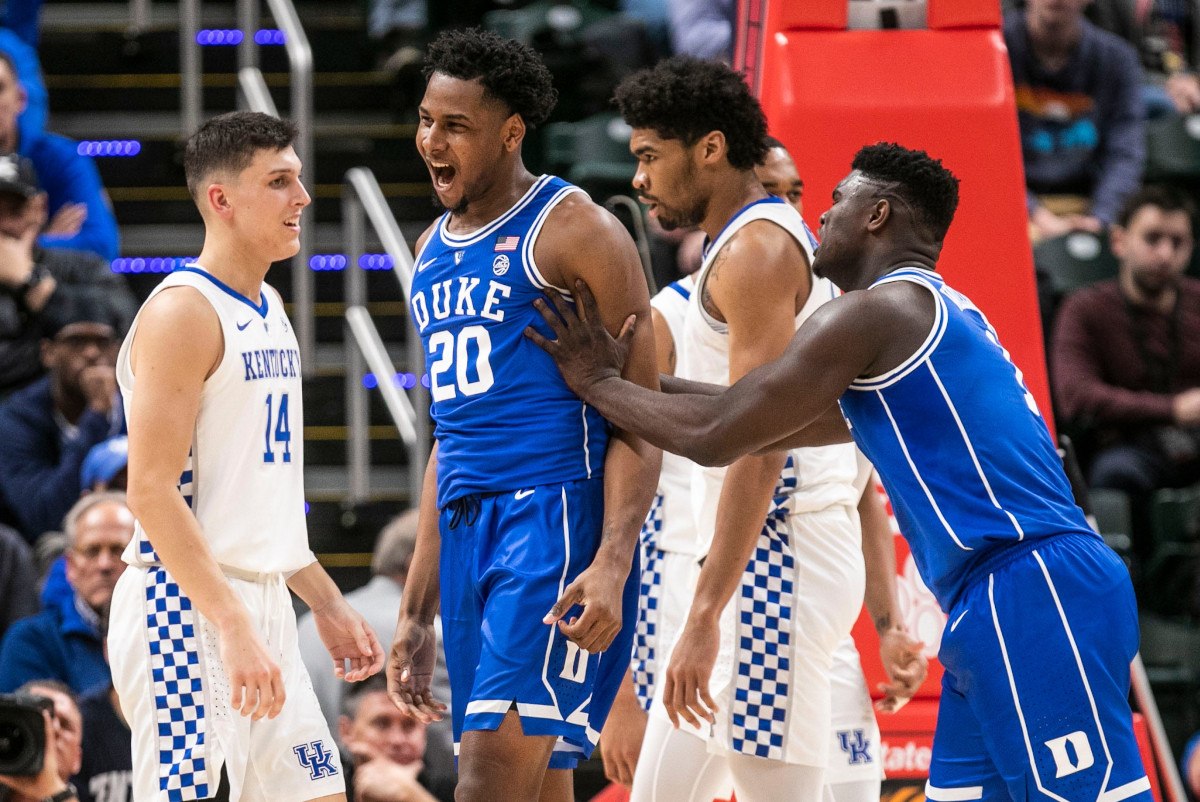 Kentucky went just 9-16 last season and limped through its exhibition schedule, culminating in a nine-point win over Miles College – a Division II school.
Calipari says Kentucky has room to grow
Head coach John Calipari says his team will need to up its game if it wants to live up to its No. 10 ranking in the AP Top 25 Poll.
"I know where we are right now, and how hard it will be going forward, not just Tuesday, after Tuesday," Calipari told the media after the win over Miles College. "Coming back here and having teams that are veteran teams that are good too. So, we're going to have to play better."
Preseason records don't matter much. But Calipari has generally pushed his Kentucky teams to blow out its exhibition opponents, and an inability to do that – the Wildcats also won by "only" 23 points over Kentucky Wesleyan – could signal trouble ahead of a showdown with Duke.
The biggest story for No. 9 Duke is the impending retirement of head coach Mike Krzyzewski. Coach K announced that he will call it quits after the coming season, his 47th as a college basketball coach. That means Tuesday's visit to Madison Square Garden could be his last.
"It's a magical place," Krzyzewski told ESPN's Jay Bilas, speaking of Madison Square Garden. "Anytime I'm there, I consider it like one of the ultimate honors. The ball bounces differently. The sound. Outside of Cameron, it's my favorite place."
Banchero stars for Blue Devils
Duke is also coming off a disappointing season. The Blue Devils compiled a 13-11 record, missing the NCAA Tournament for the first time since the 1994-95 campaign.
Few expect that to happen for a second straight year. Heading into this season, Duke recruited Paolo Banchero, a 6-foot-9 power forward from Seattle who could become the No. 1 pick in the NBA Draft next year. Banchero should provide enough firepower to ensure Krzyzewski enjoys a strong final season as head coach.
"He's got size and girth," Calipari said of Banchero. "He's 250 pounds … he will be a challenge."
Despite Duke's improvement and Kentucky's preseason stumbles, oddsmakers still predict a close game at MSG on Tuesday night. FanDuel Sportsbook lists Duke as a 2.5-point favorite, with the Blue Devils a -154 pick on the money line over Kentucky (+128).
Duke and Kentucky both come into the year as part of the second tier of NCAA Championship contenders, behind favorite Gonzaga. FanDuel lists Duke at +1500 to win the title, with Kentucky close behind at +1600.