There is an exciting new offer for NHL fans with a DraftKings promo code available only for new users who have not placed a bet on the sportsbook before. If you bet just $5 on a pre-game moneyline pick, you will receive $150 in bet credits if your bet wins. We have explained below how to get this promo at DraftKings.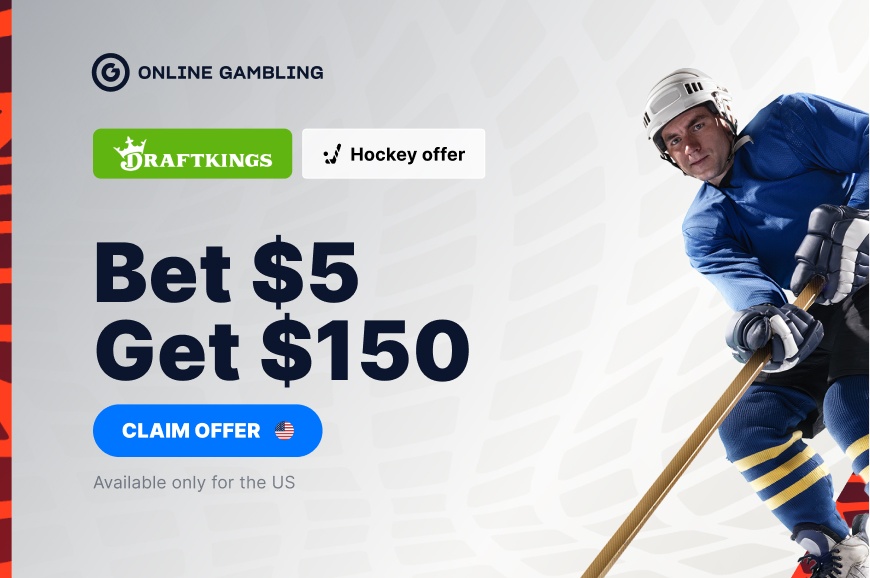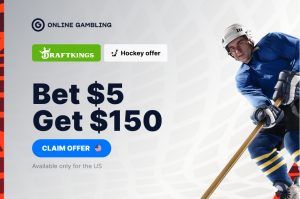 With the NFL over and the NBA heading towards All-Star Weekend, the NHL is in action with an 8-game slate this Thursday. You can watch the Devils take on the Blues in St. Louis on ESPN, but there is also an important game for the Eastern Conference playoff race between the Florida Panthers and Washington Capitals.   
To earn this promo, click here to being creating your DraftKings account. By making a $5 deposit and a $5 bet on any pre-game moneyline for an NHL game, you will receive a total of $150 in bonus bets if your bet wins. 
DraftKings Promo Code for NHL Thursday
This DraftKings promo is exclusively available for new users. Your bet just has to be $5 on a team's moneyline, and the bet must be placed before the game goes live. You can do this on any NHL, NBA, or other contest that has a moneyline option. Just make sure it is a pre-game bet and not a live bet. 
DraftKings is offering this promo for moneyline bets, but if you win the $150 in bonus bets, you'll be happy to know you can use them on a variety of NHL markets. You can bet on the puck line, the total, and various player props like goal scorers, shots on goal, total points, and assists. But first your qualifying bet for the promo must be a moneyline bet.  
How to Claim the DraftKings Promo Code for NHL Thursday
Those new to DraftKings should just follow these steps to get this promo: 
Visit the DraftKings site to sign up for a new account.
Deposit at least $5 into your account.
Place a $5 moneyline bet pre-game on something like an NHL or NBA game.
If your bet wins, you will receive that winning amount and an additional $150 in bonus bets paid out as six $25 bets. 
How to Use the DraftKings NHL Promo Code
No specific code is required to get this promo. It is for new users at DraftKings sportsbook. After creating your account, deposit at least $5 so you can place a pre-game moneyline wager. That means you will bet only on the winner. No puck line, total, or player prop bets will qualify for this offer, and you cannot do a parlay or cash out your bet to get the reward. 
If your bet wins, you will receive the winnings on that wager as well as $150 in bonus bets that are paid out in six $25 bet credits. Those bet credits must be used within 7 days or they expire from your account. You cannot withdraw any bonus funds and you must play them on the sportsbook.   
Betting on NHL Thursday with DraftKings
Arguably the key game this Thursday in the NHL is the Washington Capitals (28-22-6) hosting the Florida Panthers (27-24-6). Washington (62 points) is currently No. 8 in the Eastern Conference and only two points ahead of No. 10 Florida (60 points). These teams met three months ago, and Florida won 5-2. 
But if you want to take full advantage of this DraftKings promo, you need to pick a moneyline winner, so you want to pay attention to the lopsided matchups on this Thursday schedule as most games feature one team in the playoff picture and one team well out of it. 
The Jets could be a good pick against bottom-ranked Columbus, which has 33 fewer points than Winnipeg. The Boston Bruins have been the safest moneyline pick this season, but they have lost four of the last five games. You may want to take the Vegas Golden Knights at home to beat the Sharks for your moneyline pick to trigger $150 in bet credits at DraftKings with a winning bet. Just place a $5 bet pre-game on your winning team this Thursday night.  
Who is eligible for the DraftKings Sportsbook promo code?
The DraftKings Sportsbook promo code is available to new customers in the following states:
Coming soon
Online Massachusetts sports betting is expected soon. Keep up to date with the latest Massachusetts sports betting promos at Online Gambling.