Dirk Nowitzki told Dallas Mavericks fans that he had played the final home game of his career on Tuesday night, officially confirming that he will be retiring following the current season.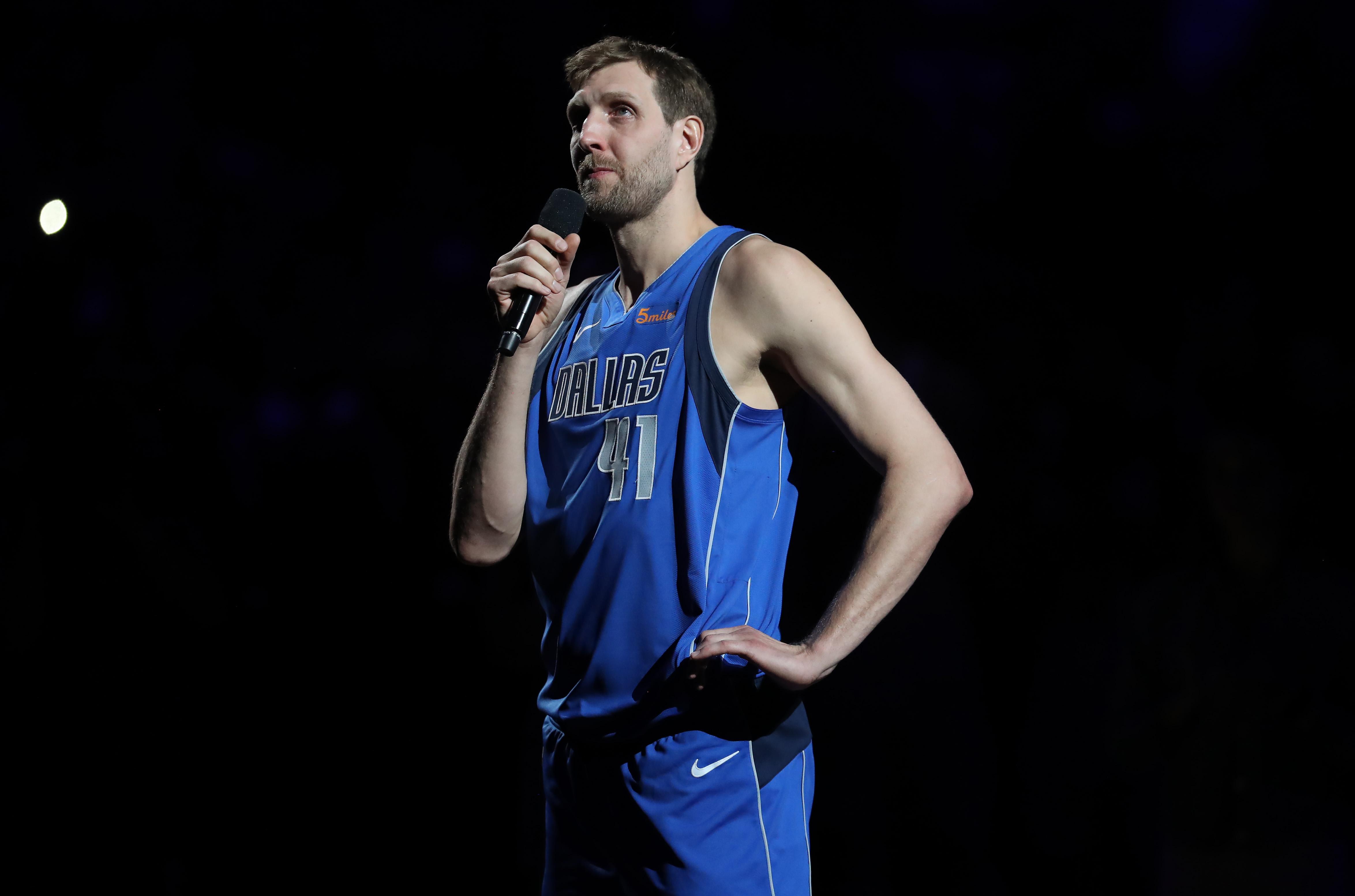 The announcement came after Nowitzki scored 30 points in a 120-109 Dallas win over the Phoenix Suns at the American Airlines Center.
Teammates Help Dirk Provide Crowd-Pleasing Finale
The Mavericks made a point of getting Nowitzki the ball as often as possible on Tuesday, especially early in the game. He would end up with his season high for points on 11-for-31 shooting, but nobody in the arena cared much about the 40-year-old's efficiency in leading Dallas in scoring on the night.
The German legend did a little bit of everything in his final home game, hitting five three-pointers and throwing down only his second dunk of the year in the win.
But the most exciting moments of the evening came after the game. The team had set up an elaborate tribute to Nowitzki's career, including testimonials from NBA legends like Charles Barkley, Larry Bird, Scottie Pippen, Shawn Kemp, and Detlef Schrempf, who also hailed from Germany.
That was followed by messages from Mavericks coach Rick Carlisle and team owner Mark Cuban.
"There's no words that I can possibly say to describe how I feel and what you've meant to the organization," Cuban said during the ceremony. "But I can make you all kinds of promises. I'll promise you that everything you taught us will continue on. I'll promise you that you have a job for life, I don't care what you're doing. I'll promise you that we'll retire your number – not a tough decision. And I'll promise you we will put up the most biggest, bad-ass statue ever."
Nowitzki Says Goodbye
When it was finally Nowitzki's turn to address the crowd, he confirmed what most in the basketball community had suspected for the past season.
"As you guys might expect, this is my last home game," Nowitzki told the crowd. "I put you guys on a heck of a ride with a lot of ups and downs in my career and you always supported me and I appreciate it."
Nowitzki expanded on his reasoning for retiring in a postgame news conference.
"I think it's been a long time coming," he told reporters. "I was struggling this year with my foot. That's no secret. It's just not there where it needs to be to compete at a high level for 82 games."
Nowitzki's career will undoubtedly land him in the Hall of Fame: he is the sixth-leading scorer of all-time in the NBA, played in 14 All-Star Games, and won the 2006-2007 MVP award.
But perhaps the most impressive part of his career was its longevity. Nowitzki is in his 21st NBA season, a record number that he shares with Robert Parish, Kevin Willis, Kevin Garnett, and Vince Carter (who could still come back to set a new record next season). But of those players, Nowitzki is the only one to play his entire career with a single franchise.
Fans who want to see Dirk play will have one more opportunity. Nowitzki will play Wednesday night on the road against the San Antonio Spurs in the final game of the Mavericks' season.