WBC No. 1 heavyweight challenger Dillian Whyte has the opportunity to take on the winner of the third Tyson Fury vs. Deontay Wilder fight. But first, he'll put his spot on the line when he takes on veteran Alexander Povetkin in Essex, England on Saturday night.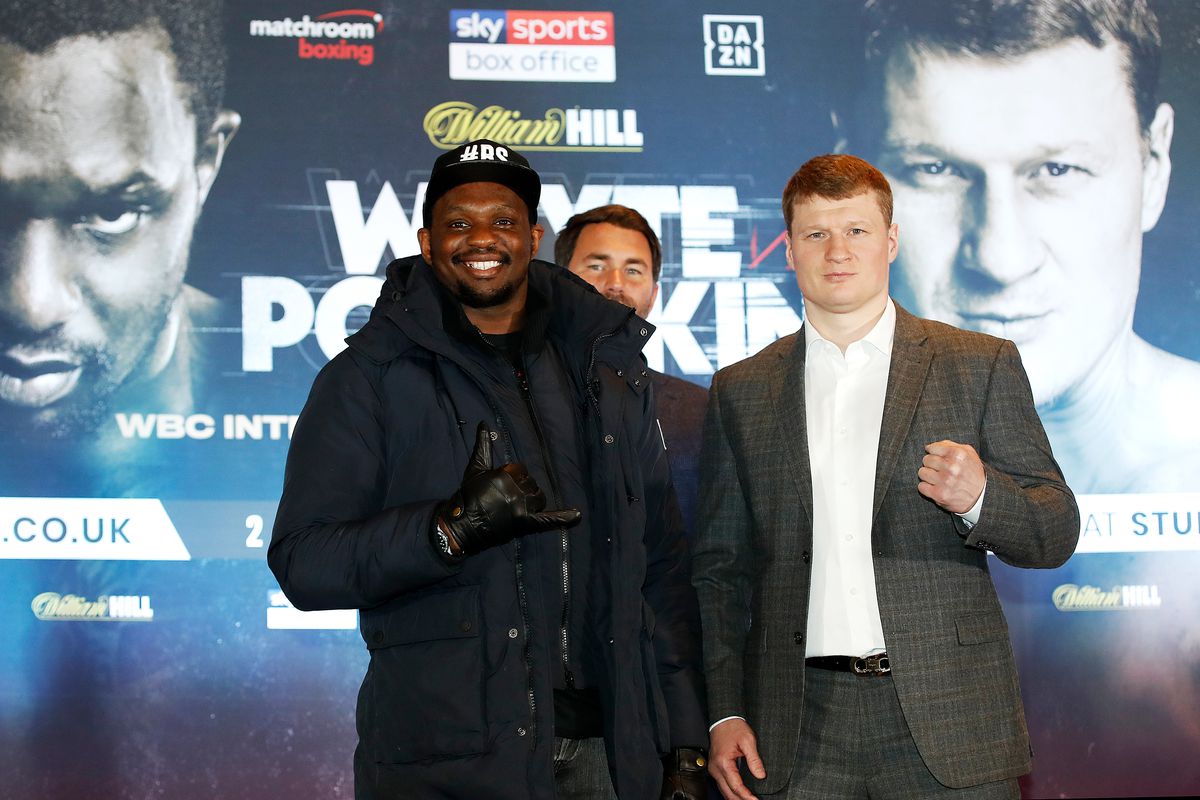 Whyte and Povetkin will battle for the WBC Diamond Championship, but that title means far less than the opportunities the winner could earn down the line.
Whyte, Povetkin Among World's Best Heavyweights
Neither of these two fighters has the star power of Fury, Wilder, or Anthony Joshua — the three kings of boxing's heavyweight division. But both are legitimate members of the next tier down. In my last look at the heavyweight rankings, I listed Whyte at No. 5 overall, with Povetkin taking the No. 8 ranking.
Both men have lost to Anthony Joshua – Povetkin also has an earlier loss to former heavyweight champion Wladimir Klitschko – but have otherwise disposed of high-level opposition throughout their careers.
That means both are used to the atmosphere of big fights like this one, even if there won't be fans in attendance. Whyte (27-1, 18 KOs) knows there's added pressure on him because of his standing as the likely next challenger for the WBC title.
"The story of my life has been pressure," Whyte told reporters on Thursday. "There is a bit more pressure than usual, obviously, because of what's in the future. But that is in the future – I just focus on now and what is in front of me."
Povetkin (35-2-1, 24 KOs) boasts an impressive resume, but it's difficult to ignore the fact that at 40 years old, he's likely past his prime. Still, he remains extremely dangerous to any opponent, something that Whyte acknowledges openly.
"I'm fighting a consummate professional who has been consistent for a long time," Whyte told reporters. "He's probably the most technical fighter I've fought. He's fought a lot of guys as an amateur and is an Olympic gold medalist – he's done it the right way."
Both Fighters Pose KO Threats
Despite his age, Povetkin believes he still has a title run in him. In fact, he doesn't think that a win over Whyte is necessary to keep his career going.
"I don't see this as a last chance," Povetkin said in July on a Matchroom Boxing YouTube video. "With my motivation, I'm ready to box whatever my age."
Whyte comes into the fight as a -430 favorite, according to FanDuel Sportsbook, though Povetkin (+300) is certainly a live dog. Both men are capable of knocking the other out, or trying to win through boxing: FanDuel is offering -116 on the fight going the distance, and -120 that it won't. Whyte told reporters that he knows either fighter could end the bout at any moment, making this a particularly dangerous contest.
"If I land early? It is night, night early," Whyte said. "But he can do the same as well."