One of trainer Patrick Biancone's two Kentucky Derby hopefuls, Ete Indien, is safely in the Derby. The other, Sole Volante, is literally on the points bubble. But Biancone said both remain on the Derby trail, despite a "setback" that puts Ete Indien's path to Churchill Downs in jeopardy.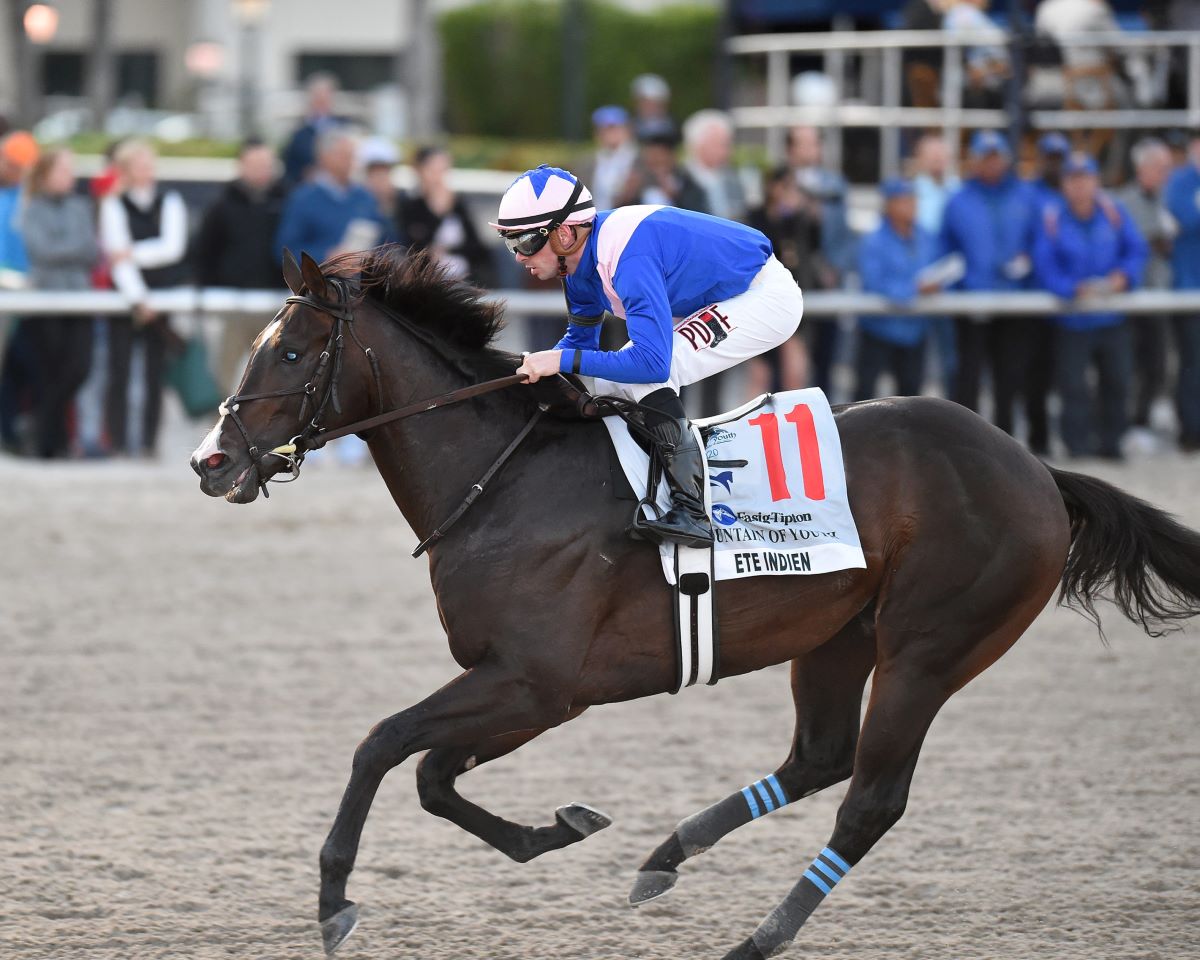 That setback, which Biancone didn't disclose, apparently happened during a June 28 breeze. He told Horse Racing Nation the next 10 days will decide whether Ete Indien stays on the Derby trail.
The winner of three of his seven races, Ete Indien sits eighth on the Derby points ladder with 74 points, so his status is all but assured. The front-running colt who won the Grade 2 Fountain of Youth by eight lengths hasn't raced since a June 10 allowance race at Gulfstream Park. There, Ete Indien got entangled in a speed duel, wore himself out, and finished a well-beaten fourth.
He breezed six furlongs in 1:20.05 at Palm Meadows Training Center in South Florida, which triggered something untoward in the Summer Front progeny. Biancone said if Ete Indien does stay on the Derby trail, he'll train up to the Sept. 5 race.
When Horse Owners Need to be Saved From Themselves
While that June 10 allowance took plenty out of Ete Indien on the track, it took more out of his stablemate, Sole Volante, both on and off the track. The closing yin to Ete Indien's front-running yang, Sole Volante came back from 23 lengths behind to win that race.
Biancone and his connections wanted to see Sole Volante in the Belmont Stakes. They shipped the Karakontie gelding north to New York, turning him around in 10 days to run a Triple Crown race that doesn't reward deep closers, even at a slimmed-down 1 1/8 miles.
Sole Volante finished a dismal sixth and never came close to threatening. He hasn't run since the June 20 Belmont.
"I got stupid to run him," Biancone told Horse Racing Nation. "I misjudged the energy level and the inside nervousness. He's usually a very cool horse. So we took a shot. I made a wrong decision. We spent $30,000 on the plane to fly the horse (from Florida to New York). But anyway, it's done. What can I do? Nobody's perfect. I got it wrong that time."
Both Horses Staying Out of the Starting Gate
Biancone faces another critical decision with Sole Volante. Right now, he's sitting 20th on the points ladder with 30 points. The Derby's maximum field size is 20 horses. With four prep races remaining, including this weekend's Shared Belief at Del Mar and next week's Travers Stakes at Saratoga, Sole Volante's status is tenuous. Other horses could pass him in points or get supplemented into the Derby if their owners pay $45,000.
As of now, Sole Volante will train up to the Derby like his stablemate. Biancone said he's unconcerned about having enough points, believing other horses ahead of him will pull out of the Derby.
Sole Volante owns four wins and $323,310 in seven starts. He'll work out for the first time since the Belmont on Friday.