Derek Jeter and Larry Walker were both elected to the baseball Hall of Fame, located in Cooperstown, New York. Walker made it to Cooperstown in his last year of eligibility, while Jeter earned induction in his first year on the ballot.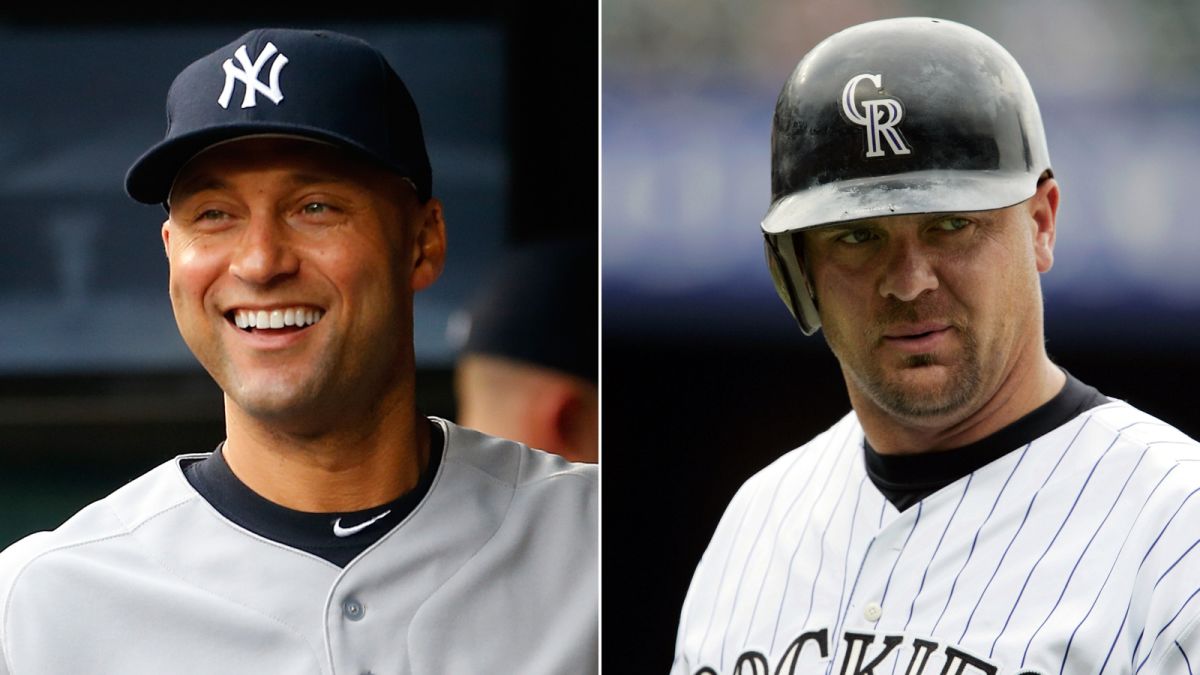 The ceremony for Jeter and Walker will take place in Cooperstown, New York on July 26, 2020 as they enter the Hall of Fame as the Class of 2020. In addition to Walker and Jeter, the HOF's Modern Era Committee voted in catcher Ted Simmons and former players' association head Marvin Miller.
Jeter will become the 28th member of the Yankees to join Cooperstown. He's the ninth Hall of Famer to play his entire career in pinstripes joining the likes of Lou Gehrig, Joe DiMaggio, Whitey Ford, Mickey Mantle, Bill Dickey, and Phil Rizzuto.
2020 HALL OF FAME VOTING
Derek Jeter (396) 99.7 percent
Larry Walker (304) 76.5 percent
Jeter missed an unanimous induction by one vote with 396 votes out of 397 total. Last year, his teammate, Mariano Rivera, received the only unanimous voting in the history since the inception of the Hall of Fame. With 99.7 percent of the vote, Jeter now has the second-highest vote total in MLB history. Ken Griffey, Jr. is third overall with 99.3 percent.
Walker received 304 votes and he made the cut by six votes. Players need at least 75 percent of the votes in order to earn induction in the Hall of Fame. Last year, Walker received only 54.6 percent. Walker's 22 percent jump is the largest in the history of Cooperstown for a player in his tenth and final year on the ballot. In his first year on the ballot in 2011, Walker received only 20.3 percent of the votes.
Larry Walker: Canuck from Expos and Rockies
If you asked Walker as a kid about the Hall of Fame, he'd think you were speaking about the Hockey Hall of Fame in Toronto and not the Baseball Hall of Fame in Cooperstown, New York.
"Being Canadian, you're born into this world with a stick in your hand and skates on your feet," said Walker. "So, that's how I was as a kid. You played hockey, and that's all that really mattered. When hockey didn't quite go the way I wanted, baseball more or less found me."
Walker began his career as a left-handed hitting outfielder and first baseman with the Montreal Expos before joining the Colorado Rockies in 1995. He'd win seven gold gloves over his career for his stellar defense in right field.
In 1997, Walker took advantage of thin air of Colorado and smashed 49 home runs while slashing at .366/.452/.720. In 1999, Walker hit a career-high .379 and still smacked 27 home runs despite missing 30-plus games with an injury.
Over his 17-year career that ended with the St. Louis Cardinals in 2005, Walker finished with a .313 lifetime bating average and led the NL in hitting three times. He hit over .350 in a season at least four times and finished the season above .300 at ten different times. Walker finished his career ranked #12 all-time in slugging with .565. He also smacked 383 home runs and drove in 1,311 RBI.
Walker, beloved by his teammates for his sense of humor, gave everyone a good laugh at the 1997 All-Star Game. He turned around his helmet and batted right-handed in an attempt to get a hit off former teammate, Randy Johnson, who dominated left-handed batters.
Jeter: The Quiet Captain
Jeter played 20 seasons with the New York Yankees. He's a 14-time All-Star and five-time Gold Glove winner. He won five World Series titles with the Yankees and holds the record for most postseason appearances (158). Jeter finished sixth all-time in hits with 3,465. He's fifth all-time in singles with 2,595.
Jeter played in 2,747 games and finished his career with a .310 lifetime average. He hit only 260 home runs but raked 544 doubles and knocked in 1,311 runs. He's currently #11 all-time in runs scored with 1,923.
You can tell the real testament of the impact of a player if they play on a team that is universally hated or loathed. There's not a lot of love for the Yankees in New England and large parts of the country, Derek Jeter rose above the Yankees hate. Kids might have grown up hating the Yankees, but as ball players, they respected Jeter as a player. You see a similar thing happening with Aaron Judge, which is why he's getting a lot of comparisons to Derek Jeter as a player that is universally loved even though he's on a team that a lot of people hate.
"Everyone told me it was a foregone conclusion," said Jeter. "I didn't buy it. So, it was not a relaxing day. There was a lot of anxiety. I was nervous and sitting around, waiting for a phone call is something that is completely out of your control."
Mr. November
Jeter received the moniker Mr. November for a tremendous home run he hit in the 2001 World Series in the wake of the 9/11 tragedy. It's a home run that many New Yorkers and fans will never forget in a nine-pitch at-bat in which he started out 0-2 and worked a full count with numerous foul balls. Jeter slugged a walk-off homerun to win Game 4 of the World Series in an extra innings game that started on Halloween but didn't end until way after Midnight.
And of course, there's the infamous diving catch in the stands in 2004 or the infamous flip to home plate on a relay in the 2001 ALDS.
The Yankees are a franchise that have the ghosts of true legends like Babe Ruth, Lou Gehrig, and Joe DiMaggio haunting Yankee Stadium. Jeter earned his spot among the Yankee legends, so it's no surprise that he almost earned a unanimous spot in the Hall of Fame.