Deontay Wilder retained his World Boxing Council (WBC) heavyweight world championship on Saturday night after knocking out Dominic Breazeale in the first round of their fight.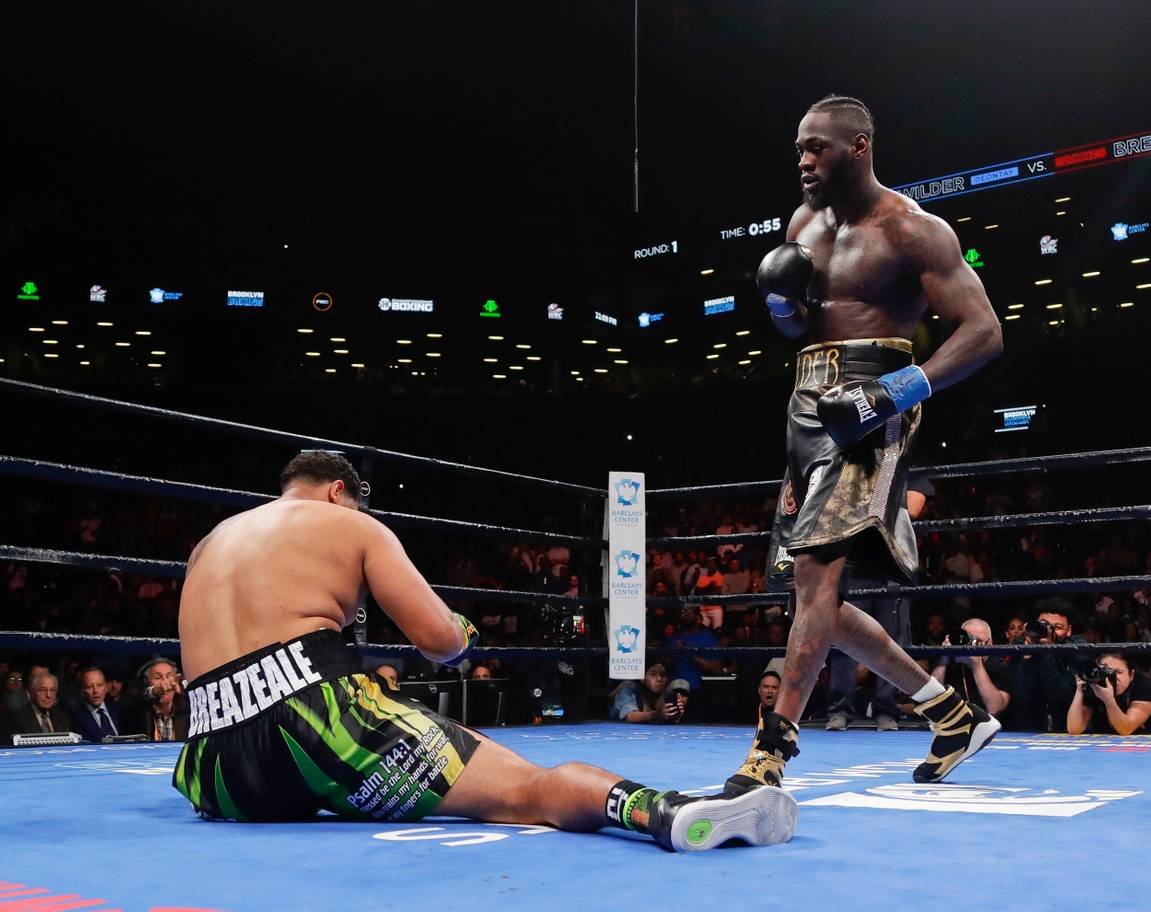 The emphatic win was punctuated by the one-punch knockout that came with 43 seconds remaining in the first round, dropping Breazeale for a ten count to end the bout.
Wilder Dominates From Opening Bell
Wilder (41-0-1, 40 KOs) was in command from the opening seconds of the fight. Breazeale (20-2, 18 KOs) landed no significant punches, and got into trouble early before Wilder landed the final blow.
According to Wilder, he realized he had Breazeale right where he wanted him after he landed an early blow.
"When I hit him with the right hand the first time his body language changed," Wilder said after the fight. "When you've been in there with so many different guys you learn to recognize body language. I knew he was slowing down and opening up."
Wilder came into the fight as an overwhelming favorite, and there's little doubt that he would have gone on to win even if Breazeale had managed to get up from the first knockdown. However, the challenger still said that he felt the referee had stopped the fight prematurely.
"I think the ref stopped it a little early because I could hear him saying 'seven' and 'eight,' but that's boxing," Breazeale told The Ring. "He did his job and kept us safe for our next fight. I got on my feet and had my legs under me. It's the heavyweight division so there's going to be big shots from guys with power."
Breazeale managed to get up almost simultaneously with referee Harvey Dock reaching the count of 10, but Dock decided to call the fight immediately. While an argument could have been made for letting the fight continue, few outside of Breazeale himself disputed the decision.
World Waits for Heavyweight Unification Fights
The dominant performance once again led to speculation about a future fight between Wilder and Anthony Joshua (22-0, 21 KOs), who holds several major heavyweight titles. Joshua also has a win over Breazeale, but his didn't come quite as easily: Joshua eventually stopped Breazeale in the seventh round of their battle back in June 2016. In order to fully clean up the heavyweight picture, lineal champion Tyson Fury (27-0-1, 19 KOs) will also need to be involved, especially after he fought Wilder to a thrilling draw in December.
But it's not clear than any super fights between those three are on the horizon. Joshua has a bout against Andy Ruiz Jr. at Madison Square Garden on June 1, while Fury will next fight Tom Schwarz in Las Vegas on June 15.
Meanwhile, Joshua promoter Eddie Hearn says he expects Wilder to next accept a rematch with Luiz Ortiz, who went 10 rounds with Wilder last year before being stopped in the 10th round. After Saturday's win, however, Wilder did say he eventually hopes to make a Joshua fight happen.
"It will happen," Wilder said. "The heavyweight division is lit right now and it's our obligation to make it happen. The next time it comes around to discussing it, I think the deal will get done."