Deontay Wilder says he has little concern heading into the mandatory defense of his WBC heavyweight title on Saturday night, when he will take on contender Dominic Breazeale at the Barclays Center in Brooklyn, New York.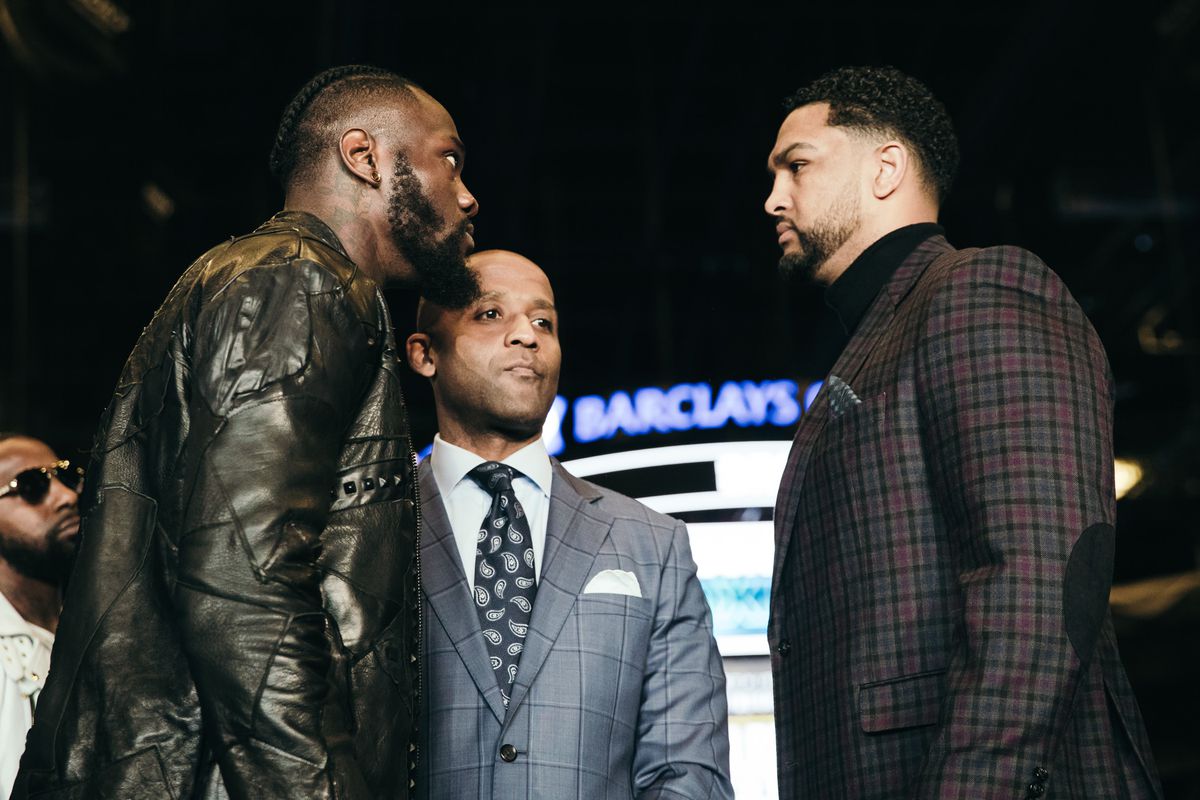 Heading into the fight, Wilder has framed the encounter as a nuisance that he must deal with before meeting up with the other two men who are considered to be at the top of the heavyweight division, Anthony Joshua and Tyson Fury.
Wilder: 'His Life is on the Line'
Wilder (40-0-1, 39 KOs) famously fought to a draw with lineal champion Fury (27-0-1, 19 KOs) last December, while unified champion Joshua (22-0, 21 KOs), who holds four recognized world titles, has yet to fight either of them.
That means that there are still plenty of big fights that could be coming for those three men. But first, Wilder has to take care of his rival and fellow American Breazeale (20-1, 18 KOs), an opponent he seems to be regarding as little more than a speed bump on the way to bigger things.
"Mandatories to me are like flies, they are always buzzing around," Wilder said on Twitter. "And at some point in time you gotta be the fly swatter and catch them flies. And on May 18, that bug will be done."
Wilder only ramped up the trash talk when talking to reporters at a public workout on Tuesday.
"This is the only sport where you can kill a man and get paid for it at the same time," Wilder told reporters. "His life is on the line for this fight and I do mean his life. I'm still trying to get me a body on my record."
Breazeale Wants His 'Super Bowl Moment'
That provoked a reaction from Breazeale, who felt those comments crossed a line even in a sport where threatening trash talk is commonplace.
"You never want to hear an individual…who has the ability to put someone else in a bad state of mind or hurt them physically [talk like that]," Breazeale said on the State of Combat podcast earlier this week. "I don't think he understand what's he saying. He's just not all there, if that makes sense. Both he and I have knocked out individuals with shots were I am like, 'Oh God, I hope he is going to be OK from this.'"
Breazeale, who was knocked out by Joshua for his only loss back in 2016, says that one way or another, he expects the fight to end with a stoppage.
"No one wants to see that fight go the distance. I guarantee the fight is not going to go the distance," Breazeale told The Telegraph. "This is my Super Bowl. I've done the playoffs, this is the Super Bowl moment for me."
In a battle between two fighters with tremendous power, Wilder is a deserved favorite. FanDuel Sportsbook lists Wilder at -1000, with Breazeale fetching +480 odds as the underdog. Bookmakers also agree with the assessment that the fight will end early: the over/under on the total number of rounds in the fight has been set at just 7.5, with the most likely outcome being a Wilder knockout (-240).