After winning the first two games of the Western Conference Finals, the LA Lakers lost Game 3 to the Denver Nuggets thanks to some sharpshooting heroics from Jamal Murray.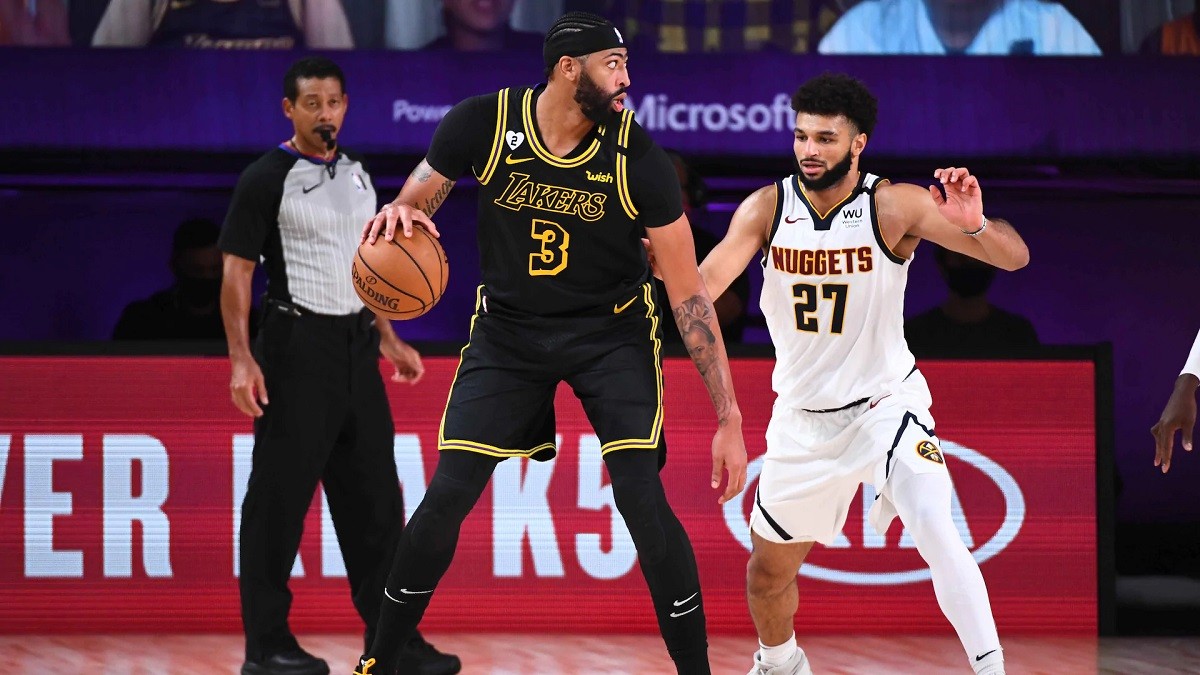 The Nuggets would love to even the series at 2-2, but they won't panic if they happen to fall behind 3-1. They've already overcome a 3-1 deficit twice this postseason.
"Everybody always has us packing our bags and leaving, but we're not ready to go," said Denver coach Michael Malone. "For some reason, we love this bubble."
---
#1 LA Lakers (2-1) vs. #3 Denver Nuggets (1-2)
Tip-off: 6pm PT
Point Spread: LAL -6
Total: 215 o/u
Moneyline: DEN +210 / LAL -250
---
The Lakers are two wins away from a berth in the NBA Finals. They're six wins away from a championship and restoring the Lakers' franchise to the pinnacle of professional basketball.
The Lakers are -300 odds to win the 2020 NBA Championship, according to the Westgate SuperBook in Las Vegas. The Nuggets are the long shot on the board at +1800 to rally back and win the title.
Murray Time
Jamal Murray only scored 28 points in Game 3, but it felt like he dropped 50. After the Lakers shot their load with a fourth-quarter comeback to erase a 20-point deficit, Murray took control of the game. Murray knocked down a couple of ridiculous 3-pointers to put the Nugs back on top for good.
Murray added 12 assists, including a few dishes to Jerami Grant. Grant, who's been quiet this series, averaging just 8.0 pgg, scored a career-high 26 points in the victory.
Nikola Jokic scored 22 points and hauled down 10 rebounds to help get the Nuggets their first win of the series.
"We feel that we should be up 2-1 right now, to be honest," Murray said. "So, we're just going to move on to Game 4."
If Anthony Davis didn't hit that insane 3-pointer at the buzzer to win Game 2, the Nuggets could be ahead of the Lakers.
"We let them know we're not going anywhere," said Malone. "That's what you guys have done this whole postseason. That's why everybody is rooting for us. Keep on showing that grit and resilience, and playing for each other."
LBJ, AD, and ???
Another playoff game, another triple-double for LeBron James. LeBron notched the 26th triple-double of his illustrious postseason career. He scored 30 points, dished 11 assists, and added 10 rebounds in the Game 3 loss.
The slow start in Game 3 came back to bite the Lakers in the butt.
"We played some pretty good ball in the fourth quarter, but those first 36 minutes, that hurt us obviously," said LeBron.
LeBron (25.9 ppg, 10 rebounds, 8.8 assists) and Anthony Davis (28.5 ppg, 10 rebounds) shoulder the bulk of the offensive load. But someone else will have to provide a big scoring punch in Game 4. Playoff Rondo brings his intensity on the defensive end of the court, so one of the other starters, or someone else off the bench, must step up.
Kentavious Caldwell-Pope looked great in Game 1 with 18 points, but he's faded into the background since then. Kyle Kuzma has been a non-factor this series averaging 10.0 ppg, three points lower than his season average.