Denny Hamlin earned his second win of the 2020 NASCAR Cup Series season Wednesday night by claiming the Toyota 500 at Darlington Raceway.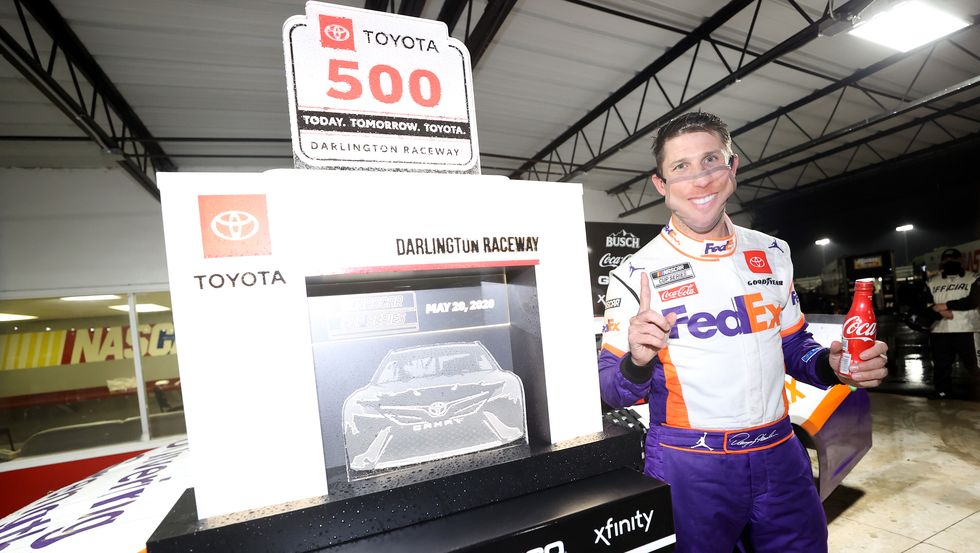 The race ended early as NASCAR called off the remainder of the action due to heavy rain with 20 laps remaining.
Tire Gamble Pays Off
Hamlin took the lead by staying out on the track on old tires during a late-race caution. Most of the other leaders pitted, opting for fresh tires for the final 29 laps.
That decision put Hamlin out in front when an incident behind him between Kyle Busch and Chase Elliott sent Elliott spinning into the wall. After a yellow flag came out, a steady rain began falling. The race never resumed, making Hamlin the winner.
"I've got my happy face on. Made sure I brought it with me," Hamlin – wearing a face mask that featured an image of his actual smile – said after the race. "The pit crew did a great job today, everybody really. I was pretty happy with how it all turned out."
No fans attended the race due to the ongoing COVID-19 pandemic. The Toyota 500 was the second race this week held at Darlington, and NASCAR's first Wednesday race since 1984.
Busch Apologizes for Elliott Crash
After the race, Elliot's crew chief Alan Gustafson approached Busch to talk about the incident that knocked Elliot out of the race.
"We were racing there with [Hamlin] and [Ellliott] had a run on him and I knew he was there and I knew I needed to get in line as quickly as I could, and in doing so, I watched him and his momentum going by me and I tried to look up in the mirror and see where Harvick was and get in and I just misjudged it," Busch explained after the race. "I made a mistake and clipped [Elliott] and spun him in the way. I hate it for him and his guys. I've got too many friends over there on that team to do anything like that on purpose."
Busch finished the race in second behind Hamlin, followed by Kevin Harvick, Brad Keselowski, and Erik Jones. Elliott finished in 38th place after the accident. Clint Bowyer dominated the early portion of the race, capturing both Stage 1 and Stage 2, before finishing in 22nd position.
Rain was a persistent problem at Darlington during the week. On Tuesday, rain postponed the first Xfinity Series race since the sport shut down in March. NASCAR moved the event to noon on Thursday.
NASCAR initially pushed the start of Wednesday's race up an hour in an attempt to account for the poor weather conditions. However, rain still delayed the start by 90 minutes.
Hamlin joins Joey Logano as the only drivers to win two races so far this season. William Hill has Harvick (+450) as the favorite to win the 2020 NASCAR Cup Series championship, though both Hamlin (+800) and Logano (+600) are primary contenders along with Busch (+550), Martin Truex Jr. (+700), and Chase Elliott (+750).