Del Mar abruptly canceled its weekend racing card for Friday, Saturday, and Sunday after mass testing revealed 15 jockeys are positive for COVID-19.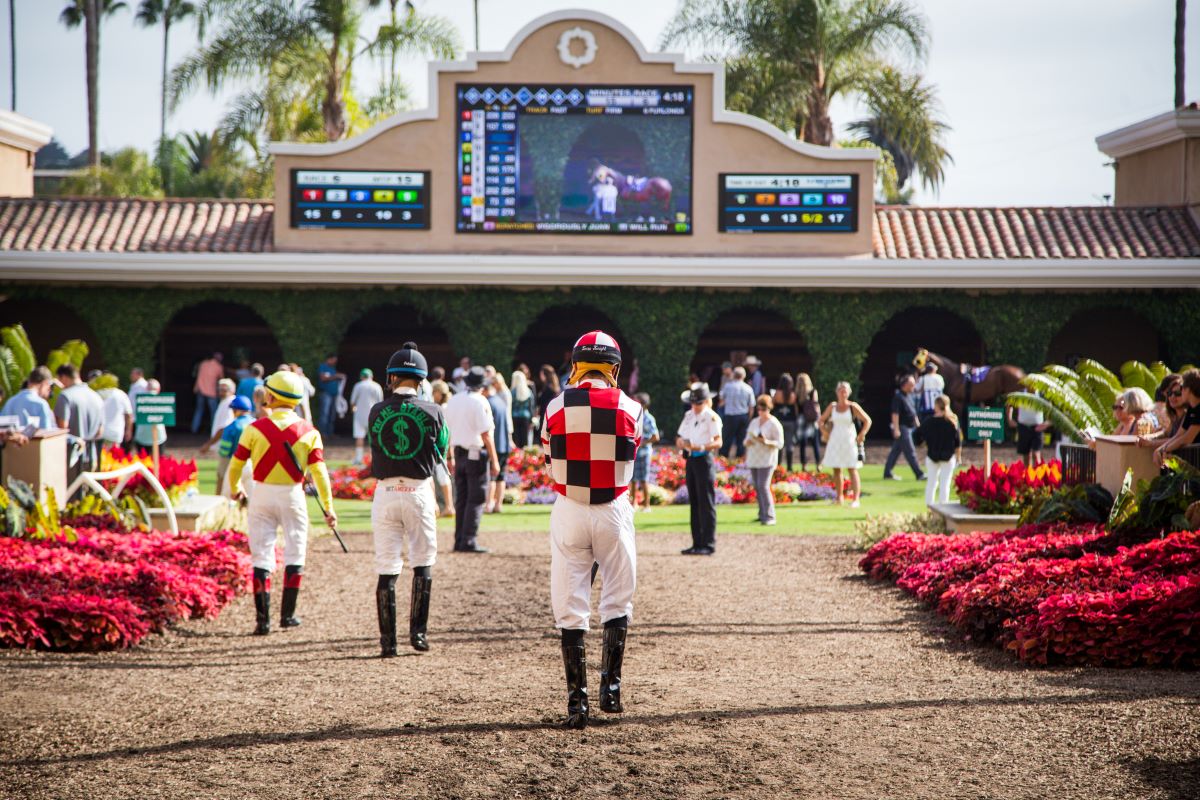 Del Mar Thoroughbred Club CEO Joe Harper said in a statement that in the wake of numerous Southern California-based jockeys testing positive out of the Los Alamitos meet – most notably Flavien Prat and Victor Espinoza — his track would test every jockey and jockey room attendant. When the tests came back, Harper and his staff believed they had no choice but to scratch this weekend.
"We took a look at the entries … and decided to take the weekend off," Harper said.
Health officials from the San Diego County Health Department administered the tests on Tuesday. The San Diego County Health and Human Services agency instituted contact-tracing procedures. This revealed the not-surprising fact that all but one rider testing positive rode at Los Alamitos.
Mandatory Testing Added Rispoli to the List of Positive Results
"Even though our jockey colony did not exhibit symptoms when they arrived at Del Mar, we made the decision to test everyone as part of protocols we have developed in conjunction with local medical experts and the San Diego County Health & Human Services Agency," said Josh Rubinstein, Del Mar Thoroughbred President and COO. "We put these measures in place to help ensure the safety of all workers at Del Mar and our surrounding community."
Del Mar didn't release the names of the affected jockeys, citing medical privacy issues. However, Umberto Rispoli, who rode seven winners during Del Mar's opening weekend to lead the riding standings, announced Wednesday on Twitter he tested positive.
I have tested positive for COVID-19. I'm feeling more then well, quarantined, and looking forward to comeback stronger then before..
Thank you everyone for the well wishes
Stay everyone safe 🙏 👍🏻💪🏼@TVG @DelMarRacing @theTDN

— Umberto Rispoli (@umbyrispoli) July 15, 2020
"Assuming these individuals continue to show no symptoms, they will be isolated for a total of 10 days and should be able to resume their usual activities, including riding after that time," said Dr. Eric McDonald, medical director Epidemiology & Immunizations Services for San Diego County.
In addition, Del Mar officials followed the leads of eastern tracks such as Saratoga in New York and Thistledown in Ohio. They now forbid out-of-state jockeys from riding at the seaside San Diego-area track for the meet's duration. Only California-based riders may ride and, if any of them leave the state to ride elsewhere, they may not return for the duration of the meet. The meet ends on Sept.7.
So Much for Maximum Security's Return This Week
Del Mar officials plan using the hiatus to expand and reconfigure the jockeys' quarters to make social distancing easier. Other functions usually performed in the jockeys' room will be moved to another area.
This weekend's Del Mar card featured nine races on Friday and 11 on Saturday, including the Grade 2 San Diego Handicap, which marked Maximum Security's return to action after a 4 ½-month break. Sunday's card was set to draw Thursday. That card's marquee race was the Grade 2 Eddie Read Stakes.
Del Mar officials said many of this week's races will be moved to next weekend.
"Racing will return July 24," Harper said. "Canceling this weekend's races will give us additional time to monitor the situation and give the individuals who tested positive additional time to recover."