The Del Mar Thoroughbred Club reportedly is banning trainer Jerry Hollendorfer from its facilities. Del Mar, a hugely popular summer stop on Southern California's horse racing circuit, follows Santa Anita operator The Stronach Group (TSG) and the New York Racing Association (NYRA) in barring the 73-year-old Hall of Fame trainer after four of his horses suffered life-ending injuries.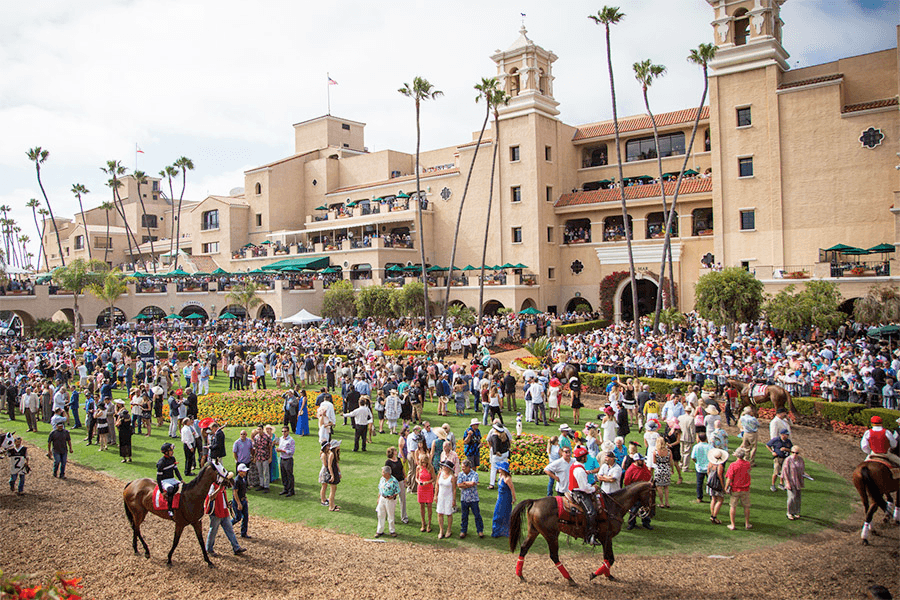 Daily Racing Form (DRF) national correspondent Jay Privman reported on Tuesday that track management had met with Hollendorfer late Monday to inform him that he would not be allowed to run his horses at the track's next meet, which begins next week.
It was not clear if that decision was final and permanent, or subject to modification or reversal, according to other racing media sources.
Hollendorfer attorney Drew Couto, told DRF:
"Del Mar is unwilling to take a public-relations risk is the easiest summary of it," Couto said Tuesday morning. "Regardless of how supportive they are of Jerry, they don't feel they want to take the PR risk. But that's not a valid basis to deny a license. Jerry is very frustrated, and understandably so."
There's no official detailed comment on the matter, as yet, by Del Mar officials. A similar edict is in place by NYRA. That's the organization operating the three major tracks in the Empire State. NYRA, after initially allowing Hollendorfer to stable and race, is reversing itself deciding to get in line with Santa Anita and now, apparently, Del Mar. Saratoga, NYRA's showplace meet, begins on Thursday.
Kicked Out Without Cause?
On June 22,  Hollendorfer runner American Currency was injured during a morning training session and soon afterwards euthanized. The incident marked the 30th equine fatality during Santa Anita's winter/spring meeting, which began Dec. 26.
After the death of American Currency, Hollendorfer's fourth trainee to succumb, track management issued orders that he vacate his stalls at Santa Anita and Golden Gate within 72 hours. He's also unable to race at other TSG tracks in Maryland and Florida. An additional two deaths of Hollendorfer horses were recorded at Golden Gate Fields, near San Francisco.
Hollendorfer has no rulings against him by the California Horse Racing Board (CHRB) or any other racing jurisdiction. "Nobody can cite any rule he's violated, either from the California Horse Racing Board or a Santa Anita rule," Couto told DRF.
Racetracks generally operate as private entities. Legal rulings traditionally uphold a track's ability to ban anyone from the premises for any reason. 
Couto says he's attempting to meet with track management, horseman's groups and others as part of an effort to have his client reinstated. As of Tuesday, no legal action the part of Hollendorfer is filed.
Hollendorfer operates one of the largest stables in California, with approximately 60 runners in Southern California and another 60 in Northern California. For decades, the trainer has been a major figure in California racing, first at Golden Gate and the now defunct Bay Meadows. More recently, he's a leading conditioner in Southern California as well as shipping his top horses all over the country to compete in major stakes events.
Horse Shortage in Southern California
Despite the TSG, NYRA and now Del Mar banishment, he's currently racing and stabling at both Pleasanton, a Northern California fair venue and at Los Alamitos. That Orange County track concludes its brief race meet on Sunday. Del Mar holds its highly popular opening day next Wednesday. Hollendorfer's horses already priming for major stakes races in New York are now in the care of longtime assistant Don Chatlos.
Track management at Santa Anita reconditioned the racing surface and is imposing new equine safety guidelines. However, the myriad problems at Santa Anita and a lack of a grass course at Los Alamitos are forcing many trainers to race in the east in an effort to have their race-ready horses compete. An acute shortage of horses continues to decimate the sport in Southern California, once one of racing's major strongholds.
As is the case at Santa Anita, the short fields are heavily impacting Los Alamitos. Several race days were canceled in recent weeks and the continuing prospect of small fields is plaguing bettors. Del Mar has yet to specify that it will maintain a five-days-weekly schedule during its meeting, concluding Labor Day, Sept. 2.
There's speculation that some Hollendorfer runners may end up in the barn of fellow trainer Art Sherman. He's the popular and highly respected conditioner of now retired California Chrome, who nearly captured the Triple Crown in 2014. Sherman is another who, after decades of training in Northern California, began concentrating his efforts towards the south.
Del Mar is offering purse bonuses for many classes of horses racing during its meet in its effort to combat the horse shortage producing undersized fields. Management is again seeking out-of-state entrants by offering starting bonuses plus extra purse enhancements.
To examine Jerry Hollendorfer's complete training record, click here.