Little Pedro finally made it to the show! Deivi Garcia, a highly-touted pitching prospect, made his MLB debut with the New York Yankees during a doubleheader against the New York Mets over the weekend.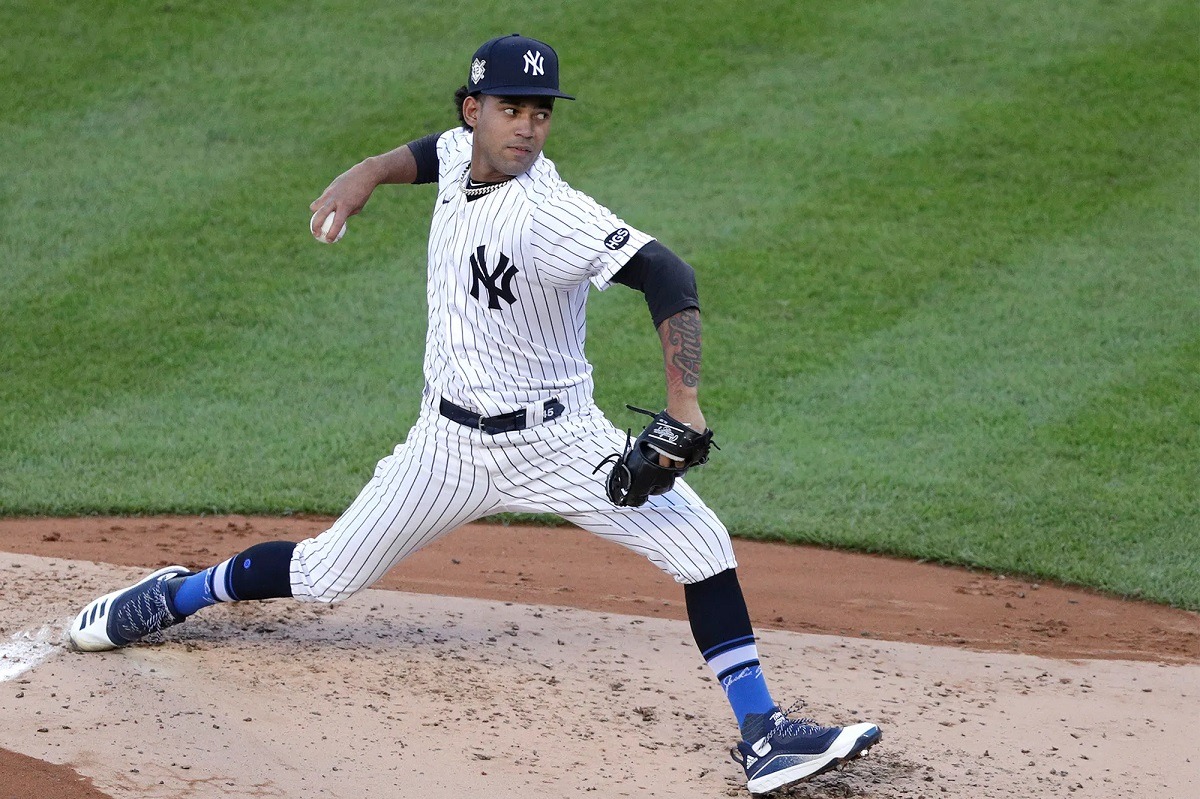 Garcia, 21, looked great in his big-league debut. The Yankees needed fresh arms during their five-game Subway Series against the Mets, which included two doubleheaders within three days.
The Yankees brass can breathe a huge sigh of relief knowing that Garcia has the goods to thrive at baseball's highest level.
If you're bad with name pronunciations, do not worry about Deivi Garcia, which is pronounced Davey.
Scouts and teammates nicknamed him "Little Pedro" to pay homage to Hall of Fame hurler Pedro Martinez. Much like Martinez, Garcia hails from the Dominican Republic. The two share a small stature, but the kid throws unbelievable stuff.
Martinez gave Garcia a shoutout on social media after his first game.
"He did a great job at mixing in his pitches, his body looked stable, and fully extended!" gushed Martinez on Twitter.
Congrats to 21-year old Dominican pitcher Deivi Garcia on an excellent debut today for the @Yankees he did a great job at mixing in his pitches, his body looked stable, and fully extended!! I was impressed with the way he commanded his pitches today. From Bonao city the DR

— Pedro Martinez (@45PedroMartinez) August 31, 2020
Garcia's Debut
Garcia became the youngest pitcher to make his debut during this 60-game, pandemic-shortened season. He's also the youngest Yankee starter to take the mound since Phil Hughes did so late in the 2007 season.
In his first big-league start, Garcia threw 75 pitches over six innings and didn't allow any earned runs. Garcia scattered four singles, whiffed six Mets, and walked zero batters.
"Deivi Garcia has outstanding mound presence, and his balance on the mound too," said Martinez.
Although Garcia didn't get the win, the Yankees won 5-2 in extra innings.
"I've been very anxious to contribute to the team," said Garcia.
"I'm excited for Deivi," said Yankees manager Aaron Boone. "He means so much to this team. I'm really happy for him to take the air out of one."
Despite his auspicious debut, Garcia didn't remain with the team. The Yankees sent him back down to their alternative site. He was there for the sole reason to pitch during a doubleheader.
Last season, many teams inquired about Garcia before the 2019 trade deadline, but the Yankees said he was untouchable and refused to trade him.
Padre Kratz
Garcia struggled last season when he made the jump from AA to AAA. He went 1-3 with a 5.40 ERA. However, that was last summer. Without any minor league baseball in 2020, the Yankees assigned Garcia to their alternative site in Scranton, Pennsylvania (where their AAA team is located).
Garcia impressed the coaching staff during spring training, but didn't make the Yankees' Opening Day roster. But when the team called, he was ready.
Garcia worked with veteran catcher Erik Kratz in the minor leagues last year. Kratz is a Crash Davis type of player who waited until he turned 30 before making his big-league debut. Kratz played with more than a dozen teams in the last decade, mostly as a backup catcher.
Kratz and Garcia developed an unusual but tight relationship, despite an age gap of nearly two decades.
Kratz jokes around and refers to Garcia as 'son', while Garcia in turn refers to Kratz as 'padre', or father in Spanish.
When Garcia made his major league debut on Sunday, Kratz was in the lineup. The Yankees called up Kratz last week when backup catcher Kyle Higashioka went down with an oblique injury.
During warmups, Kratz joked, "I'm going to play catch with my son."
40-year-old Erik Kratz gives 21-year-old Deivi Garcia a hug in the dugout. #Yankees pic.twitter.com/hoI0IM71jL

— Tom Hanslin (@TomHanslin) August 30, 2020