The Degen Game of the Week features the New York Giants (0-2) at the Tampa Bay Bucs (1-1). The Bucs persuaded Bruce Arians to come out of retirement to help get Jameis Winston back on track, but this game could get ugly quickly with the debut of rookie QB Daniel Jones after head coach Pat Shurmur benched a washed-up Eli Manning.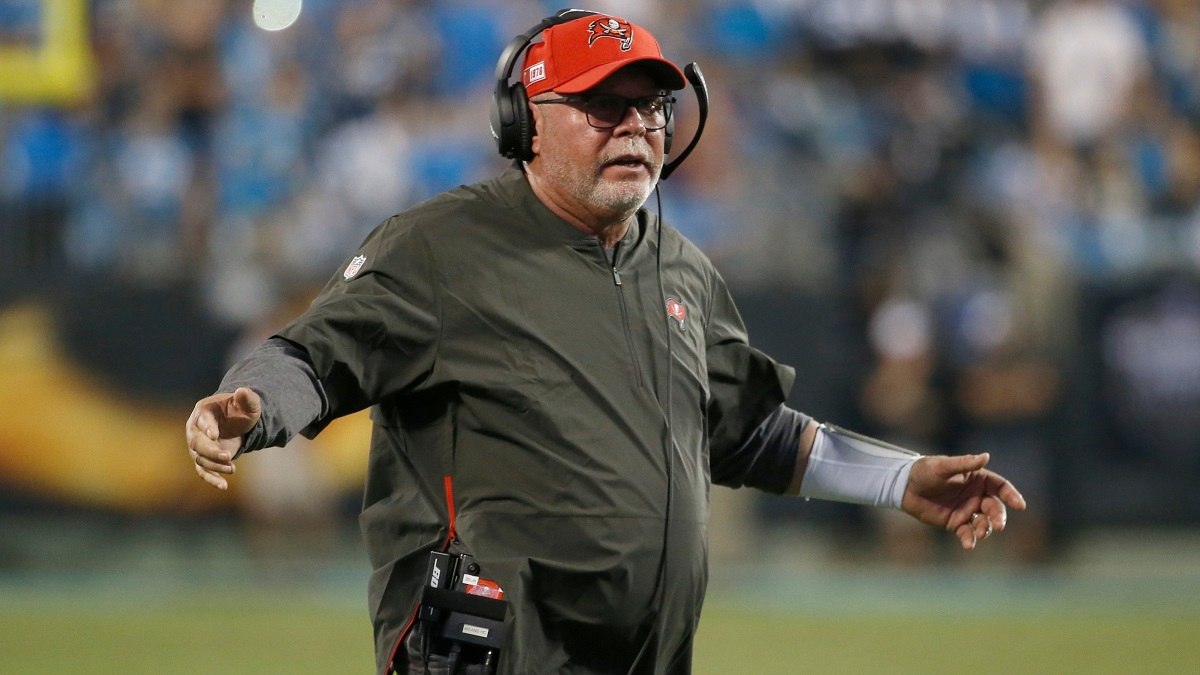 A lot of old school bettors would love to back a veteran coach, like Bruce Arians, with a couple of extra days to prepare against a rookie quarterback making his first-ever start in the NFL.
The Bucs (1-1) are laying almost a touchdown in this spot against the struggling Giants (0-2).
DEGEN GAME OF THE WEEK
New York Giants (0-2) at Tampa Bay Bucs (1-1)
Point Spread: TB -6.5
Over/Under Total: 47.7
Then again, Arians has only coached the Bucs for two games and it hasn't exactly gone well in Tampa. The Bucs were fortunate to pick off a a beat-up Cam Newton and the Carolina Panthers on Thursday Night Football in Week 2. The Bucs had the benefit of a couple extra days of rest before they host the Giants.
Unless you're a fan of the Giants or Bucs, or happen to be sweating fantasy football matchups with Saquon Barkley or Jameis Winston, then you should avert your eyes and hold your nose with this potential stinker.
Bruce's Bucs vs. Shurmur's Giants
Pundits and fantasy nerds expected Jameis Winston would thrive in a Bruce Arians' led offense. It's been a slow start down in Tampa. Winston struggled so far this season with only 2 touchdowns and 3 interceptions. He's also only completing 59 percent of his passes.
Chris Goodwin has been the recipient of the majority of Winston's passes. In two weeks, Goodwin caught 11 balls for 174 yards and two touchdowns. Against the Panthers, Goodwin smoked their secondary for 121 yards on 8 receptions and a touchdown.
Arians has two reliable running backs at his disposal. Ronald Jones averaged 4.9 yards per carry, while Peyton Barber is averaging only 3.7 yards per carry but he's scored a touchdown.
Meanwhile, Arians tapped ex-Jets head coach Todd Bowles as the Bucs' defensive coordinator. The Bucs will be focused on stopping Saquon Barkley while forcing the rube QB to beat them in the air.
After Drew Brees injured his thumb, the NFC South is wide open. An easy win over the Giants in the Degen Game of the Week will boost the Bucs to a 2-1 record and put them (at least) in a tie for first place.
Eli Whacked in the Meadowlands
The New York Giants baffled fans and pundits alike when they drafted Daniel Jones with the sixth overall pick in the 2019 NFL Draft. Duke is a basketball school and not known for their football prowess, yet the Giants handpicked Jones to become the heir apparent to Eli Manning.
Manning began the season as the starting QB, but got the quick hook after an ugly 0-2 start. Instead of waiting until the bye week, head coach Pat Shurmur decided to give Jones a shot in Week 3 in the Giants and Bucs game. Until we actually see Jones play in a regular season game, no one actually knows if the kid can hold his mud. Will Jones quickly adapt like Gardner Minshew in Jacksonville when he took over for an injured Nick Foles in Week 1? Or will Jones look like a deer caught in headlights in the Degen Game of the Week?
According to William Hill, the NY Giants are 300/1 odds to win the Super Bowl. Only the tanking Miami Dolphins have worst odds. Bruce Arians and the Tampa Bay Buccaneers are 80/1 odds to win the Super Bowl.