Damian Lillard scored 50 points on Tuesday night, including a buzzer beater from 37 feet away from the basket, to lead the Portland Trail Blazers to a 118-115 win over the Oklahoma City Thunder.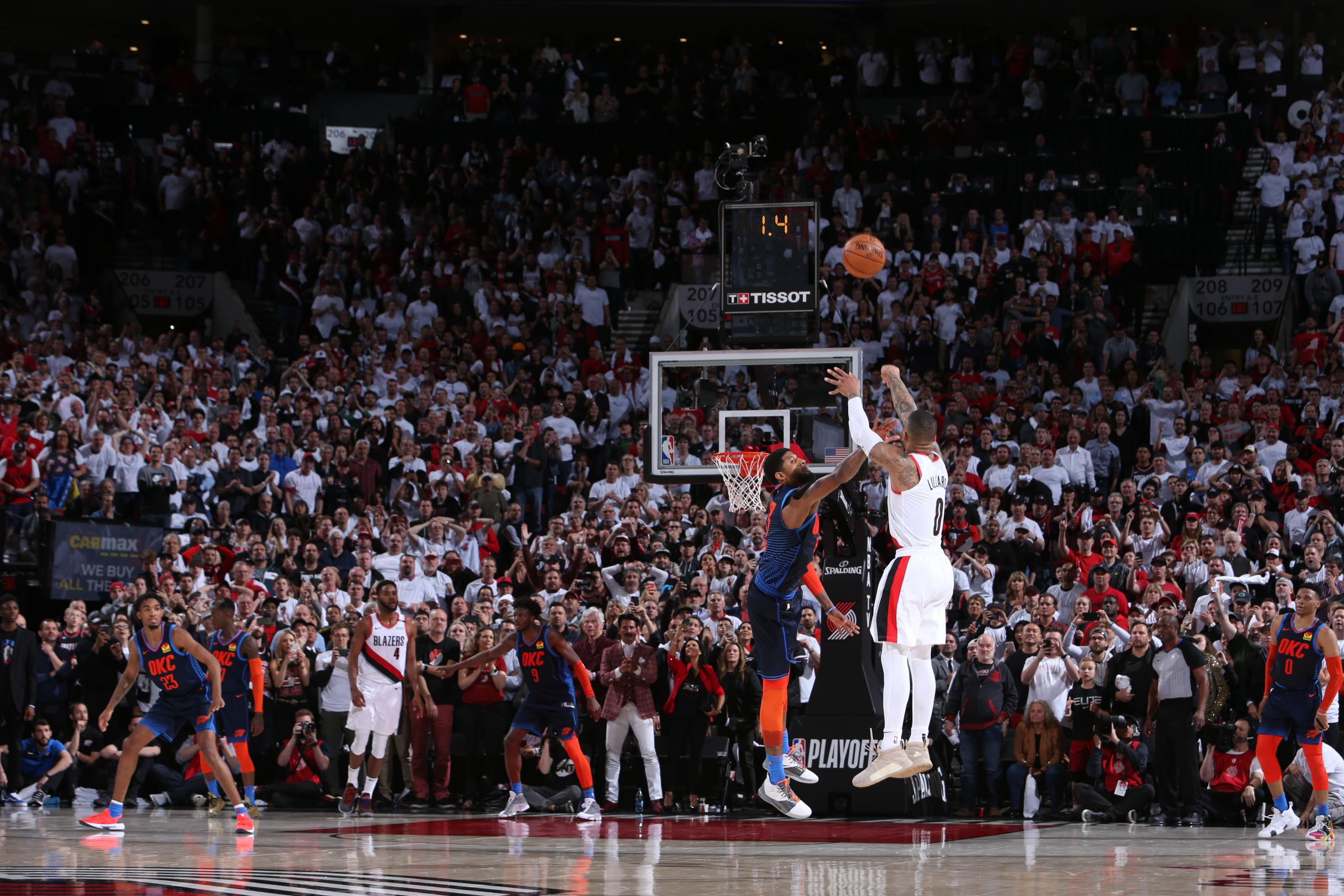 The victory gave Portland a 4-1 series win over Oklahoma City, advancing the Trail Blazers to the Western Conference semifinals.
Lillard 'Felt Good' About Game Winner                                                                         
Lillard was on fire the entire night, scoring 34 points in the first half to help the Trail Blazers go into the break with a 61-60 lead. He hit a franchise playoff record 10 3-pointers, and shot 17-33 from the field in total while also collecting seven rebounds, six assists, and three steals.
After the game, Lillard said that the shot "felt good" as it left his hands, and that he had no regrets about pulling up from near half-court to try to win the game.
🗣M 🗣V 🗣P 🗣 pic.twitter.com/iu9Rz77UyQ

— Trail Blazers (@trailblazers) April 24, 2019
"I didn't want to put it into the referee's hands," Lillard told reporters. "Where if there was contact or maybe they get away with contact or I end up having to take a tougher shot because there was contact and they don't want to decide the game. So I was standing there looking at the rim and I was like 'this is a comfortable range.'"
George, Stats Disagree on Final Shot
Paul George was the man tasked with defending Lillard on the last play. After the game, he didn't seem to regret giving the Blazers' point guard space to shoot from long, long distance.
"That's a bad, bad shot," George told reporters. "I don't care what anybody says. That's a bad shot. But hey, he made it. That story won't be told that it was a bad shot. We live with that."
But despite George's opinion, the shot may not have been such a bad one for a shooter of Lillard's caliber. According to data compiled by ESPN, Lillard had shot 39.2 percent on attempts from between 30 and 40 feet away this year. That's far better than the league as a whole, which is shooting just under 26 percent on those same shots. According to NBA.com, Lillard made three shots from more than 30 feet away.
That suggests that Lillard knew exactly what he was doing when he let go of the game-winner.
"The game, the series was over and that was it," Lillard said. "There's been a lot of back and forth, a lot of talk and all this stuff, and that was the last word. That was having the last word."
It's far from the last word on Portland's season, though. The Trail Blazers will move on to take on the winner of the series between the Denver Nuggets and the San Antonio Spurs. The Nuggets currently lead that series 3-2, with Game 6 scheduled for Thursday night. The Spurs are a 2.5-point favorite at home, according to the FanDuel Sportsbook.
Even with an impressive first-round victory and a dominant performance by Lillard, Portland isn't given much chance of winning an NBA title this year. The Trail Blazers (+3300) aren't considered among the favorites to win the championship, with the Golden State Warriors (-190) remaining an overwhelming pick to walk away with their third straight crown.
Image: