After the Dallas Cowboys' loss to the New England Patriots on Sunday, there is new speculation that coach Jason Garrett could be fired. It's the same rumor that's been floating around for the past two years, but oddsmakers are starting to post odds on possible replacements.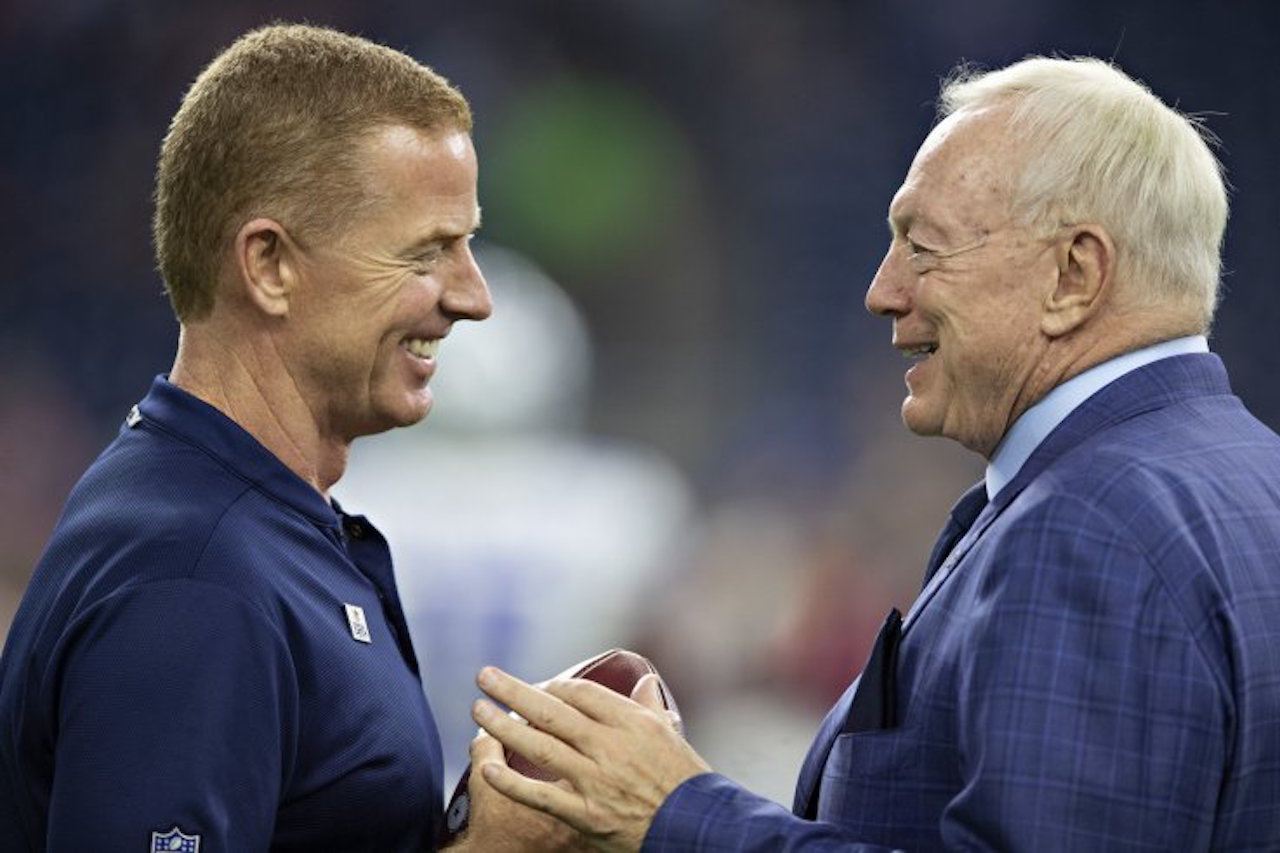 Dallas owner Jerry Jones has been releasing cryptic, and not so subtle, quotes after losses. When the team lost 13-9 to New England on Sunday, Jones told reporters that the wind and rain at Gillette Stadium weren't an excuse.
"The bottom line is that was a tough challenge," Jones said. "They know how to play this game, in this weather. Their team was masterful. Their coach was masterful… It was a significant setback for our team. We needed this win. We needed a win against an opponent like this, and we haven't had one."
The Cowboys have feasted on their division, the NFC East, beating the Eagles once, the Redskins once, and the Giants twice. Outside the division, they look a lot shakier. Dallas has five losses to their two wins, and they've failed to beat any non-conference team with a winning record.
Garrett Fired if Jones' Patience Wears Out
Jones said it was extremely disturbing watching Sunday's game, and seeing missed opportunities on offense.
"I'm just really frustrated. I thought we could come up here and put together a better effort in all three phases," Jones said. "I expected us to play well against them defensively. We got what I think we should have expected from our defense. The other phases of the game, we can't come up here and play like that."
Jones addressed the topic again Tuesday on a Dallas radio show, saying that coaching decisions are his responsibility.
"When you're general manager, which I am, those coaches are out there at my ultimate decision," Jones said. "It's very much within my realm of purview, if you will, to not only be standing there as an owner, but be standing there as the general manager who put the staff there to begin with. People seem to think it's particularly harsh to have criticism, and they think when you look at the other side of the field and call a job well done, that might mean that's extraordinary criticism of the job you've done on the other side of the field.
Garrett's Gone, Right?
Not necessarily, and not likely anytime soon. Jones has owned the team since 1989, and has had eight head coaches during his tenure. He's fired only one of them during the season, when he let Wade Phillips go after a 1-7 start to the 2010 season.
Garrett replaced Phillips, but has only gotten to the postseason in three of his nine years at the helm. Dallas did make the playoffs last season, but lost in the divisional round to the L.A. Rams.
Jones is growing weary of the lack of playoff success, and with Garrett in the last year of his contract, the speculation on whether he'll be back is intensifying.
Odds Not in Garrett's Favor
In the third week of October, BetDSI put out odds on who could be the next Dallas coach. New England offensive coordinator Josh McDaniels was the favorite at 5/2. New Orleans head coach, Sean Payton was 3/1. Garrett was at 6/1.
A week later, Oklahoma coach Lincoln Riley was being proclaimed the Cowboys' next coach. Bovada had Riley at -150, though Garrett was second at +225.
On Nov. 1, Bovada released updated odds on who the new coach might be, and had Riley at even, with Garrett at +200.
Garrett deflected questions about his job status when asked about it by reporters after the New England loss.
"We've just got to focus on coaching as well as we can, and playing as well as we can," Garrett said. "There certainly were some things in the game we have to get better at, and we're going to work on that as a staff and as a football team. But again, our eyes are forward on Buffalo."