Two weeks ago, the Dallas Cowboys were 3-5 and there wasn't any talk about the playoffs, but plenty of speculation on whether coach Jason Garrett would be fired.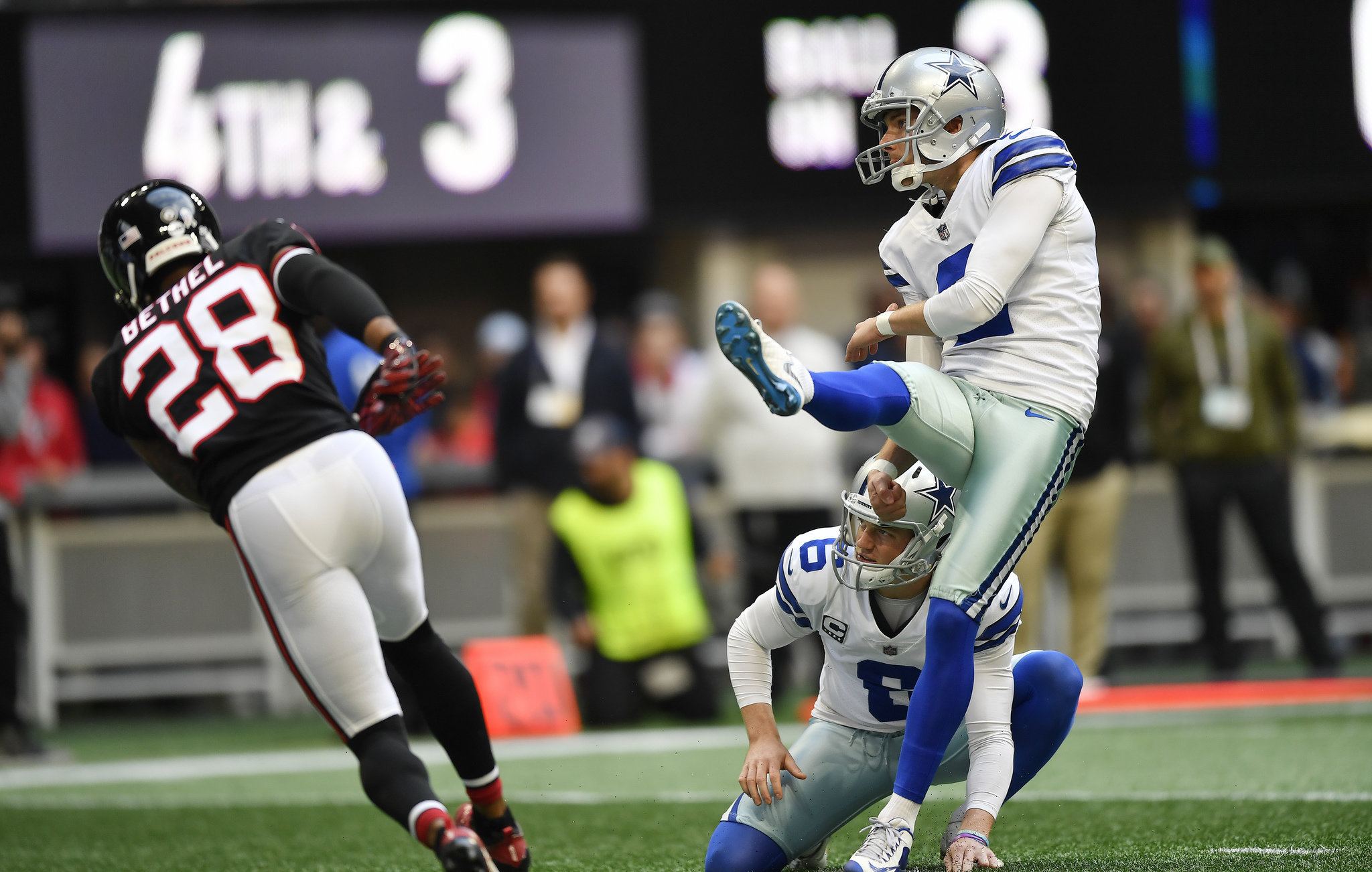 Now 14 days later, the Cowboys are back at .500 and actually back as a contender in the NFC East. Dallas bucked a big trend on Sunday when the Cowboys won its second consecutive road game, defeating Atlanta on a last second field goal, 22-19.
https://twitter.com/NFL/status/1064259247154716672
Dallas was a 3.5-point underdog, but for the second straight week won outright. The team evened its mark ATS, and now actually have an opportunity to tie Washington atop the division. The two teams meet in Dallas on Thanksgiving.
"We've got a big one against as big a rival as there is in sports," Dallas owner Jerry Jones said. "We have a lot at stake there."
Because of Alex Smith's broken leg the Cowboys are favored by 7.5 points. That is actually down from the opening line of nine points.
Lamar Jackson Wins Debut
The last rookie quarterback taken in the first round of the NFL Draft started on Sunday, and while Baltimore's Lamar Jackson won in his debut, the team failed to cover the spread against Cincinnati.
The Ravens were 6.5-point picks against the Bengals, and won 24-21. Jackson, who was one of five signal callers taken in the first round, had mixed results, replacing Joe Flacco, who is out with a hip injury. He was 13 of 19 with an interception, but gained 117 yards on 27 carries.
Jackson might return as a backup this week. Flacco doesn't need surgery for the injured hip, and is listed as questionable for the team's game against the Raiders. They are currently 11-point favorites against the Oakland Raiders.
Allen Sums Up Broncos
Los Angeles Chargers' Keenan Allen wasn't in a very charitable mood after his team blew a lead to division rival Denver, and lost 23-22 on a last second Brandon McManus field goal. The Chargers were seven-point favorites.
"No, I don't think they played well at all," Allen said. "We dominated the game. Turnovers, we gave them some points and that's what happened. They suck."
The Chargers fell two games behind Kansas City, and though they look like a lock for a wild card berth, the team knows they can't keep loosing games like this. Quarterback Phillip Rivers had two interceptions, and the team also had several penalties and kicker Mike Badgley missed an extra point.
"Those are things we've stayed away from – penalties and turnovers – but they showed up today," Chargers coach Anthony Lynn said. "For whatever reason, I don't know. We'll figure it out, though."
Bad Beat of the Week
The under bettors in the Chicago-Minnesota game were looking pretty good, until both teams decided to score a combined 28 points in the fourth quarter to crush them. The under was at 44 to 44.5 points depending on the sportsbook.
At halftime the Bears lead 14-0, and under bettors were looking pretty strong. When Minnesota hit a field goal for the only points in the third quarter, some were probably quietly celebrating.
They should have known better. Both offenses woke up in the final 15 minutes, and when Vikings quarterback Kirk Cousins hit Stephon Diggs for a 5-yard touchdown pass with 52 seconds remaining, the overs were the ones celebrating a 25-20 Chicago win.