When the flag goes up at Talladega on Sunday, Kevin Harvick will officially break Dale Earnhardt's record for most NASCAR starts. Harvick has been tied with the iconic driver at 676 Monster Energy NASCAR Cup Series races. It's ironic that Harvick replaced Earnhardt after the 2001 crash that ended Earnhardt's life at Daytona.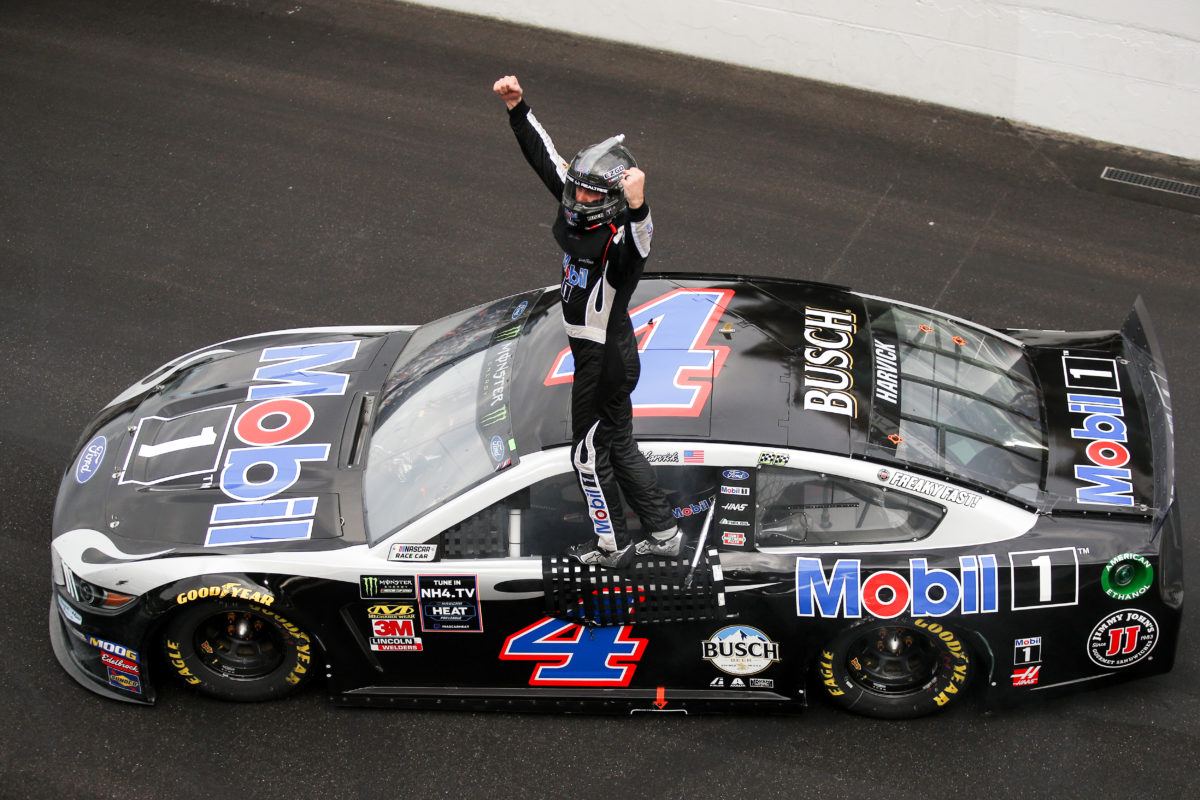 Harvick has 48 Cup victories in that time, and he took time on Friday to reflect to reflect on his career thus far.
"It should make a lot of us standing here feel old," Harvick said. "I think, as you look back and you don't realize how long it actually has been and — you guys have heard me say this before — but in the beginning it was really hard to understand the magnitude of the circumstances the first couple years, just because you didn't really understand much about what was going on. As you got into the second year and really started to understand what happened the year before, it was already done."
Talladega Fickle Toward Harvick
The 1000bulbs.com 500 hasn't been kind to Harvick. The 44-year-old has never won the second race of the season at Talladega. He finished second in 2010, but the best he has accomplished in recent October races is seventh in 2016.
The first race at Talladega in April has been more successful for Harvick. He won there in 2010, and in 2018 finished fourth.
Oddsmakers aren't convinced that Harvick will put it all together on Sunday. They have the 2014 Cup Series champion at 14/1, well behind 8/1 favorite Joey Logano.
Elliott Chasing Second Talladega Title
Chase Elliott and his fellow Chevrolet drivers took a strategy into the April race at Talladega, and it paid off with a 1-2-3 finish. Now, Elliott wants to employ that same game plan for Sunday's race. He told reporters that other teams will probably be copying the strategy.
"I think you're going to see more of those games being played this weekend. I thought we did equally as good of a job at Daytona as we did here in the spring. We just had some things go our way here in the spring and they didn't in Daytona. So it goes to show that even though we worked well together and that we all did a nice job, it's not always going to work. No guarantees, for sure."
Elliott could use another victory at Talladega. He is currently 11th in the Monster Energy NASCAR Cup Series standings, and wants to ensure he moves on to the next round. The top eight move on to the next phase, and Elliott is seven points from that spot, which is currently held by Logano.
Elliott is tied with Brad Keselowski at 10/1 for the second pick. He got the pole for Sunday's race, and saw his Hendrick Motorsports teammates take the next three spots.
"To have all for Hendrick cars 1-2-3-4 was really sharp," Elliott said. "We'll try to stay with our friends as long as we can tomorrow and try to stay out of trouble."