Jerry Jones said he'd make Dak Prescott a very wealthy man and the Dallas Cowboys owner didn't lie, resigning his starting quarterback to a four-year deal worth $160 million, including a record-setting $66 million signing bonus.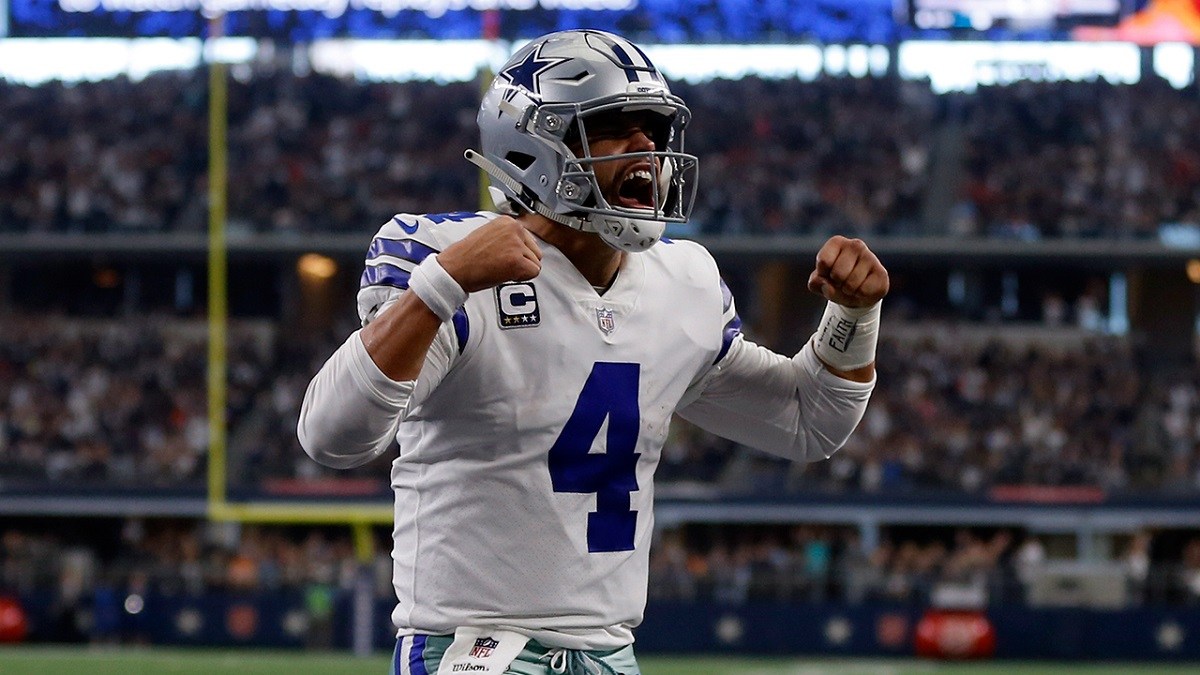 Prescott got the bag, and it's a big one. But now that he's the second-highest paid quarterback in the league behind Patrick Mahomes, there are extreme expectations on Prescott to deliver the Dallas Cowboys their first Super Bowl victory in 25 years.
The Cowboys won the Super Bowl five times, but haven't won a championship since the 1995 season when they won Super Bowl XXX. Only the Pittsburgh Steelers and New England Patriots have won more Super Bowls than the Cowboys with six each.
The Cowboys are +2800 odds to win Super Bowl 56, according to the Westgate SuperBook in Las Vegas.
Prescott's deal also includes a guaranteed $126 million and a no-trade clause, which gives him the power to veto any trade to an undesirable team.
"I'm excited as hell to be a Dallas Cowboy," Prescott said during training camp last season.
Prescott turns 28 this summer. He'll be 31-years old and in his prime at the end of this deal. He earned only $36 million in salary and incentives during his first five seasons, but he took home $31.4 million in 2020.
Now that the Cowboys paid Prescott to be the man alongside Zeke Elliot, they'll have to surround him with top-notch players on both offense and defense. The Cowboys' primary focus moving forward should be to address their porous defense. They had the fifth-worst defense in the league last season, allowing 29.5 points per game.
Starkville to Dallas
Prescott played his collegiate ball at Mississippi State. The Bulldogs weren't among the elite teams in the SEC, but Prescott made Mississippi State competitive. In 49 games, he threw 70 touchdowns, rushed for 41, and added three touchdown receptions.
The Cowboys selected Prescott with a fourth-round pick in the 2016 NFL Draft. Since then, the Cowboys are 42-27 with Prescott under center at quarterback.
"I grew up wanting to be a Dallas Cowboy, and I am," Prescott told The Athletic last August. "And I've got dreams of being a Dallas Cowboy 'til I'm done throwing the football."
During his tenure with the Cowboys, Prescott has tossed 106 touchdowns and rushed for 24 more. He threw at least 22 touchdowns in his first four seasons, with a career-high 30 touchdowns in 2019.
Prescott is eyeing Tony Romo's career record of 208 touchdowns with the Cowboys, but Romo could never deliver a Super Bowl.
Road to Recovery
The Cowboys lost Prescott in Week 5 against the New York Giants due to a season-ending injury. He suffered a dislocated ankle and compound fracture in a gruesome play. Through five games, Prescott threw nine touchdowns for 1,856 yards against four interceptions.
Without Prescott, the Cowboys finished the season 6-10. As bad as they played, the Cowboys were still in the thick of a fight for the division title and a playoff berth in the worst division in the NFL. The Washington Football Team won the NFC East with a 7-9 record.
It's amazing that Prescott is expected to have a full recovery despite the severity of his injury. It's even more amazing that he got resigned to a lucrative contract. Then again, there aren't many high-quality quarterbacks on the market these days.
Dak Prescott injured on this play.

His ankle is pointing in the wrong direction.

Cowboy or not, hate to see that happen to any player.

🙏🏼 Dak pic.twitter.com/faHVRzOVsI

— DIE-HARD 🦅 Fans (@Eaglesfans9) October 11, 2020