It's only been two starts, but Shane Bieber looks phenomenal. The Cleveland Indians' ace began the season 2-0, and has yet to yield a run in 14 innings while whiffing 27 batters. According to a recent update by DraftKings, Bieber is now +275 odds to win the AL Cy Young. Over in the National League, Jacob deGrom of the New York Mets continues to be the Cy Young favorite at +325 odds, despite starting the season with two no-decisions. Sonny Gray (Cincinnati Reds) also got off to a great start at 2-0, seeing his Cy Young odds jump to +1500.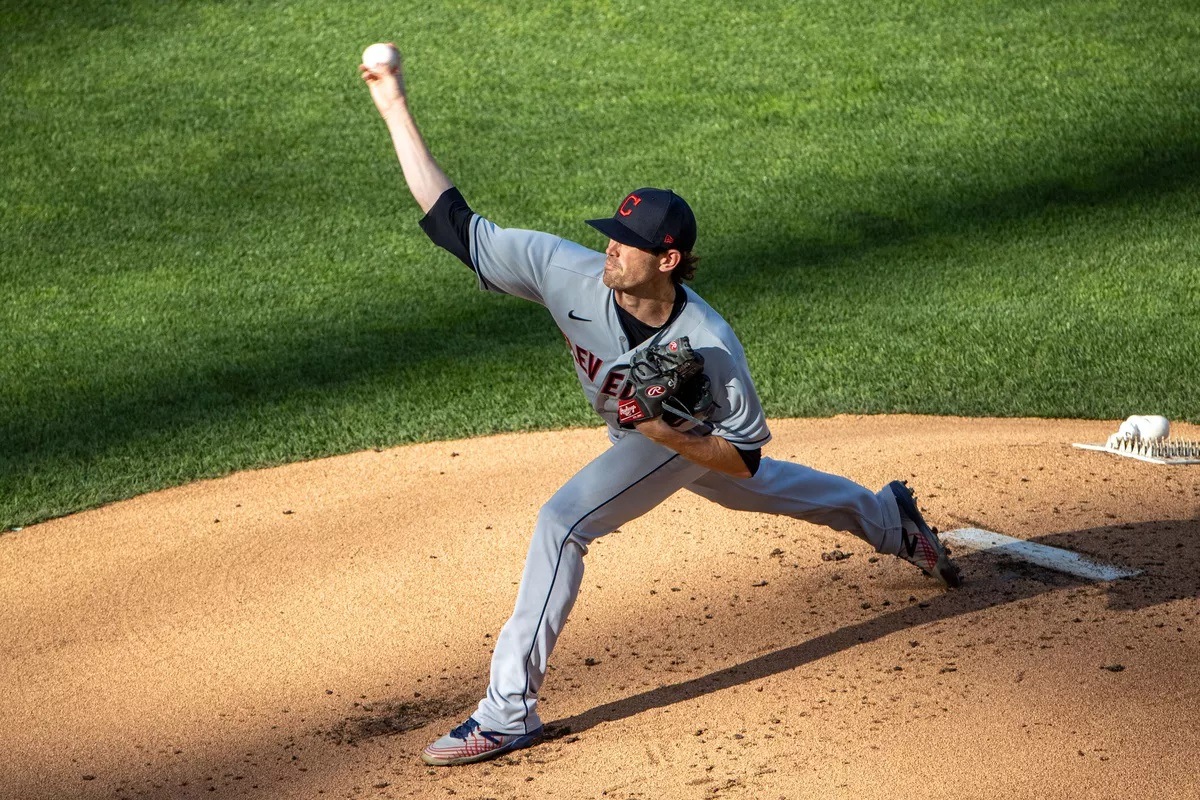 The MLB season is a little more than a week old, and most of each teams' aces have pitched at least two games. The experts and prognosticators expected pitchers would have a slight edge in the first week of the season while batters make adjustments to live pitching after a sparse training camp and preseason.
Six pitchers began the season 2-0, and four of them are starters: Gerrit Cole (NY Yankees), Sonny Gray (Cincinnati Reds), Ross Stripling (LA Dodgers), and Shane Bieber (Cleveland Indians). Lance Lynn (Texas Rangers) is 1-0 in two starts, but he's yet to allow a run this season in 12 innings on the mound.
Two late-inning relievers, Burch Smith (Oakland A's) and Adam Kolarek (LA Dodgers), also posted 2-0 records through the first 10 days of the season.
The LA Dodgers, San Diego Padres, and Cleveland Indians are the only teams to reach the 5-win mark. The Dodgers are off to a hot start once again, thanks to a pair of pitchers who started 2-0. They didn't have Clayton Kershaw available on Opening Day after he tweaked his back while lifting weights. Stripling, a spot starter and long reliever, stepped up for the Dodgers by winning both starts.
NL: Sonny Days Are Here Again
Jacob deGrom won the Cy Young in each of the past two seasons in the NL. He's still the favorite to win a third-straight Cy Young award, even though he's 0-0 with a pair of no-decisions. On Opening Day, the Mets lost to the Red Sox 6-5, and deGrom allowed two earned runs in six innings. In his second start, the Mets defeated the Atlanta Braves 1-0. Although deGrom didn't get the win, he looked sharp, scattering just one hit in five innings.
Jack Flaherty won his first start with the St. Louis Cardinals, and he's waiting to take the ball for a second start. But after two teammates tested positive for coronavirus, who knows when Flaherty will actually pitch again.
2020 NL CY YOUNG ODDS
Jacob deGrom +325
Max Scherzer +475
Jack Flaherty +800
Walker Buehler +1000
Trevor Bauer +1200
Luis Castillo +1200
Sonny Gray +1500
Stephen Strasburg +1500
Mike Soroka +2800
Stripling (2-0, 2.82 ERA, 0.81 WHIP) went 4-4 last season with the Dodgers and, after two games, he's already won half as many times as he did in 2019. His teammate, Walker Buehler, had a rough outing against the Houston Astros. The Dodgers won, but Buehler didn't get out of the fourth inning.
Gray struggled to pitch in New York City. The Bronx Zoo has a weird effect on some players. Gray's thrived since he joined the Cincinnati Red last season. He's looking good after a couple starts as the anchor in the Reds' rotation.
AL: Are You a Bieber Believer?
Bieber came into the season as one of the mid-tier favorites on the American League futures board. Before the season began, you could back Bieber at 14/1 odds to win the Cy Young. The dominant Bieber has a perfect ERA at 0.000. In two starts, he gave up only seven hits and one walk in 14 innings.
Bieber whiffed 13 Minnesota Twins players on Opening Day. On his second start, Bieber struck out 14 Kansas City Royals batters. Those 27 Ks tied a MLB record for most strikeouts in the first two starts of a season.
Gerrit Cole had been the favorite to win the Cy Young as soon as last season ended. Once he signed with the Yankees, Cole saw his AL Cy Young numbers tick up from 3/1 to 5/2 odds.
2020 AL CY YOUNG ODDS
Shane Bieber +275
Gerrit Cole +350
Tyler Glasnow +800
Blake Snell +900
Mike Clevinger +1000
Justin Verlander +1200
Lance Lynn +1800
Jose Berrios +2500
Carlos Carrasco +2500
Charlie Morton +2500
Cole won his Opening Day start with the Yankees against the Nationals in a game that got called after the sixth inning due to a rainstorm. He looked a little too jacked up and excited in his first start. You can't fault the guy who got to live out his childhood dream of playing for the Yankees.
Overall, Cole looks good with a 2-0 record in his first two starts for the Yankees, including a 3.09 ERA and 0.69 WHIP.
Verlander Dunzo?
Justin Verlander had one of those "I'm not dead, yet!" moments on Twitter last week. Word quickly spread that Verlander would be shut down for the season with an elbow injury. He used social media to correct the news of his untimely death, and to say he'll be back after a stint on the IL.
The Houston Astros are in a tough spot right now without their top two pitchers from last season. Cole skipped Houston to sign a bank-busting contact with the Yankees. Verlander stuck around, but injuries are starting to catch up to his aging body. The Astros will be without the reigning AL Cy Young winner for a couple of weeks, which becomes even more problematic in a 60-game season.