Curtis Blaydes has dominated most of his opponents in the UFC heavyweight division, and expects to do the same on Saturday when he takes on Alexander Volkov in the main event of UFC Fight Night at the Apex in Las Vegas.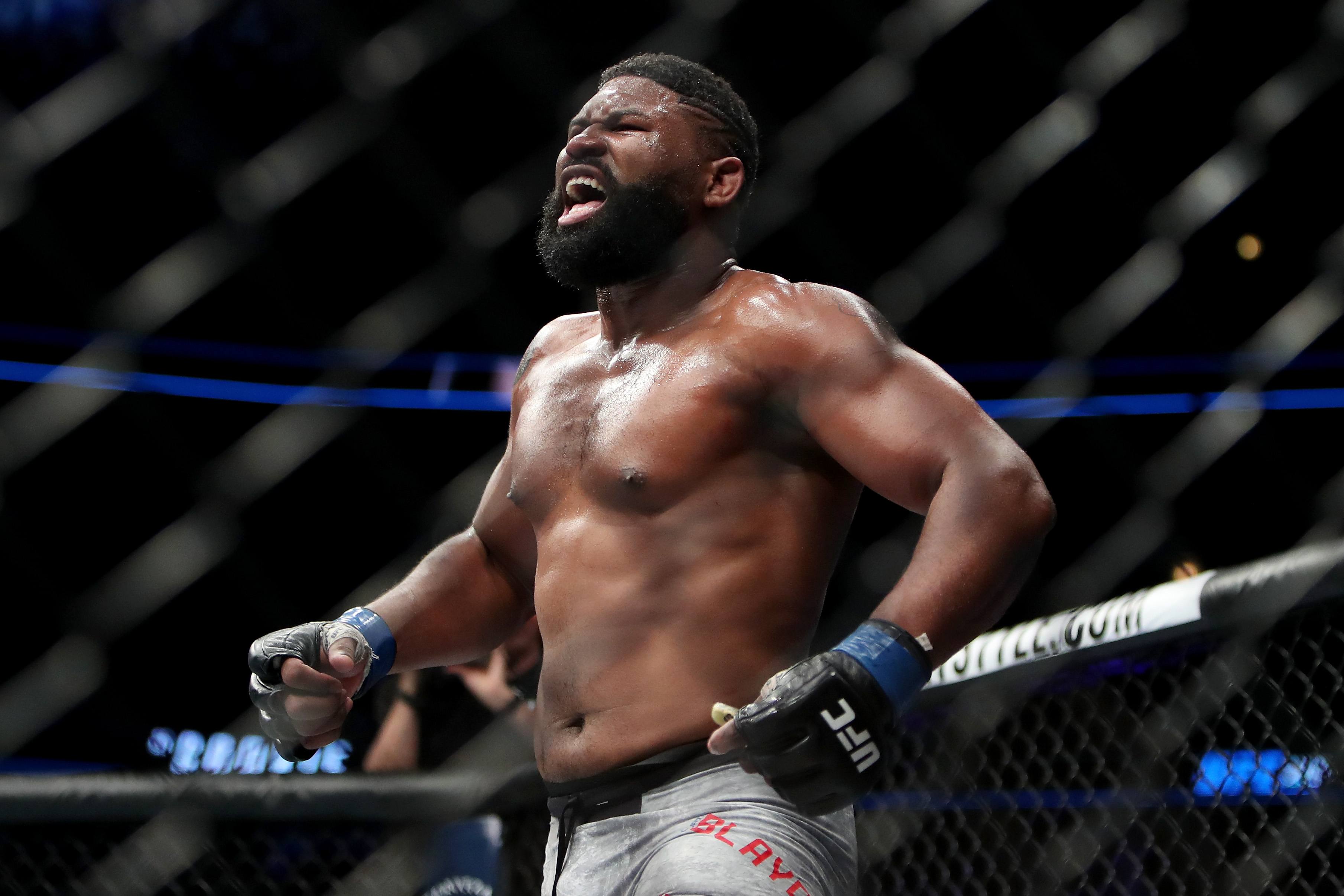 While both men can bolster their chances at a title shot with a win on Saturday, they understand that there are three men standing in the way of any potential championship opportunity.
Ngannou Ahead of Blaydes in Title Picture
First, current heavyweight champion Stipe Miocic must fight Daniel Cormier in a third fight to complete their epic trilogy. After that, No. 2 Francis Ngannou boasts the strongest resume in the division, and stands to get the next shot at the winner. He's also first in line for a spot in a fight for a vacant title if the winner retires, as Cormier says he plans to do.
Blaydes (13-2) currently sits third in the UFC heavyweight rankings. He has earned that spot: his only two losses are both to Ngannou, and a win over Junior dos Santos in January showed that he is firmly in the upper crust of the division.
---
UFC Fight Night Odds (Main Card)
Curtis Blaydes (-425) vs. Alexander Volkov (+310)
Josh Emmett (+115) vs. Shane Burgos (-145)
Raquel Pennington (-165) vs. Marion Reneau (+130)
Balal Muhammad (-135) vs. Lyman Good (+108)
Jim Miller (+185) vs. Roosevelt Roberts (-240)
Odds via PointsBet Sportsbook
---
"Obviously, if there is a fight for the [vacant title], Ngannou would be there," Blaydes told Yahoo Sports. "But I hope they'd look at me and think I'm a natural for that, too. Look at what I've done."
Volkov (31-7) has climbed into the heavyweight title mix at times, and may have gotten a shot had he defeated Derrick Lewis at UFC 229 in October 2018. But Lewis scored a knockout with just 11 seconds remaining in the fight to turn the tables. Since then, Volkov has only fought once: an easy decision win over former NFL star Greg Hardy.
Volkov Needs Signature Win to Regain Elite Status
That time off has left Volkov at No. 7 in the UFC heavyweight rankings. While an upset win over Blaydes wouldn't make him an instant title contender, it would once again put him in the conversation and show he deserves to be a top-five heavyweight.
"I understand that Ngannou deserves a title shot because he won a lot of fights really quick, [against] a lot of top guys, so if it's his turn then he goes next," Volkov told FanSided. "[A fight with Ngannou] has to happen someday, after my win. Probably he wants a title shot first and maybe I will fight with him after, but for sure, someday we will meet because we are both good strikers, and we can make a good show."
Blaydes enters the fight as an overwhelming -425 favorite against Volkov (+310), according to PointsBet. While Volkov's long reach could pose problems, Blaydes figures to have chances to score a finish sometime over five rounds, especially if he can get the fight to the mat and work on his ground and pound.
Saturday's co-main event features top-10 featherweight contenders Josh Emmett (15-2) and Shane Burgos (13-1). While Burgos throws punches at high volume, Emmett has better one-punch knockout power, which should lead to an action-packed fight. PointsBet lists Burgos as a -145 favorite over Emmett (+115).