The 14th and 15th NCAA Division I Football Bowl Subdivision games to be postponed or canceled in November also happen to be the season's most significant. They come as the SEC faces a history-making weekend of missed kickoffs due to the COVID-19 pandemic.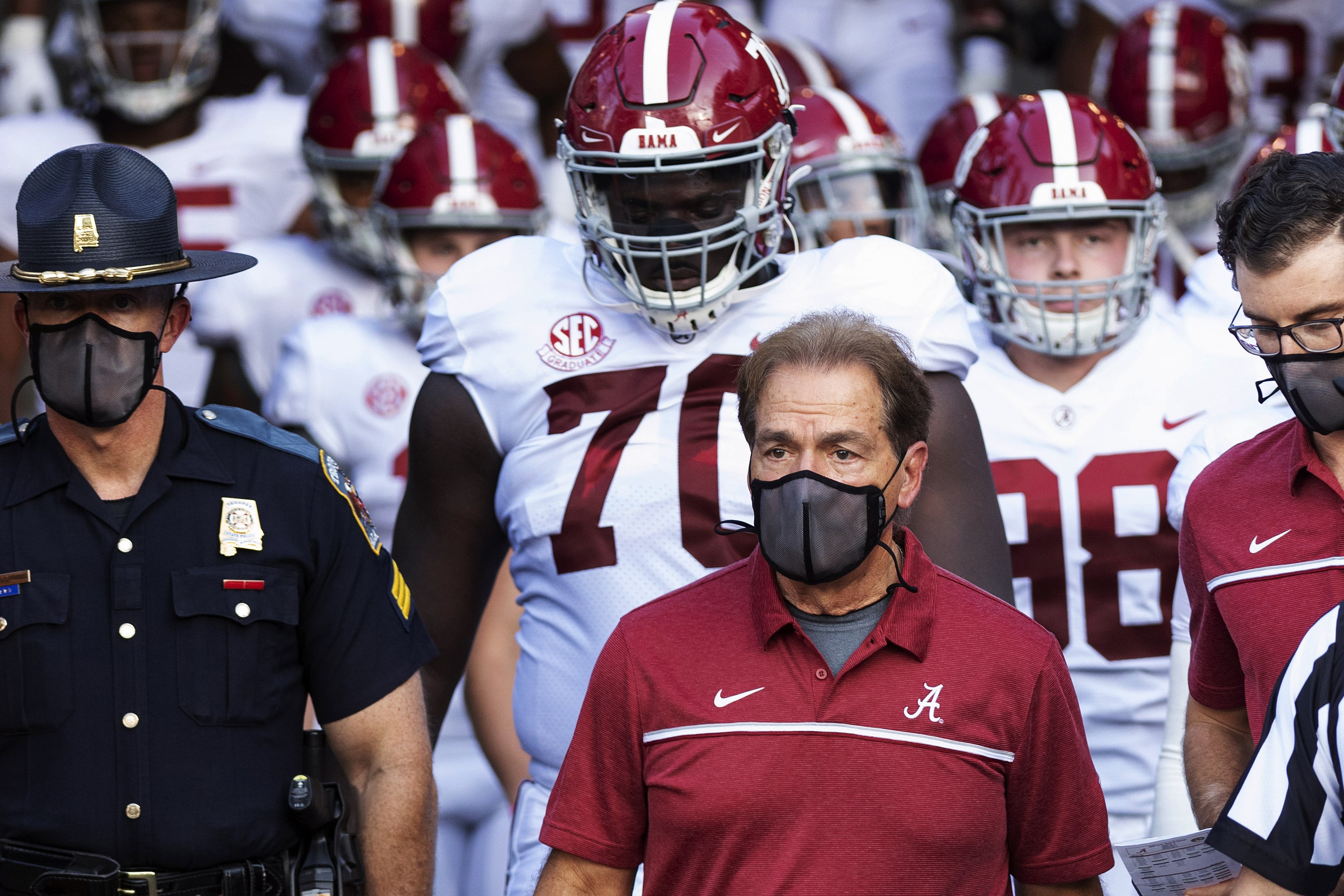 Defending national champion LSU versus No. 1 Alabama was canceled Tuesday due to LSU's second major outbreak of the season. The conference built in a make-up game on Dec. 12, but LSU already has make-up that day against No. 6 Florida. As a result, the Tigers and the Tide will likely miss one another for the first time in 55 seasons.
NEWS | The Alabama at LSU and Texas A&M at Tennessee FB games of Nov. 14 are postponed due to positive tests, contact tracing & subsequent quarantine of individuals within the LSU and A&M FB programs.

— Southeastern Conference (@SEC) November 10, 2020
Texas A&M and Tennessee also Postponed
The conference also announced Tuesday that No. 5 Texas A&M at Tennessee will be postponed due to Texas A&M's current outbreak issues. That game will be rescheduled for Dec. 12 at Neyland Stadium in Knoxville. This is the first time this season the Vols and Aggies had a game postponed.
"We appreciate Texas A&M's communication this week. Our football program continued with its traditional game-week preparation as we awaited a decision on the status of Saturday's game," Tennessee athletic director Phillip Fulmer said in a statement. "We received confirmation of the game's postponement this afternoon, and we will share pertinent updates with ticket holders via email and social media as developments occur."
SEC Commissioner Stresses Prevention of Virus' Spread
Tennessee is scheduled to travel to Auburn on Nov. 21, which could also present a problem. On Monday, the SEC announced the postponement of No. 24 Auburn at Mississippi State until Dec. 12, as the Tigers are also fighting a COVID-19 outbreak.
"While it is unfortunate to have multiple postponements in the same week, we began the season with the understanding interruptions to the schedule were possible," SEC commissioner Greg Sankey said in a statement. "We have remained focused throughout the season on the health of everyone around our programs. We must remain vigilant, within our programs and in our communities, to prevent the spread of the virus, and to manage activities that contribute to these interruptions."
Marquee Games Exist Outside the SEC
Bettors can still find top-25 action elsewhere as the SEC struggles to stay healthy. No. 2 Notre Dame is a 13-point favorite at Boston College, and No. 3 Ohio State, which is 3-0 ATS, is a 25-point favorite at Maryland this week.
Maryland is coming off consecutive upsets vs. Minnesota and Penn State. In AAC action, No. 7 Cincinnati is also attempting to solidify its case for a playoff berth, and are 27-point favorites against East Carolina.