When Brooks Koepka said he didn't believe Rory McIlroy was a rival, it wasn't based on arrogance. It also wasn't sour grapes for losing out on the PGA Tour Player of the Year award to the Irishman.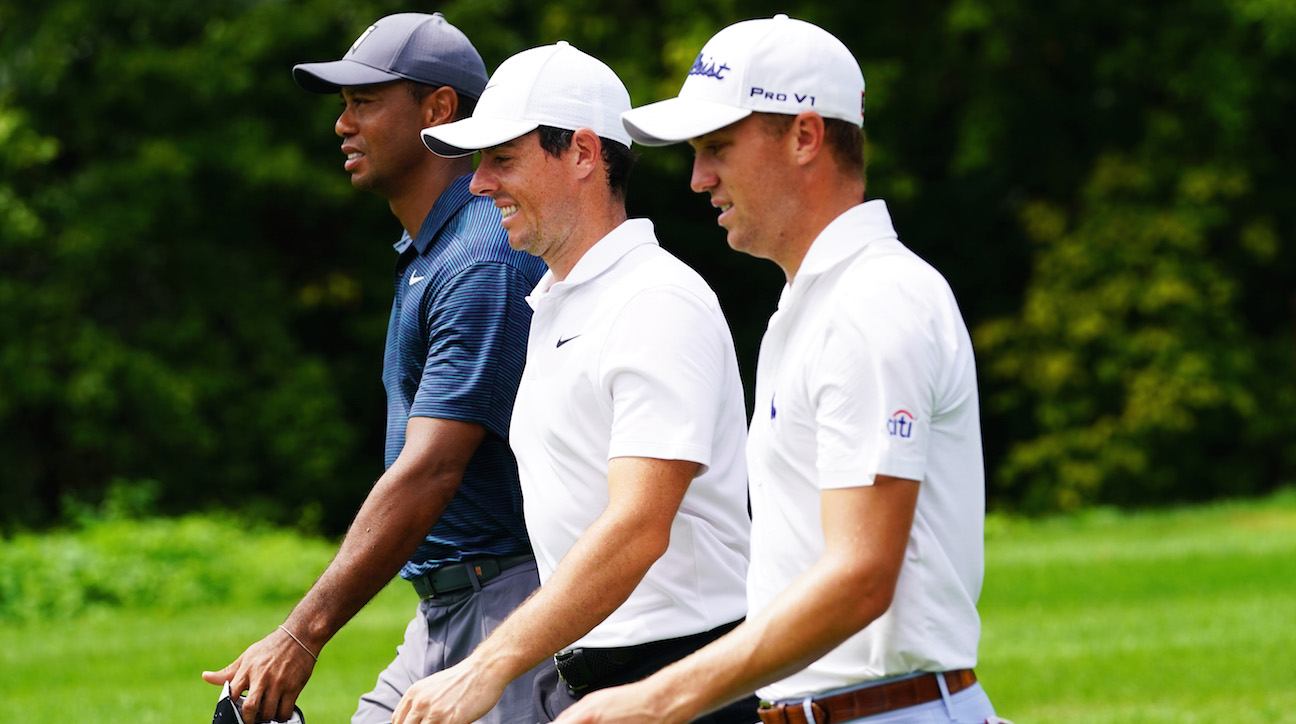 Instead, Koepka's assessment of McIlroy was based on major championships. McIlroy's last major was the 2014 PGA Championship, Koepka's first full year on the PGA Tour.
"I've been out here for, what, five years?" Koepka told AFP two weeks ago. "Rory hasn't won a major since I've been on the PGA Tour. So I just don't view it as a rivalry."
McIlroy Says Not a Koepka Rival
A week after Koepka's comments, McIlroy also played down any potential rivalry between the two.
"I would never want to make it just about two players," McIlroy said. "I think that's a little disrespectful of all the other players that are trying to play well and trying to win tournaments. You look at what Justin Thomas has done … I think to make it just about two people is, you know, not the – not the right thing to do or the right thing to say."
So if not McIlroy, than who? We took a look at a two golfers on tour that could go head to head with Koepka this season.
Can Woods, Thomas Challenge Koepka?
Tiger Woods
There are several reasons Woods could be a rival for Koepka. First, he is finally healthy again. The 43-year-old just had his fifth knee surgery, and went out and won the Zozo Championship. The former world No. 1 is now at No. 6, and seems like he is ready to try and reclaim the top spot.
That could be done by February at Torrey Pines. Woods (figuratively) owns that golf course, and if he continues to stay healthy, there seems to be little that could stop him from posting another strong performance. After winning Zozo last week, other golfers were praising him for tying Sam Snead's 82 career PGA Tour victories.
"Something I cannot imagine," Hideki Matsuyama said. "Some number that regular people cannot think of."
Justin Thomas
The 26-year-old won his 11th tournament two weeks ago at the CJ Cup at Nine Bridges in Jeju Island, Korea. Thomas joined Woods, Jack Nicklaus, Rory McIlroy, and Jordan Spieth as winning that number of tournaments before the age of 27.
Now, Thomas can go after claiming some more majors. The 2017 PGA Championship is his only one, but that could change very soon, as Thomas matures.
"The biggest thing I think that I've gotten a lot better at is just learning, taking experiences and learning from them," Thomas said. "That's what I did early in my career. There were a couple times I felt like I should have won the tournament, but I did something incorrectly or hit a wrong club or thought how I shouldn't have, and I was able when I finished to look back at that. That's all I'm trying to do, because I feel like if I can just improve a little bit every year, then there's not really a ceiling that I feel like I can't reach, I just want to try to win as many tournaments as I can."