As the Big Ten readies to kick off its truncated college football season this weekend, host city mayors are concerned that not enough precautions have been taken to protect communities already at "uncontrollable" levels of COVID-19 spread.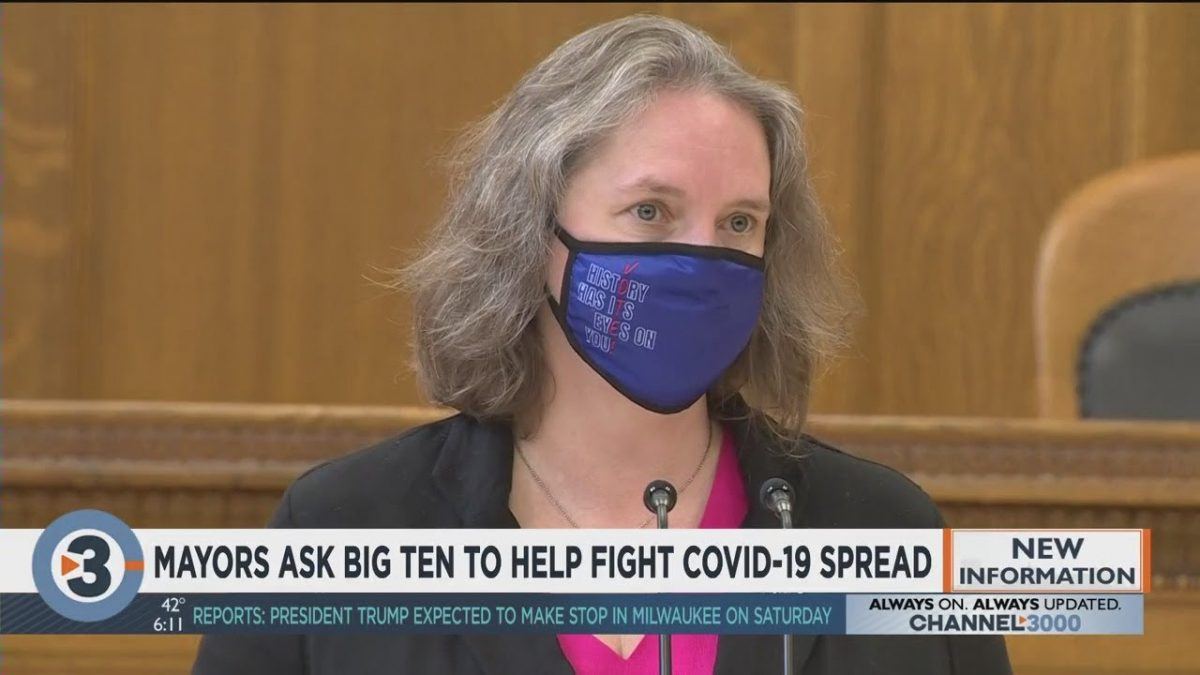 In an open letter sent Monday to Big Ten conference officials, mayors for 11 of the conference's 14 communities (and one from a neighboring town) called for additional steps to safeguard athletes, coaches, and students.
"The COVID-19 crisis is far from over," said East Lansing Mayor Aaron Stephens at a press conference. "We hope that by continuing to work with our individual colleges and universities, our public health officials, and the Big Ten Conference, we can be as prepared as possible for the return of football."
Holdouts for signing the letter were mayors of Champaign and Urbana (Illinois), Lincoln (Nebraska), and New Brunswick, NJ (Rutgers).
Betting Against the Spread?
The conference initially canceled football on Aug. 19 but reversed that decision on Sept. 16, slating a shortened season with the Big Ten championship game scheduled for Dec. 19.
Thus far, Big Ten betting lines look congruous with preseason rankings, and the matchup everyone will have eyes on this weekend is No. 18 Michigan (-3) at no. 21 Minnesota for a Little Brown Jug rivalry with a COVID twist.
On Wednesday, Michigan health officials issued a stay-in-place order for all UM undergrads, with one exception: the football program. Michigan students are responsible for 60% of new COVID cases, according to Washtenaw County Health officials.
Michigan head coach Jim Harbaugh, who has pushed for the school to play since preseason, admitted his program had several positive cases since mid-September. Gophers head coach PJ Fleck also said some of his players had tested positive. Big Ten protocol mandates a player who has tested positive miss 21 days before becoming eligible to return. Both coaches have kept the names of any starters who could be sidelined close to the vest.
As with the Big 12 and the SEC before it, look for game-time decisions to move the lines on Saturday, and for the games themselves to be a barometer for how individual Big Ten programs respond to protocols.
Big Ten in the COVID Red Zone
Almost eight months into the pandemic, coronavirus is spreading rampantly across much of the US. Half of all states have fallen into the "uncontrollable" category, including many in the Midwest and Northeast, where college football is about to begin play.
Michigan, Pennsylvania, Indiana, Illinois, Wisconsin, Iowa, and Nebraska are also experiencing spikes in what epidemiologists are calling the disease's third wave in the US. Wisconsin alone reported 36 deaths on Tuesday, a single-day record, and more people are currently hospitalized with the coronavirus in Ohio than at any time since the pandemic began.
"The next six to 12 weeks are going to be the darkest of the entire pandemic," Dr. Michael Osterholm, an infectious disease specialist with the University of Minnesota, told the New York Times earlier this month.
Mayoral Call for Action
The Big Ten mayors say they are concerned that the conference hasn't taken enough precautionary measures in the middle of the deadly pandemic.
For starters, they would like the conference to release its full schedule, along with game times. So far, the schedule is only for the first two weeks, then week after week after that.
Mayors are also urging the Big Ten to work with local health officials to decide when it's not safe — based on positive tests — to hold a football game. Their letter references an Oct. 15 meeting where health officials from Big Ten communities met to discuss guidelines.
"Please include the communities where you will be holding games in your conversations, and assign a metric to this that is similar to what has already been laid out for your teams," the letter says. "We do not expect this metric to be in line with the current standard for the team; however, similar standards being applied to the communities; this will affect is necessary to keep people safe."
The letter from the Big Ten mayors also urged the conference to prioritize fewer, or no evening or late-afternoon games, as those start times are typically associated with increased group activity and alcohol consumption.
---
Big Ten Mayors Who Signed Open Letter
Ann Arbor Mayor Christopher Taylor (Michigan)
Evanston, Ill. Mayor Steve Hagerty (Northwestern)
West Lafayette, In. Mayor John Dennis (Purdue)
Minneapolis Mayor Jacob Frey (Minnesota)
East Lansing Mayor Aaron Stephens (Michigan State)
Lansing Mayor Andy Schor (Michigan State)
Madison Mayor Satya Rhodes-Conway (Wisconsin)
College Park Mayor Patrick L. Wojahn (Maryland)
State College Mayor Ronald Filippelli (Penn State)
Bloomington Mayor John Hamilton (Indiana)
Iowa City Mayor Bruce Teague (Iowa)
Columbus Mayor Andrew Ginther (Ohio State)
---
College Gameday = 'Uncontrollable' Spikes
Already, health officials and infectious disease experts have noted a correlation between COVID-19 and college football gameday gatherings.
After the first week of college football play, Oxford, Mississippi, home to Ole Miss, produced more new cases of COVID-19 a day (85 per 100,000 people) than any other college town after week one of college football play.
According to the CDC, seven of the top eight states seeing rising infection rates this fall are home to at least one SEC team. By mid-October, all 14 of the league's college towns produced enough cases daily to be classified as "uncontrollable."
Northwestern head coach Pat Fitzgerald said on a Zoom call with reporters this week that his players will not be allowed to gather with family members before and after games.
"It stinks but we have to follow those types of guidelines," Fitzgerald said. "We have learned the lessons (from other conferences) in terms of people coming from outside into our pseudo-bubble."