The cancelation of major sporting events is spreading. On Monday, the Italian national Olympic committee (CONI) announced that all domestic team sporting competitions, at all levels of play in Italy, are suspended until at least April 3 in response to a growing coronavirus outbreak in the country. It's the most significant and widespread reaction to the world health threat yet, and is leaving many wondering if it's a harbinger of cancelations to come elsewhere, including within the United States.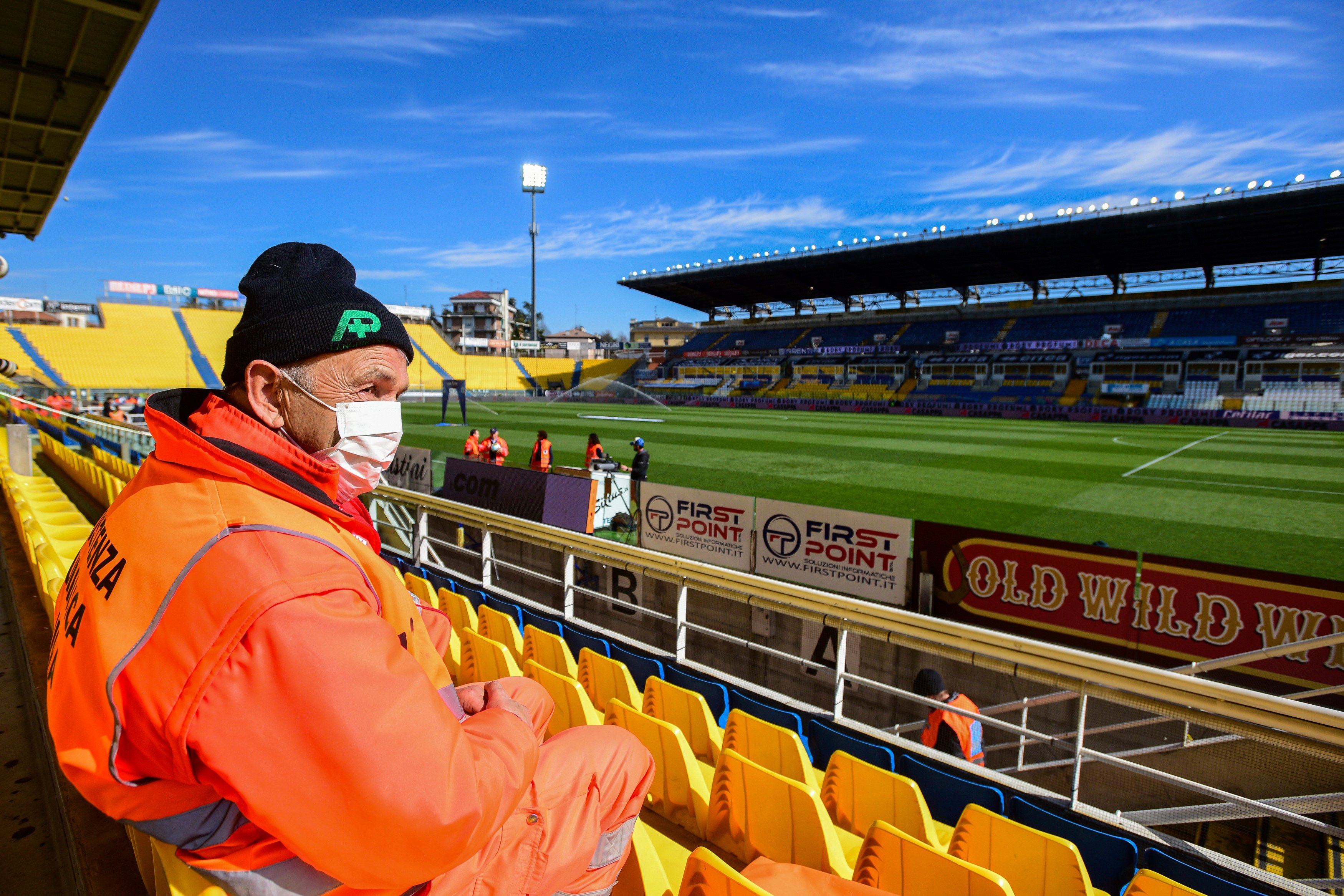 The ban in Italy includes all matches in Serie A, Italy's highest division of professional soccer, but does not include international competitions, such as Champions League matches.
Sports Minister: 'Irresponsible' of Serie A to Play Matches
Already, Italian sporting events had taken place under severe restrictions. All of last weekend's Serie A matches were held behind closed doors and without audiences.
Italy has suffered the worst coronavirus outbreaks of any country in Europe, with more than 7,000 confirmed cases and over 450 deaths reported so far.
The move came after Italian sports minister Vincenzo Spadafora accused Serie A officials of being irresponsible for even allowing matches to take place over the weekend. The comments came before Sunday's matches went forward, though Parma's match against SPAL was delayed 75 minutes while the teams awaited confirmation that they should play following Spadafora's statement.
"The world of football feels immune to rules and sacrifices," Spadafora told Italian broadcaster RAI. "Today, games have been played because of an irresponsible act of the Serie A league and its president Paolo dal Pino. We are advising Italians to stay at home."
The Italian government must issue a specific prime ministerial decree in order to confirm and enforce the decision, CONI said in a statement. The statement noted that international competitions do not fall within its jurisdiction, which is why they weren't included in the body's decision to suspend all other play.
France's Ligue 1 Limits Fan Attendance
While Italy may be taking the most drastic steps in the region, sports officials in other European nations are also reacting to the coronavirus threat.
In France, sports minister Roxana Maracineanu announced Monday that all games in Ligue 1 – the top division of French soccer – will be played in front of a maximum of 1,000 spectators. In addition, Paris police announced that Wednesday's Champions League clash between Paris Saint-Germain and Dortmund would be played behind closed doors.
But not all international football clubs are jumping on the cancelation bandwagon. German squad RB Leipzig announced Monday that fans will be able to attend the match it's hosting against Tottenham Hotspur on Tuesday.
US Not Immune: Indian Wells Tennis Masters Shuttered
The coronavirus has also begun to impact sporting events in the United States. On Sunday night, the Riverside County Public Health Department declared a public health emergency for several desert cities east of Los Angeles. That announcement resulted in the cancelation of the BNP Paribas Open, one of the largest non-Grand Slam tennis tournaments of the year, held at Indian Wells, about 120 miles outside of LA.
You probably all heard the news. Indian Wells cancelled. We are here and still deciding what's next. So sad for all that is happening around the world with this situation. Hopefully soon solutions from the authorities. Stay all well and safe.

— Rafa Nadal (@RafaelNadal) March 9, 2020
The BNP Paribas was scheduled for March 9-22.
Dubbed the "Grand Slam of the West" and the Indian Wells Masters, it attracts top-level pros such as Rafa Nadal, Roger Federer, Serena Williams, and Coco Gauff. Other than the four majors, it is the most attended tennis tournament in the world. More than 450,000 fans attended in 2018 and 2019.
While tournament officials considered holding the event without fans, they decided that this would not be in the best interest of the tournament.
"We were supportive of the concept, WTA Tour CEO Steve Simon told The New York Times. "But ultimately, the tournament didn't feel it was in their best interest."
The 2020 BNP Paribas Open will not be held.https://t.co/BVKQmmcbth pic.twitter.com/CHOd0PgJeV

— BNP Paribas Open (@BNPPARIBASOPEN) March 9, 2020