The Copa del Rey last 16 game between city rivals Real Betis and FC Sevilla was abandoned after a long plastic flagpole thrown from the stands hit Joan Jordan just before half-time. The two teams were tied at 1-1, with Betis' midfielder Nabil Fekir equalizing thanks to a fantastic goal straight from a corner.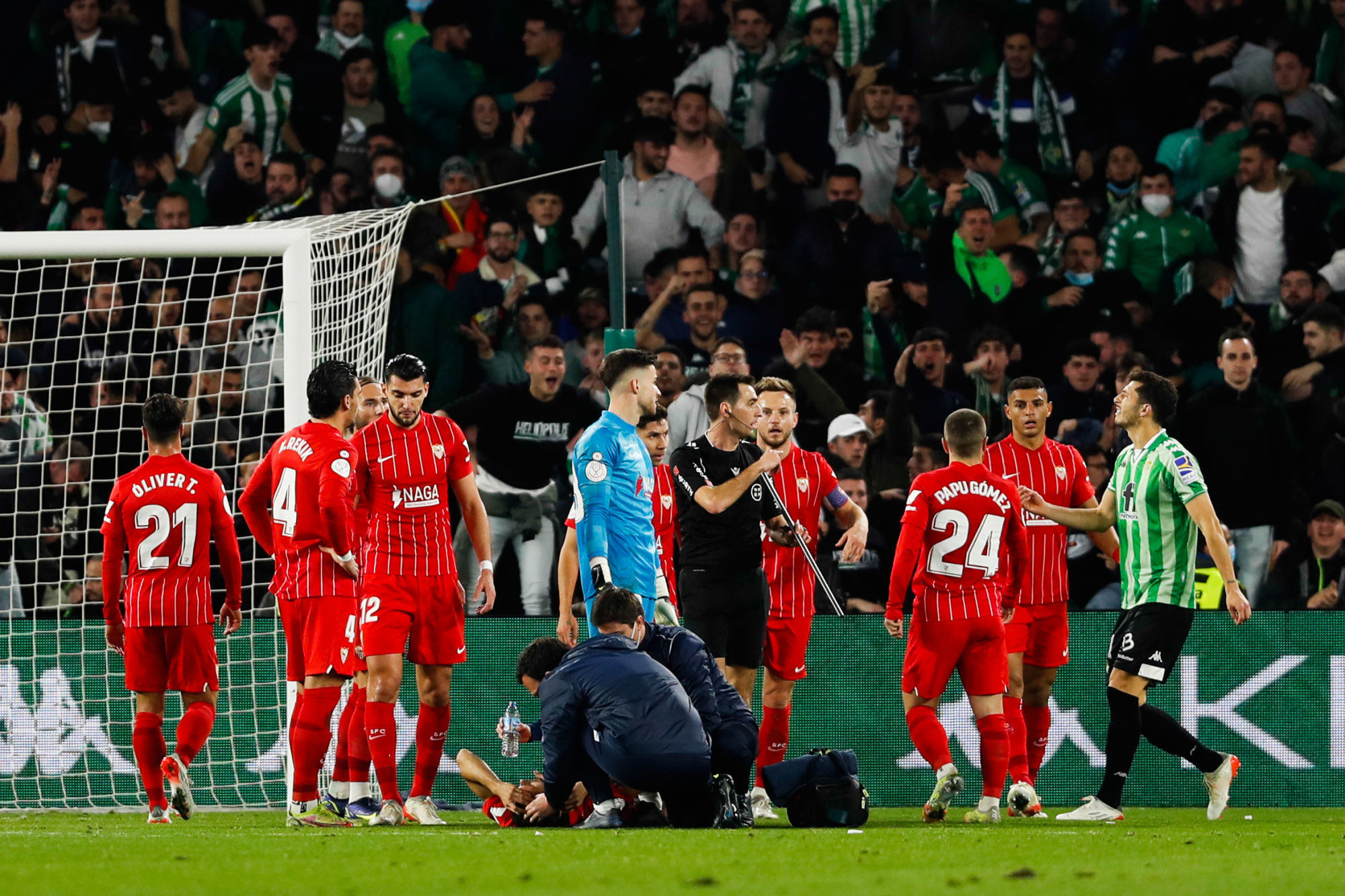 As the Betis players were celebrating, an object thrown from the stand behind the goal hit Jordan's head. The Sevilla midfielder fell to the ground and received medical attention, but was able to walk off the pitch by himself following the incident.
The match was suspended by referee De Burgos Bengoetxea, then Sevilla's players rushed to their changing rooms. Almost an hour after the incident, the Spanish Football Association (RFEF) announced the game was abandoned, with no further comment made regarding a possible outcome for the encounter.
Real Betis and Sevilla's Copa del Rey match was stopped after a Sevilla player was hit with an object during Betis' goal celebration. pic.twitter.com/Z7yVQUJwoo

— ESPN FC (@ESPNFC) January 15, 2022
The Spanish Cup quarter-finals are scheduled to be played in the first week of February.
Jordan to be kept under observation
The fan who threw the half-a-meter plastic stick at Jordan has been detained, while Jordan was transported to the hospital. "The final diagnosis is cranioencephalic trauma and the player will be kept under home observation until a minimum period of 24 hours has passed without any alarming symptoms," Sevilla said in a statement.
"Sevilla FC condemns the violent act suffered today by Joan Jordán, an unacceptable act in the world of sport committed by an individual who, of course, does not represent the fans of Real Betis or the way of living football in our city," the club adds.
Some of the Betis players took to Twitter to show their support for Jordan and also condemn the violent act from the fan, but highlighted that the FC Sevilla player was asked by his coach Julen Lopetegui to pretend he was dizzy and throw himself to the ground.
Bochornoso e injustificable la acción de alguien que no representa a nuestra afición. Espero que Joan Jordan esté bien, aunque todos hemos escuchado (incluido el 4º arbitro) como su entrenador le incitaba a "marearse y tirarse al suelo" . pic.twitter.com/oT3m0CZAUp

— Victor Camarasa (@vicama8) January 15, 2022
The incidents on Saturday night are not a premiere in the history of the "Gran Derbi". In 2007, a Copa del Rey tie was abandoned after then Sevilla coach Juande Ramos was left unconscious by a bottle thrown from the stands. The remainder of that game was later played at Getafe's ground, close to Madrid.