Conor McGregor emphatically announced his presence among the UFC elite on Saturday, finishing Donald Cerrone in just 40 seconds to win the main event of UFC 246 in Las Vegas.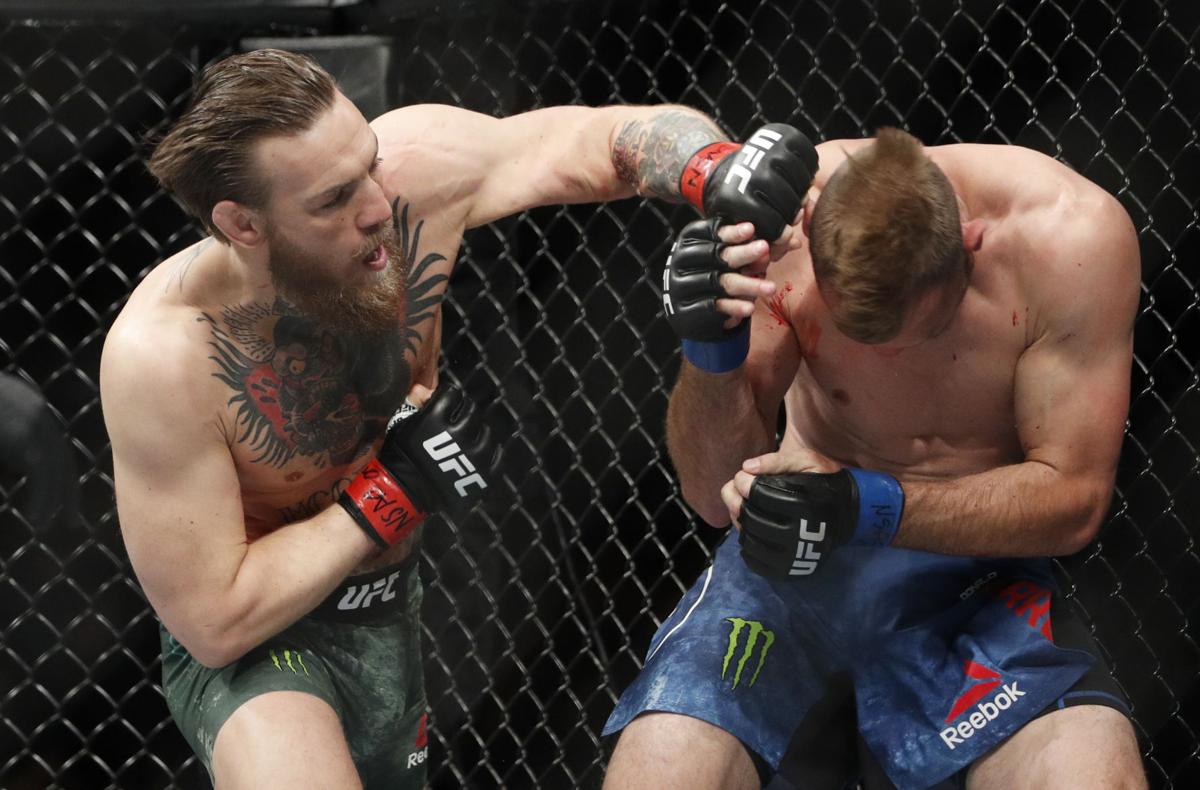 McGregor (22-4) landed a hard left head kick in the opening seconds of his fight with "Cowboy" Cerrone (36-14), then followed that up with an onslaught of punches, eventually forcing referee Herb Dean to stop the fight.
White Sees One Obvious Fight for McGregor
The win gave McGregor his first win in the welterweight division. It also made him the first UFC fighter to record finishes in three different divisions. McGregor is the former UFC lightweight and featherweight champion.
"I knew he was planning to knock me out with a head kick. I knew this is what Donald would have been envisioning," McGregor said after the fight. "But at the same time, I know that Donald has many discrepancies in his game, with the leans and dips under certain attacks that can also set him up for the high kick. So the high kick was something I thought I could catch him with, also."
Some bettors lost big on the fight, including Dan Bilzerian, who appeared to have wagered a million dollars or more on Cerrone.
Dan Bilzerian put over $1,000,000 on Donald Cerrone to beat Conor McGregor last night at #UFC246 😱

He lost it all in less than 40 seconds 👀 pic.twitter.com/bgzIEmQtG0

— ODDSbible (@ODDSbible) January 19, 2020
After the bout, Bilzerian offered just one short tweet on the matter.
"Haha shit," he wrote.
McGregor has a menu of options available to him for his next fight. After the fight, he said he enjoyed fighting at 170 pounds, and he looked good doing so, albeit in limited work. Most top contenders would welcome a McGregor fight, given the attention and money that comes with fighting the Irishman.
One potential fight stands out from the rest, however. UFC honcho Dana White says that pitting McGregor in a rematch with undefeated lightweight champion Khabib Nurmagomedov is the only bout that makes sense from a business perspective.
"We're looking at Hagler-Hearns," White said at the post-fight press conference. "We're looking at like Ali-Foreman, Ali-Frazier. This is a massive fight with global appeal. It's the fight you make, it's the fight that makes sense. It's for the 155-pound title."
Nurmagomedov dominated the first fight between the two, choking out McGregor in the fourth round before a post-fight brawl that led to fines and suspensions for both men.
Barber Suffers First Loss After Knee Injury
Maycee Barber suffered a complete ACL tear in her left knee during her fight at UFC 246 on Saturday. The injury that could keep her out of the octagon for about nine months. The 21-year-old Barber (8-1), considered to be one of the UFC's top young prospects, lost to Roxanne Modafferi by unanimous decision after fighting for most of the three rounds on an obviously injured knee.
The injury became obvious to viewers in the second round when Barber grabbed her knee in pain after falling backwards from a jab by Modafferi. Barber's camp thinks the injury was actually suffered in the opening seconds of the fight.
"We think she injured it in the first 10 seconds," Bucky Barber, Maycee's father, told ESPN. "She stepped on Roxanne's foot as she backed up and felt a pop. You can see the knee give out on the side. She went back and started fighting and trying to do things, and I noticed she was flat in a way I've never seen before."
A ringside physician looked at Barber's knee after the second round. Unusually, he told the referee that Barber had suffered "a small, partial ACL tear," leading commentators to speculate both on how the doctor was able to make that diagnosis in a matter of seconds, and whether a similar check for a knee injury had ever been made for a male fighter.