TMZ Sports published a video on Thursday in which former UFC champion Conor McGregor can be seen punching a man in a Dublin bar.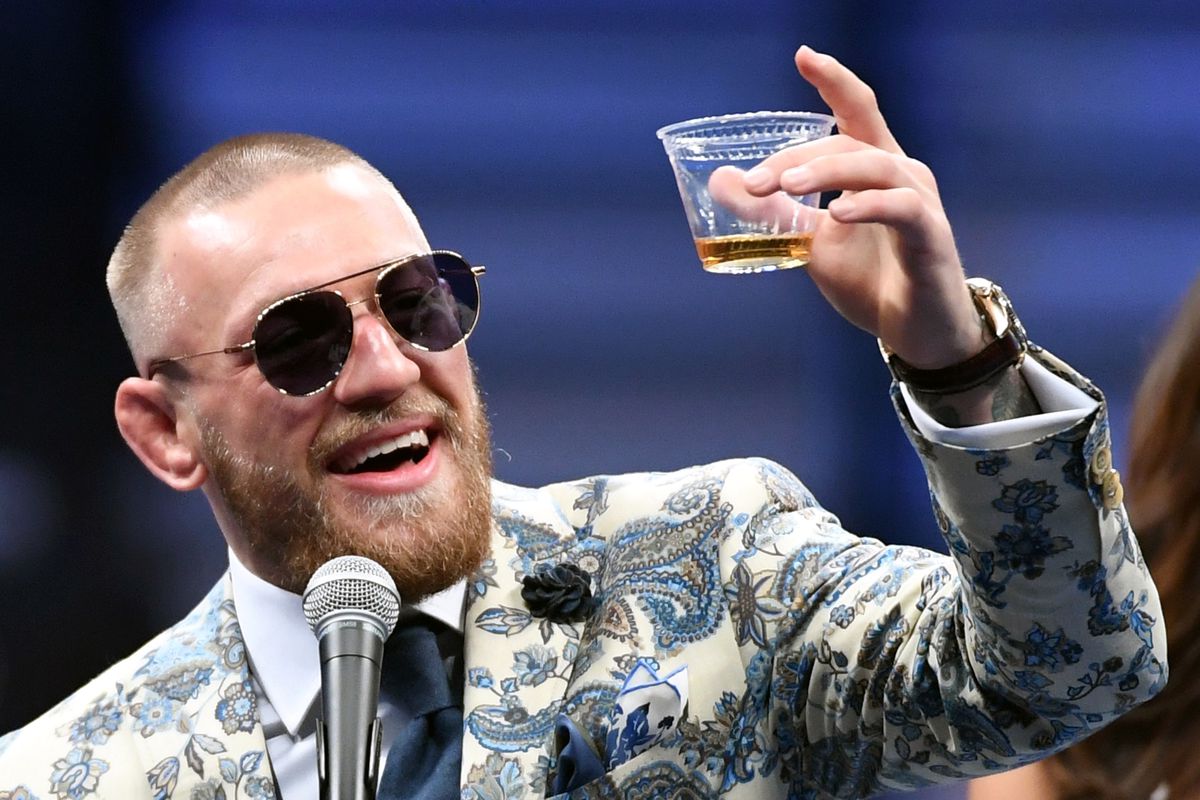 The video appears to depict an incident that was first reported in April by the Irish Mirror.
Whiskey Dispute May Have Led to Punch
In the video, which does not include sound, McGregor can first be seen pouring whiskey at the Marble Arch Pub. The video then jumps ahead in time, with McGregor preparing a series of cups filled with what appears to be his Proper No. Twelve brand of whiskey do give the pub patrons a taste.
According to TMZ, the altercation occurred when one man decided not to try McGregor's drink, even after the UFC fighter put a cup in front of him multiple times. McGregor then punches the man – who hardly seems fazed by the attack – before being escorted out of the bar.
In their April report, the Irish Mirror stated that the punch had come after a verbal exchange between McGregor and the other man. The video posted by TMZ doesn't include audio, making it impossible to confirm what may have been said in any argument.
A spokesperson for the Irish police told ESPN that an investigation into the incident is ongoing, and that no arrests have been made in the case.
Violent Incidents Nothing New for McGregor
In a vacuum, throwing a single punch without injuring someone at a bar wouldn't normally be considered major news, even for a martial artist. But it is just one of several troubling incidents for McGregor that have taken place in the past two years.
The two most famous events were indirectly related to his UFC career. In April 2018, McGregor was arrested following his assault on a bus carrying other UFC fighters at the Barclays Center in Brooklyn on a media day before UFC 223. The lasting image from that incident was McGregor throwing a metal dolly into the window of the bus, causing injuries that wreaked havoc on the UFC 223 card.
By October 2018, McGregor was back in the Octagon for one of his biggest fights: a clash with undefeated UFC lightweight champion Khabib Nurmagomedov. After Nurmagomedov won by submission in the fourth round, the two men were involved in a brawl along with members of both of their teams which resulted in suspensions for both fighters.
There have been issues that have surfaced away from the UFC as well. In March, The New York Times reported that McGregor was under investigation for sexual assault in Ireland, though no charges have been filed against him. That same month also saw McGregor face charges that he allegedly stole and destroyed a man's phone in Florida, though those charges were later dropped, with an attorney for the accuser saying that he had "been made whole" by McGregor.
At the moment, McGregor doesn't have a UFC fight lined up. However, two coming fights – one between Anthony Pettis and Nate Diaz, and another between Nurmagomedov and Dustin Poirier – may help determine who the UFC wants to pair him up with next.