Former UFC Champion Conor McGregor found himself on the wrong end of the law yet again. The 30-year-old was arrested early Monday in Miami by local police, and charged with felony strong-armed robbery and criminal mischief.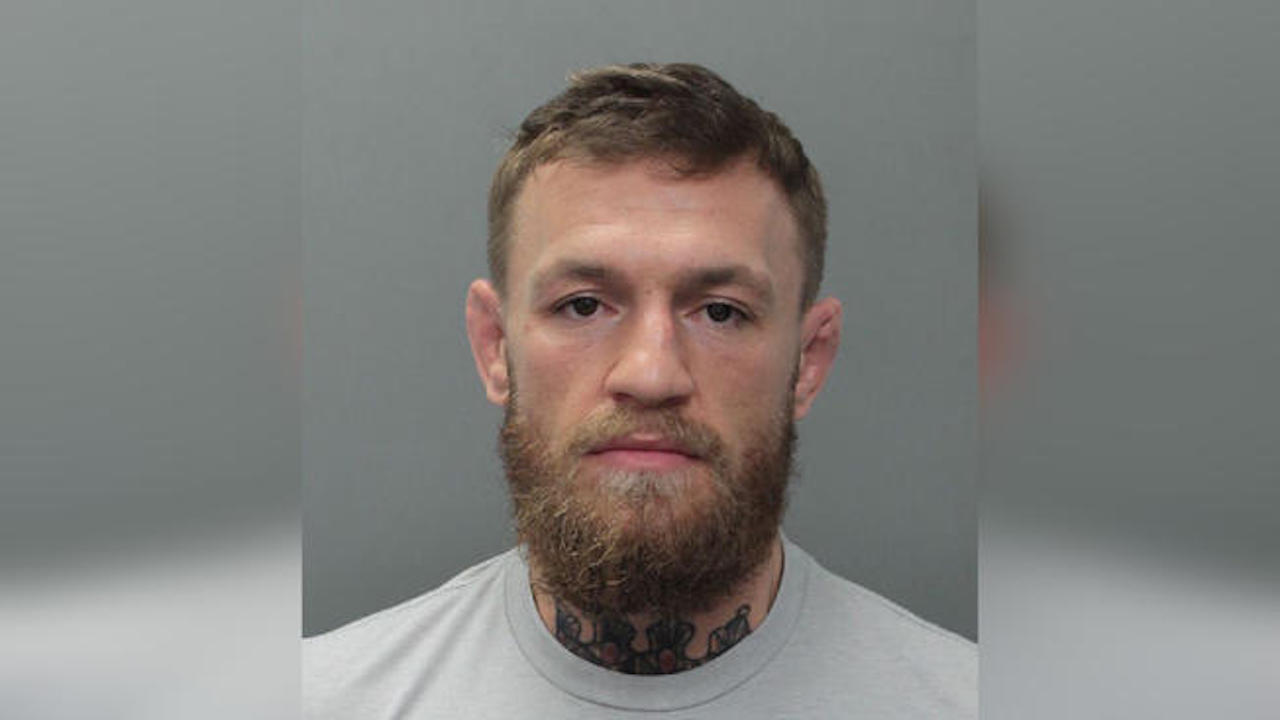 The incident allegedly happened outside of the Fontainebleau Hotel. A fan was walking with McGregor outside of the LIV Nightclub around 5 a.m. when the unidentified 22-year-old male tried to take a picture of the Irish Mixed Martial Arts fighter with his cellphone.
The arrest report stated that McGregor slapped the phone out of the fan's hand and then stomped on it several times. He picked up the damaged phone, put it in his pocket, and walked away.
Police Investigation Leads to Arrest
McGregor apparently had left the scene before police arrived, but the incident was captured on surveillance cameras. Detectives performed an investigation and were able to track him down to a Miami Beach residence.
It was there he was arrested, and subsequently booked into a Miami-Dade jail on Monday night. He posted a $12,500 bond and was released from the Turner Guilford Knight Correctional Center just after 10 p.m.
WATCH: Footage from moments ago as MMA star #ConorMcGregor leaves jail in Miami-Dade County. He was arrested earlier today after allegedly smashing a man's phone and taking it. Read the latest here: https://t.co/EdMPjTYBMp pic.twitter.com/hDASDqwV3C

— CBS4 Miami (@CBSMiami) March 12, 2019
Samuel Rubin, the defense lawyer representing McGregor issued a statement saying the incident was a misunderstanding.
"Last evening, Conor McGregor was involved in a minor altercation involving a cell phone that resulted in a call to law enforcement," Rubin said. "Mr. McGregor appreciates the response of law enforcement and pledges his full cooperation."
Previous Plea Deal Complete
This is not the first brush with the law in the US for McGregor. On April 5, he was involved in an incident at the Barclays Center in Brooklyn, New York. After a media day for UFC 223, McGregor, who was not part of the that event, was in the basement of the arena and was seen on camera throwing a hand truck through a window off a bus that was carrying a number of other UFC fighters.
Both Michael Chiesa and Ray Borg were forced out of their respective fights because of injuries sustained in the attack. Chiesa sued McGregor, saying that he "suffered serious personal, economic, and other injury, along with severe emotional distress, mental trauma, and/or bodily harm."
Initially McGregor was charged with a felony that could have had carried a multi-year prison sentence and deportation from the US. He agreed to a plea deal and pled guilty to misdemeanor disorderly conduct.
Fortunately for McGregor, he completed the terms of his plea deal, including keeping a clean record, on Friday. His recent arrest has no bearing on the previous case.
Comeback Trail Rocky
At one point McGregor held titles in two UFC categories. First he captured the UFC Featherweight Championship in 2015, then added the Lightweight belt a year later.
He would lose both belts due to inactivity. McGregor's attention turned to boxing, and he became obsessed with a match with undefeated Floyd Mayweather. On August, 26, 2017 the two met and Mayweather won on a TKO in the 10th round.
After more than a year after his last UFC match, McGregor agreed to fight Khabib Nurmagomedov at UFC 229 on Oct. 6, 2018. He lost his chance to get his Lightweight belt back when Nurmagomedov won in the fourth round by submission. The brawl after the fight earned McGregor a six-month suspension, which is up in April.
McGregor has said he wants to return to the Octagon, but there are no fights planned in the near future.