The Michigan Wolverines (50-20) upset No. 2 Vanderbilt (57-12) in Game 1 of the College Baseball World Series. The Wolverines were 200-1 long shots at the start of the CWS and now they're one win away from winning the Big Ten's first baseball title since 1966 and Michigan's first championship since 1962.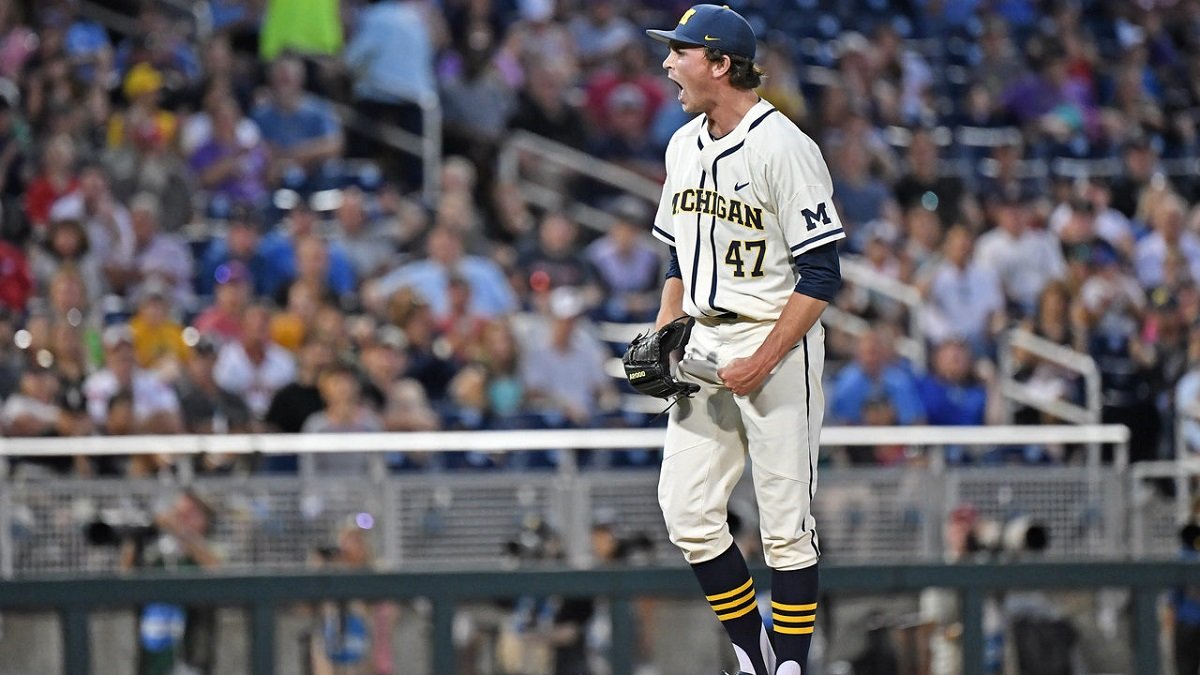 Scrappy Michigan defeated Vanderbilt 7-4 in the opening game of a three-game series hosted in Omaha, Nebraska.
Vanderbilt is a pitching powerhouse that has become an MLB pitching factory over the last decade. They last won the title in 2014.
Michigan earned their right to play in the World Series after a long journey. They won their super regional out in Oregon before picking off the #1 seed and UCLA. In official bracket play, Michigan upended Texas Tech.
Wolverines 1, Commodores 0
Fab Five's Juwan Howard and new Michigan basketball coach was in attendance at the World Series to cheer on his alma mater.
Michigan jumped out to a 4-0 lead. Vandy rallied back to make it 4-3 after JJ Bleday, the NCAA home run leader, smashed a three-run blast for his 27th dinger of the season. In the most-recent MLB draft, the Miami Marlins selected Bleday with the fourth overall pick.
Michigan quickly countered with a home run by Jimmy Kerr to pad their lead. The Wolverines handed over a lead to Tommy Henry, who shut the door.
"When we got Tommy on the mound, you don't really worry about only being up one run," said Jimmy Kerr. "Our team has so much trust in this pitching staff and how they've performed in the postseason that we don't have a lot of pressure on ourselves because we know all we need is a few-run lead, and they're going to take care of the rest."
"Michigan did a good job playing offense at the end of the game," said Vanderbilt coach Tim Corbin. "They were the aggressor. That's a good ball team right now. They're playing very confident."
On Deck: Kumar
Game 2 of the College World Series is scheduled for Tuesday. Vanderbilt is 9-2 after a loss this season.
Vandy is currently -205, while Michigan is a +170 underdog in Game 2 according to the Westgate SuperBook in Las Vegas.
Vanderbilt has their super-frosh Kumar Rocker on the mound for the Commodores to help even the series. Rocker made headlines a couple of weeks ago when he threw a no-hitter against Duke in the Super Regionals. During the CWS, Rocker allowed just three runs in almost 27 innings.