North Carolina, ensconced in their worst season in nearly 20 years, throws down with the universally hated #12 Duke. In Hollywood, crosstown rivals UCLA and USC meet with the loser most likely missing out on an invite to the March Madness. Also in the Pac-12, Stanford needs a win at #13 Oregon in a game featuring two of the best scorers on the West Coast, with Payton Pritchard and Oscar da Silva.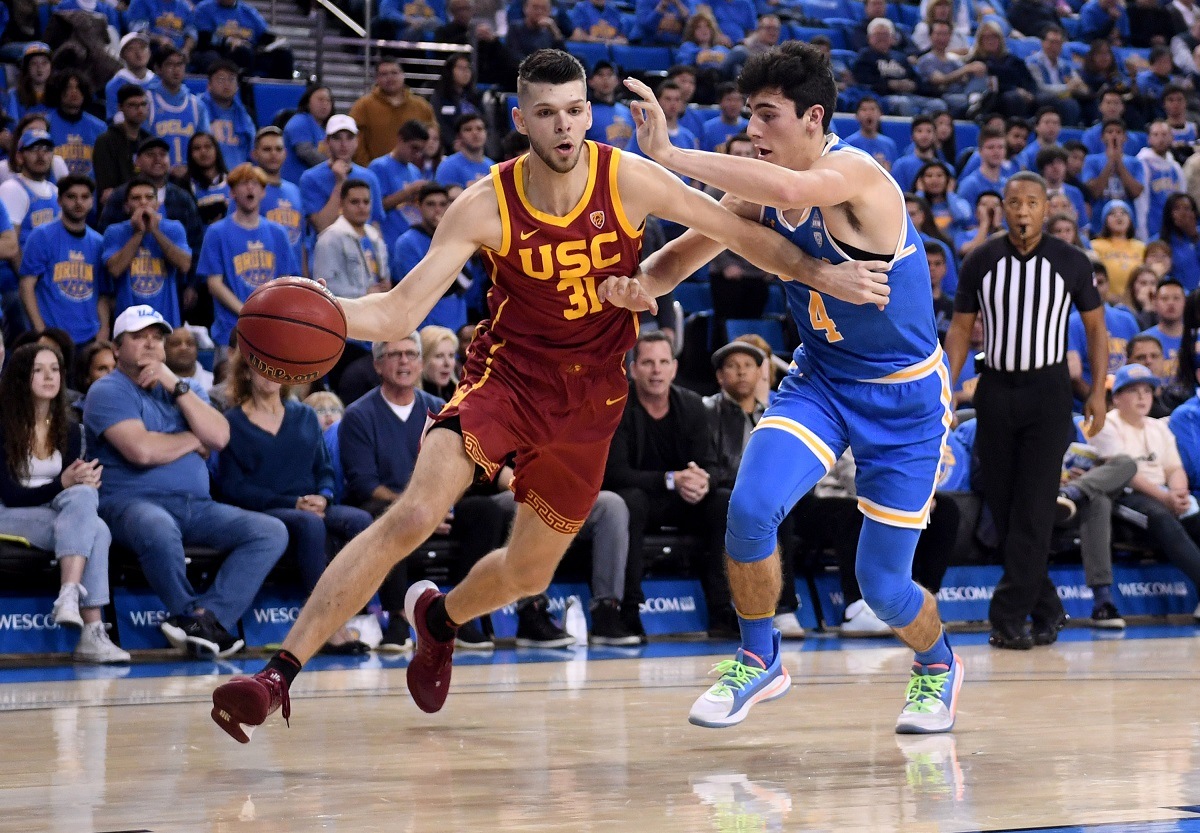 In the Big Ten, 10 teams might advance to March Madness this season, and the real question you should be asking is, "Who didn't make it from the Big Ten this year?"
Indiana hosts #24 Wisconsin, and the Badgers know that it's do-or-die for the Hoosiers with a March Madness at-large invite at stake.
College Hoops Saturday
North Carolina at #12 Duke
Stanford at #13 Oregon
#24 Wisconsin at Indiana
Butler at Xavier
Yale at Harvard
UCLA at USC
In the final weekend of Big East regular-season action, Xavier and Butler face each other in a rematch. Xavier can't afford to lose any more games if they expect to punch their ticket to March Madness
The Ivy League title is at stake along with the #1 seed in the Ivy Madness conference tournament. Harvard hosts first-place Yale in one of the oldest rivalries in the history of collegiate athletics.
Super Frosh TJD
#24 Wisconsin (20-10) at Indiana (19-11)… Wisconsin whooped Indiana by 20 points in Madison at the start of the Big 12 season. Kobe King scored a career-high 24 points in the easy win. Indiana went 4-7 over their last 11 games and, essentially, played themselves out of March Madness contention. A win over Wisconsin should boost them over the hump to join the other nine Big Ten teams in March Madness. Trayce Jackson-Davis, a 6-foot-9 freshman forward, leads Indiana with 13.9 points and 8.1 rebounds per game. He dropped 27 points and pulled down 16 rebounds against Minnesota. TJD has 10 double-doubles this season. The Badgers' defense, is ranked #20 in the nation, allowing less than 62.4 points per game. TJD scored only 9 points against Wisconsin in their first meeting.
Xavier Bubble Slide
Butler (21-9) at Xavier (19-11)… Xavier lost 80-74 to Providence the other night, which means the Musketeers are in a must-win situation against Butler. Xavier's best player, Naji Marshall, scored 25 points, but he didn't get much help in the loss. ESPN's Bracketology currently projects Xavier as one of the play-in games at the #11 seed. A loss to Butler could send them out on the bubble. Butler recently halted a three-game skid with back-to-back blowout wins over St. John's and DePaul by an average of 20 points. Butler's defense is ranked #11 in the nation, allowing 61.8 points per game. They beat Xavier 66-61 when they met two weeks ago.
Mighty Contests, Trivial Things
Yale (22-6) at Harvard (20-7)… Harvard squeaked by Yale 77-76 when they met last month. Yale is attempting to avoid the season sweep against a banged-up Harvard in the rematch between Ancient Eight rivals. Yale is seeking their third Ivy League title since 2016.
Blue Devils and Tar Heels
North Carolina (13-17) at #12 Duke (24-6)… Sure, North Carolina sucks this year, but they can save their season if they beat Duke. It doesn't matter if you're 29-1 or 1-29, both teams fight tooth and nail for a victory in their two meetings every year. North Carolina blew a 13-point lead in the final 4:20 and suffered a soul-crushing 98-96 defeat in overtime to Duke last month. After the heartbreaking loss, North Carolina wants revenge.
Pac-12: Payton Pritchard vs. Oscar da Silva
Stanford (20-10) at #13 Oregon (23-7)… Stanford looks like they won't end up on the March Madness bubble, but weirder things have happened. You never want to let the selection committee to determine your fate, but a loss to Oregon could jeopardize Stanford. Two wins over the best team in the Pac-12 and a sweep of Oregon would lock up a March Madness spot for Stanford. The Cardinal knocked off the Ducks (ranked #11 at the time) 70-60 in their first meeting. After falling behind by double-digits early, Stanford stormed back in the second half. Stanford's top scorer, Oscar da Silva from Germany, dropped 27 points with 15 rebounds in the win. Payton Pritchard added 16 points in the loss for Oregon. The Pritchard vs. da Silva battle will be one of the more exciting matchups on Saturday.
Westwood > South Central
UCLA (19-11) at USC (21-9)… The loser of this crosstown rivalry will get shut out of March Madness. Even the winner of UCLA/USC will have to hold their breath on selection Sunday. It's a tight bubble this year, and the selection committee is notorious for its West Coast bias. USC knocked off UCLA in their first meeting 74-63 in early January. USC's freshman star, Onyeka Okongwu, missed most of the UCLA game due to foul trouble. He scored only four points and added two rebounds in the victory. If Okongwu (16.2 ppg, 8.7 rebounds) stays out of foul trouble, UCLA will be in for a long night against USC. UCLA won seven in a row and got hot at the right time, but will a win against USC be enough to impress the selection committee? KenPom ranked UCLA #78 in his latest update.