The top two teams in the West Coast Conference will throw down when the #2 Gonzaga Bulldogs (27-1) visit the #23 BYU Cougars (22-7). North Carolina State (17-9) is fresh off a 22-point upset over #6 Duke, and the NC State Wolfpack hope to play the role of disrupter once against when they host #8 FSU (22-4). It's a four-way fight for first place in the Pac-12, and #14 Oregon has a tough matchup against #24 Arizona.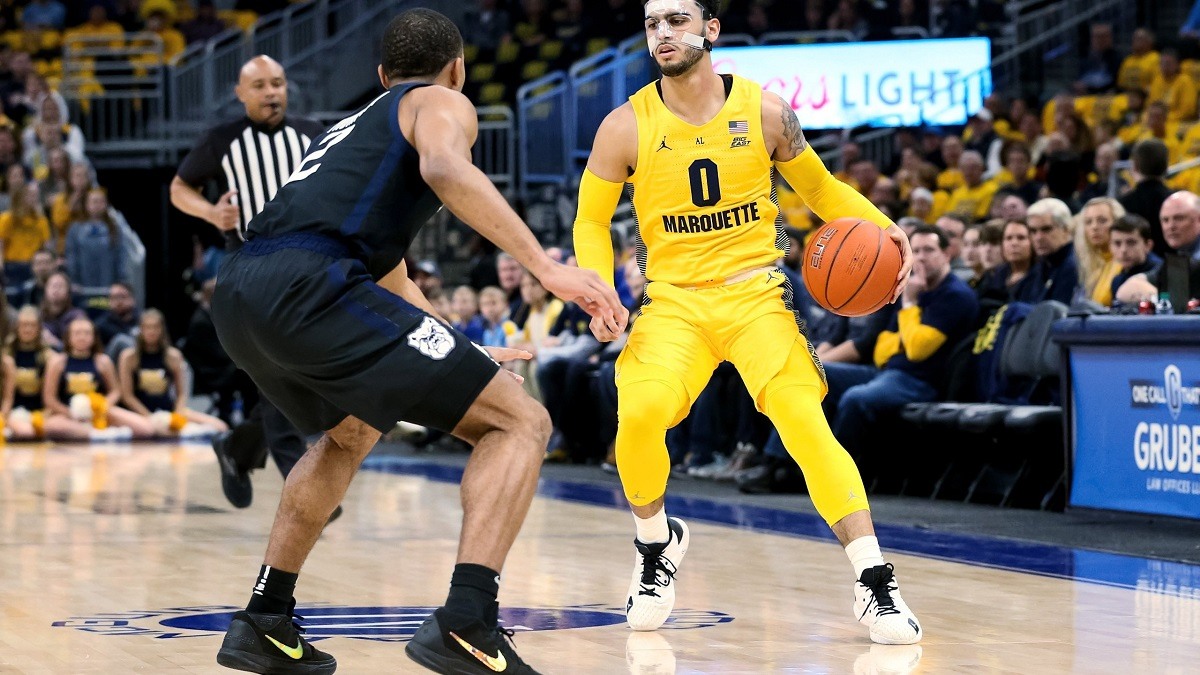 With all eyes on the Game of the Year between #3 Kansas at #1 Baylor, there are several other games of note this weekend.
The Dayton Flyers have one of the best players in the country with Obi Toppin. Dayton only lost one game at home this season, but Duquesne's tough defense could pose matchup problems.
COLLEGE HOOPS SATURDAY (2.22.20)
#2 Gonzaga at #23 BYU
Duquesne at #5 Dayton
#8 FSU at North Carolina State
#14 Oregon at #24 Arizona
#19 Marquette at Providence
In Big East action, Providence will attempt to secure a high-quality win over #19 Marquette. The Friars are on the March Madness bubble and can't afford to lose any more conference home games if they want an at-large bid to the Big Dance.
Meanwhile, any time Marquette plays, it's an opportunity to watch one of the best scorers in the nation. Markus Howard averages 26.7 points per game, and you never know when he'll erupt for a monstrous game.
Zags 19 in Row
#2 Gonzaga (27-1) at #23 BYU (22-7)… Since losing to Michigan in the Bahamas during the Battle for Atlantis, Gonzaga won 19 straight games. BYU stands in their path to a perfect WCC conference record. Gonzaga and their high-octane offense average 87.9 points per game, which is second-best in college basketball. BYU can also run-and-gun with the best of them. The Cougars average 80.2 points per game, which ranks them #17 overall. Expect this to be a high-scoring affair. Gonzaga's Filip Petrusev, a 6-foot-11 center from Serbia, emerged as one of the top players in the nation. Petrusev averages 17.5 points and 8.0 rebounds. He's been compared to Nikola Jokic, who has been tearing it up in the NBA the last few seasons with the Denver Nuggets. BYU lost to Gonzaga by 23 points in their first meeting.
15 Straight for the Flyers
Duquesne (18-7) at #5 Dayton (24-2)… High-scoring Dayton (80.4 ppg) seeks its 16th straight victory. Obi Toppin (19.4 ppg, 7.7 rebounds) had a couple of quiet games in the previous week, and he's due for an offensive explosion. Dayton previously edged out Duquesne by four points at Duquesne a couple of weeks ago. Dayton is catching Duquesne in a rough spot with two close losses in their last three games. Marcus Weathers, a 6-foot-5 junior guard, leads Duquesne with 14.6 points and 8.0 rebounds per game.
ACC Tilt: FSU and NC State
#8 FSU (22-4) at NC State (17-9)… This is the first time that NC State and FSU meet this season in ACC action. NC State was bogged down in an ugly stretch during which they dropped four of six games before they stunned Duke the other night. NC State hosts an FSU squad that is beatable on the road. All four of their losses occurred away from home. FSU is 15-2 over their previous 17 games, with losses at Duke and at Virginia. The over is 9-3 in the last 12 games for FSU. The under is 12-4 in their last 16 games for NC State. CJ Bryce, a senior guard, leads NC State with 13.7 ppg, and he'll be tasked with shutting down Devin Vassell, FSU's best player. Vassell, a 6-foot-6 sophomore guard, leads FSU with 13.1 ppg.
Markus Howard Alert
#19 Marquette (17-8) at Providence (15-12)… Marquette lost two in a row, including a 1-point thriller at Villanova. The Golden Eagles are vulnerable on the road with a 3-5 road record this season. Providence is 10-3 at home this season at the "Dunk" in downtown Providence. Providence has been streaky all season. They won two in a row, including a 3-point victory over Creighton. Marquette is 7-2 ATS in their last nine games, while Providence is 9-5-1 ATS in their last 15 games. Providence edged out Marquette 81-80 in early January. Despite 39 points from Markus Howard, Providence held on for the overtime victory. Howard, a 5-foot-11 senior guard, averages 26.7 ppg and recently secured the Big East scoring record.
Pac-12 Supremacy: Oregon or Arizona?
#14 Oregon (20-7) at #24 Arizona (19-7)… The Colorado Buffs hold onto first place in the Pac-12 with a 10-4 conference record. Oregon (9-5) has nine wins along with both Arizona (9-4) and Arizona State (9-4). Oregon recently relinquished first place when they lost 77-72 to Arizona State, who are the hottest team in the Pac-12. The Ducks are 2-3 in their previous five games. Arizona is 8-2 in their last 10 games. Zeke Nnaji, a 6-foot-11 freshman center, leads Arizona with 16.4 points and 8.8 rebounds per game. Payton Pritchard, 6-foot-2 senior guard, leads the Ducks with 19.4 points and 5.6 assists per game. The sharpshooter knocks down 39.5 percent of his treys.