College football saw more long touchdowns scored in a variety of ways on Saturday. There were the usual long runs from scrimmage, but there were also two long fumble recoveries that were taken to the house, as well as a screen pass that hit pay dirt for Memphis receiver Tahj Washington.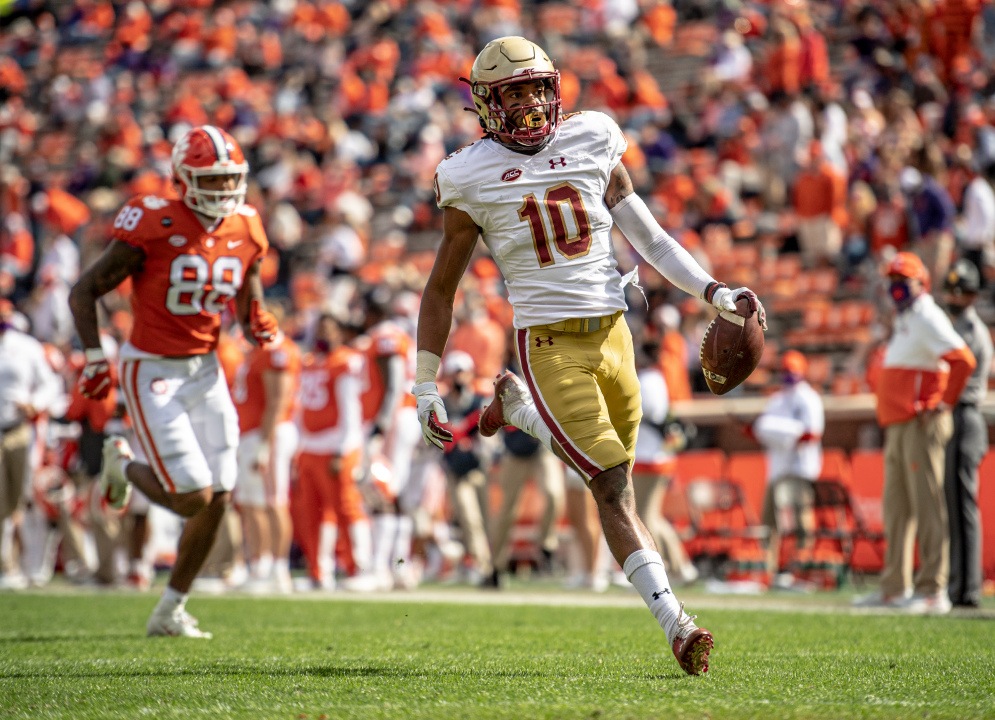 Another long score was an interception by Louisiana Tech's Bee Jay Williamson, who had the presence of mind to lateral the ball to a teammate, who scored. Speaking of laterals, Rutgers had eight of them on one play for what would have been the touchdown of the year. Sadly, it was called back.
Here's a look at some of the other highlights from a wacky week of college football.
Scoop and Score
Georgia Tech was a 20.5-point underdog against No. 4 ranked Notre Dame on Saturday, but shook up the Fighting Irish early with this play. Yellow Jackets defensive back Juanyeh Thomas stripped Notre Dame running back Kyren Williams, and defensive back Zamari Walton scooped up the fumble and ran 93 yards for the touchdown.
The Yellow Jackets were unable to keep up with Notre Dame, however, losing 31-13, but covering the point spread.
Scoop and Score Part Two
The second scoop and score went even further than the Georgia Tech one. Boston College, who was a 25.5-point underdog to No. 1 Clemson, was leading 14-7 early in the second quarter and causing heart palpitations among Tigers' bettors.
Clemson was at the Eagles' one-yard line when running back Travis Etienne fumbled. Boston College's Brandon Sebastian gobbled up the loose ball and ran 97 yards for the score.
SCOOP N' SCORE FOR BC 😱

(via @CBSSports)pic.twitter.com/4OvG1u8SoI

— FanDuel Sportsbook (@FDSportsbook) October 31, 2020
Boston College couldn't pull off the upset, but easily covered the spread, losing 34-28.
Now That's a Teammate
In the Louisiana Tech-UAB game, Bulldogs defensive back Bee Jay Williamson showed what a team player he is after intercepting a pass. While falling down, he lateralled to fellow defensive back Khalil Ladler, who ran 81 yards for the score.
Interception + lateral = Pick Six for LA Tech pic.twitter.com/0k8Khesfhg

— BetOnline.ag (@betonline_ag) October 31, 2020
It was the second interception of the day for Williamson. It was also the 13th pick run in for a touchdown by Louisiana Tech since 2017.
Grab and Go to the House
Memphis was a 6.5-point underdog to Cincinnati, but tied the score early in the game to give hope to Tigers' ticket holders. It was a simple screen pass, but Tahj Washington faked out some Bearcats defenders and sprinted 92 yards for the score.
Tahj. Washington.

92-yard house call 🏠

Memphis (+6.5) ties the game uppic.twitter.com/I9GZsFzX9x

— The Action Network (@ActionNetworkHQ) October 31, 2020
That was the only highlight for Memphis, though. Cincinnati, who is ranked No. 7 in the AP Top 25 poll, won 49-10.
Close, but No Cigar
Rutgers was down 37-21 to Indiana with 2:05 left in the game when they pulled out one of the more unique plays on fourth and 32. They ran a simple pass play to the flat which led to eight laterals before wide receiver Bo Melton took the last backward pass and ran into the end zone.
Unfortunately, one of the laterals was ruled a forward pass after a replay review, nullifying the touchdown. That hurt Rutgers ticket holders. The touchdown would have covered the 11.5-point spread. Instead, those who bet on Indiana and gave away the points walked away winners.
Proud Papa
A special incident happened when ESPN announcer Joe Tessitore was calling the Clemson-Boston College game. Tessitore's son, John, who is the BC placekick holder, was pivotal in a fake play that got Clemson to jump offsides.
Feel good moment 🚨

This guy got to call his own son's fake pic.twitter.com/GnXvbHHaP1

— Bovada (@BovadaOfficial) October 31, 2020
That continued the drive and got Boston College a touchdown to go up 28-10 before halftime.